Despite Belgrade being named as one of the best places to visit in Europe in 2015 by Lonely Planet, the Serbian capital is still not seen in the league of the poster boys of Europe – London, Paris, Berlin, Amsterdam, Vienna or even Prague. However, when it comes to taking a city break steeped in culture, history, scenery and gastronomy still untouched by the claws of over tourism; popular European cities don't stand a chance in front of Belgrade. And, if you are wondering what to see in Belgrade, don't worry there's an abundance of attractions in Europe's most magical yet most underrated city.
Being an offbeat traveller there are a very few cities that have left an undeniable mark upon me during my travels. Cities that have piqued my interest beyond just initial intrigue and have inspired me to dig deeper and to discover more than what meets the eye. One city that has done this more than others is Belgrade, Serbia. When I was planning my four-month-long solo budget travel in Europe, I was most excited to visit Belgrade. While the Serbian capital offers a unique mix of 7000-year old history and the liveliest nightlife in Europe, my reason to visit Belgrade was entirely different. Being a huge Novak Djokovic fan it was my biggest dream to visit Belgrade, his birthplace. And finally, it happened on 30th August 2018.
Disembarking from the overnight train at the main station, it became instantly clear that I was out of the tidy and comfortable safety net of the EU. Strangers fervently tried to lure me into their unlicensed taxis – offers I ignored as I was already aware of the actual prices, thanks to my localhost Darja. I boarded the local bus to reach my hotel, which cost a fraction of the money being asked by the taxi drivers.
And then, all hell broke loose when I realised that I have been robbed in the train. This wasn't the welcome I was expecting at all. But after the biggest fall comes the biggest high. Belgrade more than made it for the initial blip. In my next few posts, I'll be sharing my detailed first-hand account of experiencing Serbia and why you should put it on your bucket list. First, let me begin with why you should visit Belgrade
10 reasons why Belgrade Serbia is the place to be:
1. Belgrade: The 7000-year old young kid
Belgrade is one of the oldest continually inhabited cities in Europe, with excavations confirming that the settlements existed here for at least 7000 years. Not far from Belgrade center, at the outskirts of the city, one can find relics of two of the most prominent cultures in Bronze Age – Vinča and Starčevo cultures. These cities were pioneers in trade throughout Europe and the Middle East, and their potential was in trade with vulcanic glass – obsidian.
As per my local guide Bojana Sestovic,
Thanks to its strategic location – the confluence of the Sava and Danube rivers and the intersection of Western and Oriental Europe; Belgrade has been fought over in 115 wars and demolished to the ground 44 times. Thus, it appropriately earned a nickname, the White Fenix as it has been destroyed and rebuilt more than 44 times during its history.
Belgrade was conquered by the Romans, the Ottomans and the Habsburgs. Belgrade was also the capital of Yugoslavia from its inception as a kingdom in 1918, throughout the post-World War II socialist era, right up until 2006 when the countries republics became individual countries.
2. A city under the city
Belgrade is as much a city underground as above – a world of hundreds of caves, tunnels, bunkers, dungeons, fortifications, storage areas, command posts, cellars, and passageways, many of which have yet to be opened. Some archaeologists believe that there are so many tunnels under Kalemegdan and Zemun that it would take decades to explore them all.
The city's tumultuous history accounts for the unusually rich honeycomb of tunnels below. The secret underworld of Kalemegdan (city's best-known attraction) reveals a spider's web of tunnels and caves, some of which date back to the Neolithic period. Under the park, there is also a fascinating bunker that was uncovered in 2005 and was built in 1971 for the needs of the Yugoslav National Army. The bunker could shelter 70 of the highest politicians and officers in case of a war condition. 150 meters under the ground it was sturdy enough to sustain a nuclear attack.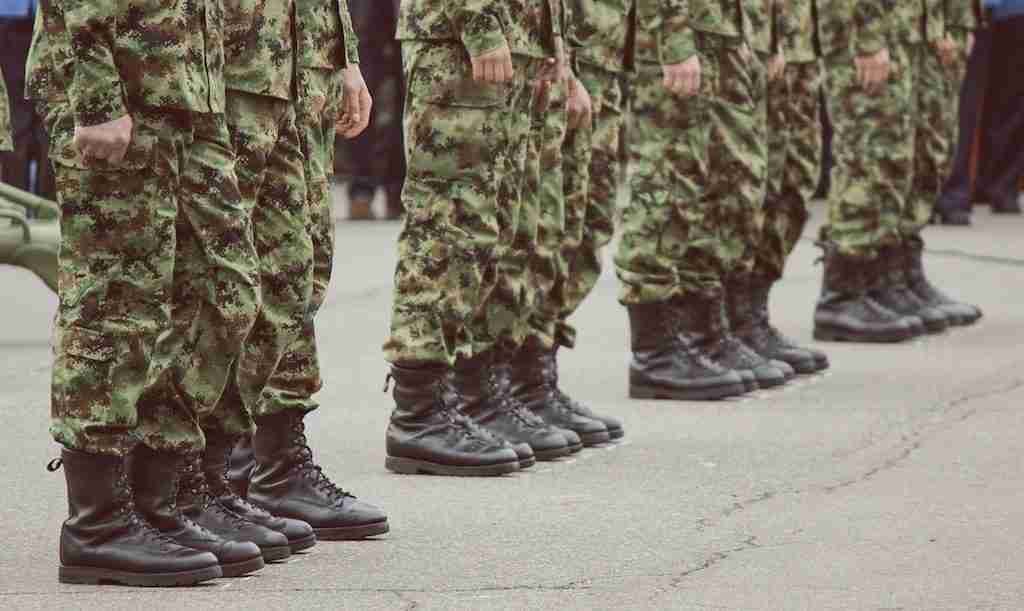 Before this, the Turks used the space for their artilleries, while Milos Obrenovic was using it as a place where he would rest. The bunker also contains Tito and Jovanka Broz's bedrooms – Tito had a brown room with a small office and a bathroom, while Jovanka had a pink room with a bathroom. The bunker was most actively used in 1999 during the NATO bombing when Slobodan Milosevic was staying there. One of the city's secrets is a wine vault hidden under Karadjordjeva Street that dates from the early 19th century.
3. The city has had 15 different names
One of the interesting facts about Belgrade is that it changed its name 15 times through history. In the beginning, Celts called it Sngidun, which was later changed to Singidunum by the Romans. Beograd, the name that you still see in the city is its Slovene name. The old Croats called it slightly differently – Biograd na Dunavu. Its Latin name was Alba Graeca and was slightly changed to Alba Bulgarica during the Bulgarian rule. The Hungarians called it Fehérvár, Nandoralba, Nándorfehérvár, and Landorfehérvár. Weißenburg and Griechisch-Weißenburg where the German names, Castelbianco was the Italian one, Velegrad was the Byzantine name, Dar Al Jihad was the Ottoman name, Belgrat was the Turkish one, and Prinz Eugen Stadt was the name that the Nazis gave the city.
4. Belgrade is a town of two halves
In the middle of the city two large rivers, Danube and Sava, meet each other and bisect the city into two halves: the old and the new.
Old Belgrade lies on the south-eastern bank and the southwestern bank houses the New Belgrade and Zemun. New Belgrade was constructed during the socialist era and the grid of blocks retain their Soviet feel. Once a separate town, Zemun is a protected heritage town and has been a municipality within the city of Belgrade since 1945.
While Belgrade was under Ottoman rule, Zemun was an Austro-Hungarian outpost. Climbing to the top of Gardos hill or having a seafood lunch at a kafana along the banks of the Danube still feels like a mini-break from the main metropolis.
5. Belgrade: The city that never sleeps
While exploring the city I realised that Belgrade has the Mediterranean lifestyle without the coastline. Coffee is taken very seriously here, but as the sun goes down, the espresso cups are replaced by beers or spritzes (the city's de facto cocktail). No wonder Lonely Planet named Belgrade as the City with the Best Nightlife in the World. The city never sleeps and has exceptional nightlife.
For travellers, locals and VIPs, there is a perfect place for everyone. Belgrade parties seven days a week, all year round. There is no dearth of party places in Belgrade – the famous kafanas, a surplus of bars, cafes, pubs, clubs, and "splavs" – bars and clubs on permanently moored boats along the banks of the Danube and Sava river. The city has more than 170 floating clubs on its rivers which have become synonyms for great parties and never-ending fun. No matter what kind of music you listen to, you will definitely find a river club that will suit your taste. And, then there is Skadarlija, the bohemian street, for a place where music and singing can be heard until dawn.
6. Belgrade has the first Kafana in Europe
According to some historians, the first kafana (a traditional Balkan restaurant where they serve a lot of alcohol and traditional food) was opened in Belgrade's Dorcol in 1522. The place served only black coffee (coffee=kafa), so these kinds of restaurants were named "kafana". The oldest kafana in Belgrade that still exists is "Znak Pitanja" (A Question Mark), which was opened by Naum Icko, according to the order of Prince Milos.
7. You must acquire the taste of rakija
Rakia is to Serbia as champagne is to France, sangria is to Spain, and baijiu is to China. The fiery This fiery fruit brandy having an alcohol content ranging from 35 to as much as 70 or even 80%, is revered by Serbians and people from the Balkans alike. Rakija can be made from plum, apricot, quince, pear, or peaches—but the Serbian national version (and arguably the most intense) is sljivovica, made from the Damson plums that grow in abundance throughout the country. 'Real' rakija is made from pure fruit, with no added sugar, and is double distilled—many Serbs make their own, swearing by its health benefits and drinking a small glass, alongside a coffee and sweetened fruits, for breakfast.
If you are trying for the first time, start with medovaca, which has honey added to make it softer and sweeter. Once you get a hang of it, work your way up to sljivovica. Rakija is served straight and sipped from small vials, accompanied by a glass of water to keep you from dehydrating. Živeli (cheers)!
8. Belgrade has its own Silicon Valley
There is an area of Belgrade called Strahinjića Bana Street that is known as Silicon Valley, but it has got absolutely nothing to do with computers, electronics or technology. In fact, it is a term coined by the locals for the nightlife entertainment area of the city where all the bars, restaurants and pubs are located. The silicon refers to the breast implants of the glammed-up women who like to party there with their dates who drive fancy cars.
9. Belgrade has one of the biggest churches
The church of St. Sava, located in Belgrade's part called Vracar, is the largest church in South-eastern Europe. The construction of the church began in 1935, 40 years after ideation. The temple was designed by architects Aleksandar Deroko and Branko Pesic in a Serbian-Byzantine style. The church has the form of a Greek Cross and it represents one of the biggest marks of Belgrade. The dome, which is 44 meters high, has a mosaic that represents the passage of Jesus Christ. The mosaic, created by Hrist Pantokrator is enormous and weighs 40 tons.
10. Belgrade is the hometown of Novak Djokovic.
Serbia was engulfed in wars for a decade until 2006. So, when Djokovic emerged as a world champion, he wasn't just a sportsperson; he became a beacon of hope and a point of pride for the country's more than seven million people. He's a real idol among the young people in Serbia and has managed to raise tennis on a higher level, not just in Serbia, but in all the Balkan countries. He also does a lot of charity work through his foundation, mainly focusing on children from disadvantaged communities.
While he's omnipresent in the city through the tennis centre and billboards, one place I couldn't miss was Novak 1 Café & Restaurant. As you enter the building, a statue of the player guards the entrance. There are cabinets full of silver trophy cups, as well as Novak perfume, Novak sunglasses, and Novak merchandise for sale. The restaurant serves everything from lamb chops to spring rolls, and there is an extensive vegan menu. I had his favourite desert, which he has even now when he visits the restaurant and got lucky to have met his father while he was away playing in the US open
The best thing about Belgrade is the locals. They are very helpful, fun-loving, full of energy and incredibly polite. Should you need any assistance all you need to do is ask. Literally anybody. However, language can sometimes be an issue with the older lot.
MORE USEFUL INFO ABOUT SERBIA:
Do I need a Visa to enter Serbia?
Serbia is the only European country to offer Visa-free entry to Indians. Indians can enter, transit through and stay in Serbia without a visa, during a period not exceeding 30 days from the date of entry, within a period of one year.
How to travel to Belgrade, Serbia?
You can get to Belgrade by airplane, train, bus, car or ship.
Flights to Belgrade: Along with the national carrier 'Air Serbia' many international airlines have regular flights to Nikola Tesla Airport near Belgrade from around the world.
Buses to Belgrade: The regular bus routes connect Belgrade with all the regions of Serbia. There are also many international buses which go to neighbouring countries and most European countries. Buses are generally more expensive than trains but are more frequent and faster.
Trains to Belgrade: The wide network of railroads connects Belgrade with all parts of Europe, and many parts of Serbia with day and night trains. I used Eurail's Global pass that let me travel anywhere on any train across 31 countries in Europe. I took a night train from Zagreb Croatia to Belgrade, Serbia and then onwards to Bulgaria.
However, I don't recommend taking a night train if you are travelling alone. Unfortunately, I was pickpocketed. Destinations accessible by rail include Bar, Belgrade, Nis, Novi Sad and Subotica. Serbian Intercity trains can be crowded, especially during holidays, and sometimes reservations don't help much. Services are often overbooked, unreliable and unsafe.
Ships to Belgrade: Many European companies organize cruises on the Danube to Belgrade.
By car: It is the best way to explore Serbia. If you are going to Belgrade by car, then follow the E-70 and E-75 European motorways. Because this city is at the intersection of these roads.
Local transport: Buses are the most popular and practical means of getting around. Trams and trolleybuses are good too. Trains are cheaper but slower. Taxis could easily be found.
What currency to use?
The currency is the Serbian Dinar, which is worth about 100 per Euro
How much does it cost?
The prices of food and accommodation are reasonable. For example, in Belgrade, a coffee might cost you €1-1,50, a restaurant meal may range from €5-10, stay at a three-star hotel may cost anywhere from €30-65, five-star hotels cost anywhere from €95-150 and a hostel dorm bed near the city center may cost anywhere from €12-18
When you are already in Belgrade don't miss…
Kalemegdan, the Belgrade fortress which is the symbol of the capital
Take a walk along the Belgrade Bohemian quarter- Skadarlija and enjoy the specialities of National cuisine in one of the Kafana's (traditional tavern)
Walk along the Zemun quay to Gardoš where the rest of the Zemun fort is.
Take a walk from Kalemegdan over Knez Mihajlova street Terazije, then over king Milans street and the Slavija square to the colossal Saint Sava temple, that way you will cover the centre of town.
Take a 3-days Aquastar Maxim Crusier River Cruise to Eastern Serbia
Don't miss Belgrade Beer Fest in mid-august, one of the most visited festivals in Serbia
After spending over eight days in the White City, as it is called, I can tell you you'll fall in love with the booming, vibrant capital of Serbia.
For more information on Serbia, and Belgrade check the following articles
Inspired? Pin these to your Pinterest boards
Disclaimer
I was invited by Serbia Travel. However, all the views expressed above are based on my personal experiences in the country during my visit. Most of the images used are shot by me. Please do not copy anything without written permission.