It is the summer of the nineties, and I am on my annual family holiday at Manali. Despite being in the majestic Himalayas, I am dreaming of attending the festival of Navratri held some 1500-km away in the western part of India, thanks to a foot-tapping Bollywood chartbuster inspired by the state.
Cut to Sep 2019, I pinch myself to ensure my dream has finally translated from reel to real. Yes, I am in Gujarat attending the longest dance festival in the world – Navratri Garba. Nine nights of feverous dancing, glittering chaniya cholis and kedias twirling to the beat of the dhol and bustling midnight buffets has intrigued me long enough to find out what happens during Navratri in Gujarat. The iconic Gujarati Garba and Dandiya dance, dedicated to Maa Amba, is a sight to behold: thousands of devotees dancing in a circle around an earthen lamp, to commemorate the triumph of good over evil.
Coming back to the song that inspired me to visit the vibrant State of Gujarat. Well, it was none other than the chartbuster of 1999 – 'Dholi taro dhol baaje' from the blockbuster hit movie Hum Dil De Chuke Sanam. The joy and playfulness of Garba were brought to life by the super hit real-life pair of the 90s – Aishwarya Rai and Salman Khan.
It might have taken my over ten years to visit Gujarat during its festive best. Still, I made good by choosing the best venue – Vadodra – the cultural capital of Gujarat. It was here where I got to witness the best Navratri Garba dance of not just the state but probably the entire country. However, before I share my experience, let me shed some light on the background of Navratri.
Why we celebrate Navratri
Navratri is to Gujarat what Mardi Gras to Rio de Janeiro. The word Navratri is derived from Sanskrit, meaning nine nights – Nava (nine) Ratri (night). Each night of Navratri, a different form of Shakti is celebrated – Shailputri, Brahmacharini Chandraghanta, Kushmanda, Skandamata, Katyayani, Kaalratri, Mahagauri and Siddhidatri.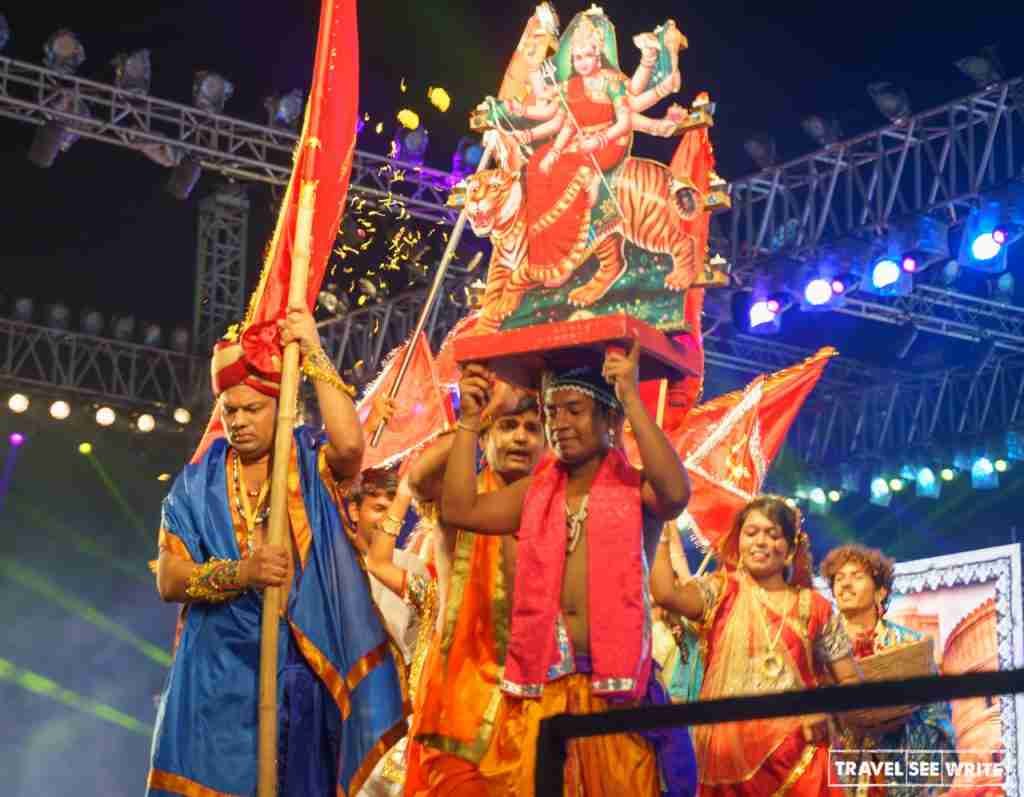 Per mythology, Navratri is a celebration associated with the great battle between demon Mahishasura and Goddess Durga. Mahishasura was blessed with immortality by Lord Brahma under one condition that the mighty Mahishasura could be defeated only by a woman. Blinded with the blessing of immortality and overconfidence, Mahishasura attacked the Trilok–earth, heaven and hell. None of the Gods could stand a chance against him, and thus they sought help from tridev – Lord Brahma, Lord Vishnu and Lord Shiva. All the three lords put all their powers together in the woman – Goddess Durga – to defeat Mahishasur.
Goddess Durga then fought Mahishasura for fifteen days during which he tried to mislead her by changing his shape each day to become different animals. Finally, on the tenth day when he transformed into a buffalo, Goddess Durga killed him with her trident (Trishul), and that was the end of him. Thus, we celebrate Navratri to demonstrate the victory of good over evil.
Garba Raas and the traditional Gujarati outfits
While the Mahishasur-Durga battle story is pretty much the same across India, from East to west, north to south; I am intrigued to know how Garba got associated with Navratri. My local guide Kirtibhai says,
The word Garba comes from the Sanskrit word for womb, which means life. Traditionally, the dance is performed around a clay lantern with a light inside, called a Garbha Deep ("womb lamp"). This lantern represents life and the foetus in the womb. The dancers thus honour Durga, the feminine form of divinity.
Garba is performed in a circle – representing the life cycle – from birth to death and again to rebirth. Like music and dance is vital to Garba, so is the traditional Gujarati outfits. For nine nights' women don the intricately embroidered and mirror-work filled chaniya cholis and men wear ethnic kedia with dhoti or pyjama. The vibrant, colourful, and flowy dresses are created in a specific way to allow freedom of movement, especially arms and legs so that dancers can twirl, twist and spin as they clap their hands.
Navratri and Garba in the 21st century
A festival that initially began as a token to honour the greatness of Shakti has today metamorphosed into an event of stupendous scale with thousands of people coming together to sing, dance, and make merry.
Navratri is what we Gujaratis wait for all year long. We might prefer comfort over physical activity throughout the year but come to Navratri, and we dance our heart out for 3-4 hours daily straight for nine days
says Kewal Gosrani, a 26-year-old local who has been doing the Garba since he was a toddler. And, he is not alone, for the nine nights of Navratri, dancing to the Garba tunes tops the list every Gujarati. Everything else takes a backseat. The zest and zeal of the festival are such that not just locals but tourists all over the globe visit Gujarat during this time.
Coincidently, there were a few Gujaratis on my flight too who visit Gujarat every year to play Garba. And, the ones who can't, they take Garba along with them wherever they are. As they say, you can take Gujarati out of Gujarat, but you can't take garba out of a Gujarati.
Experiencing the Gujarati Garba
After years of research on the best Garba and Dandiya venues in Ahmedabad, Vadodra, Surat and other places, I arrive in Gujarat well in time to enjoy live Garba Raas. But as luck would have it, the whole of state has become a large swimming pool due to extended monsoon. However, the Gujaratis are renowned for their determination to make things work out even when the chances are next to none.
Despite continuous heavy showers, the waterlogged GMDC ground is transformed into a dry venue within a few hours to launch the grand Vibrant Navratri-Mahotsav 2019 on 29th September 2019 at GMDC ground in Ahmedabad. In the presence of political dignitaries, world ambassadors, global media and commoners, Gujarat Chief Minister Vijay Rupani inaugurates the Navratri celebrations. Entertainment is packed in a dazzling array of lights and colours, and a melange of traditional folksongs and dances Gujarat served to perfection.
Unfortunately, the next few days, the rain gods don't show any mercy, and most of the Garba grounds are forced to cancel the Garba celebrations. Disappointed I reach Vadodra after spending a few rain-soaked days in Ahmedabad, Patan, Kevadia, and Little Rann of Kutch. My trip is at its fag end, and still, I haven't been able to experience the magic of Garbathe Gujarati folk dance revered by Gujaratis. I make an earnest appeal to my guide, Kirtibhai, to pull up some strings and make me witness at least an hour of the Garba celebration that I had been dreaming for decades. And, being a true Gujju, Kirtibhai didn't disappoint.
I attend the event at the largest Garba gathering in the State and presumably in the country – the United Way Garba, Vadodra. As I enter the well-lit and beautifully decked up ground with lanterns, flowers and vibrant origami decorations, Kirtibhai, says,
Be prepared to see a spectacle that you have never seen before. And, remember – Garba is played, not danced.
And, after witnessing the magic of Raas Garba, I couldn't agree more. Simply put, Gujarati Garba dance is a process of clapping, skipping and moving in rhythm on folk Gujarati music. Here it was played by none other than the regional super singer – Atul Purohit. His earthy garba music moves over 40,000 people in a synchronised way.
However, this synchronised, step by step, twirl by twirl movement is a result of decades-old practice. Most Gujjus spend their childhood doing so in more intimate, familiar neighbourhood gatherings, before braving the giants. The Garba ground welcomes anyone from 12 years old to 80 years old. The ticket price is 3500 INR for males and 700 INR for females.
Mesmerised by the decorations and the enthusiasm of the revellers, I couldn't believe my eyes. It was a million times better than what I had seen before – onscreen or off-screen. Until 8 pm there were hardly a thousand people in the ground, and as time passed, the numbers grew to over forty thousand people of all age groups and abilities dancing and singing together. Initially busy with catching up and taking selfies, the sea of people started to move around to the rising beat of the garba music.
The tidal movement started from the centre (garbha) and in no time every person standing in the ground, until the spectator's corner, joined in the Garba Raas. Dropping all the inhibitions and swaying on foot-tapping folksongs and popular Bollywood numbers, the sea of people seemed possessed, by the power of Goddess Amba.
When I ask a local, Bijal Sahni, why Gujjus love Garba so much, she replies,
Garba is a fantastic way to express oneself physically as well as emotionally. Also, it is a great social platform to meet new people from different walks of life.
There are other benefits of Garba – relieves stress, calm down the muscles, works as a perfect dating ground, and helps in burning fat. Apparently, one hour of Garba helps burn 800 to 1,200 calories
I thoroughly enjoyed my first Navratri experience in Gujarat. The dream ignited by 'Dholi taro dhol baaje' was finally realised. My only regret is that I wasn't dressed for the occasion – you need to wear the traditional chaniya-choli to get down on the ground to dance.
Now I have a solid reason to return next year. Will you join me?
I hope this article gives you an idea on what happens during Navratri Garba in Gujarat and you get inspired to experience Khusboo Gujarat Ki.
For more details on how to best experience Navratri Garba at its best, check out this article – Read this Navratri Garba Guide before you visit Gujarat.
Inspired? Pin these to your Pinterest boards
Disclaimer
I was hosted by Gujarat Tourism. However, everything expressed above is based on my personal experience. Images used are either shot by me or provided by the destination. Please do not copy anything without written permission.