There's no better place to experience the majesty of biodiversity in India than Wildlife Sanctuaries. Here's my experience of visiting a few notable Indian National Parks and Tiger Reserves in Madhya Pradesh, India.
After being locked up in our homes for months, India is finally opening up, albeit with caution. While that bucket list international trip might have to wait a bit longer, the Great Indian traveller has started travelling again. Yes, domestic travel is on a rise in India and trends like staycations, workcations, revenge travel, slow travel, and road trips are topping the Google Trends. The beleaguered Indian Travel and Tourism industry is finally seeing a silver lining around a dark cloud. COVID19 has presented an opportunity for Indian travellers to discover loads of incredible and often ignored destinations closer to home. Like many others, I too was fed up of the lockdown. I started looking for the safest places to visit in India post covid19 and found many attractive options, but I settled for exploring the Wildlife Sanctuaries in India. This post and the subsequent articles will talk about my planning and experiencing wildlife tourism in India. So, without further ado, let's begin.
What kind of holiday did I want?
One thing that I missed the most during the lockdown was nature. I was tired of working from home and was craving for some fresh air, greenery, wildlife and impromptu conversations with the strangers. I was missing the regional cuisines and cultural experiences. While video calls, webinars and virtual tours did help in bridging the gap, but there was no cure for my wanderlust. So, when the time seemed right, I jumped at the opportunity to be with nature and wildlife.
What was non-negotiable for a holiday?
While I desperately wanted to get out of my four walls, two things were non-negotiable – safety and sustainability. In the absence of COVID19 vaccine, I didn't want to be reckless and started looking for a destination where I knew the required safety protocols are followed. Crowded places were a big no, and maintaining social distancing was my top priority.
Secondly, COVID19 proved that if we don't take nature seriously, it will destroy us. So, I wanted to travel responsibly, and the choice of place depended a lot on the 'being green' philosophy of the destination and the accommodation.
What were the holiday options available?
As the 'Unlocking India' began and states started easing out travel restrictions, a lot of options opened up for my next travel. Right from the towering Himalayan states of Himachal and Uttarakhand to coral-lined islands of Andamans, balmy beaches of Goa to sacred Shangri-La of Sikkim, opulent Havelies of Rajasthan to laid-back waters of Kerala. Nearly all major tourist destinations started vying for domestic travellers attention who were actively looking for best places to visit during Diwali or winter holiday break in India. But my heart was craving for something else.
Why Madhya Pradesh Wildlife holiday won?
Safe Sightseeing
Having been to the heart of India several times in the past, I knew there could be no better place than Madhya Pradesh as it guaranteed safety along with exceptional sightseeing opportunities. Thanks to a low population density in the state, especially around the National Parks, social distancing and taking safety precautions seemed a lot easier as compared to other tourist destinations in India that are currently flocked by travellers. On top of that, the joy of seeing the wild animals, especially the Tiger and the Barasingha, up-close in the wild is something that can't be replicated anywhere else in India or abroad. The parks were reopening after seven months of closing. So, I was excited to see greener and lusher forests than before.
Easy Connectivity
Madhya Pradesh shares border with five states and it is fairly easy to reach the state via road, air or train. The road network in the state is in top condition and perfect for a road trip. I saw people travelling from as far as Kolkata, Kanpur, Hyderabad, Mumbai, Bangalore, Pune and nearby places such as Nagpur, Jabalpur etc.
Tiger Conservation
Most importantly, choosing an ecotourism holiday was the main reason for me to opt for Madhya Pradesh Wildlife Holiday. I had done enough background research to find out that Tiger Conservation helps in conservation of the environment and communities living around the park. The conservation of India's national animal is most critical because of its role at the apex of the food chain. When you protect tigers, you save the whole ecosystem and provide a livelihood to the underprivileged people living in the periphery of the forest. Besides conserving wilderness, tiger reserves support human life by guarding fish nurseries, replenishing the agricultural land with genetic material and providing cheap, clean water for drinking and irrigation.
Moreover, Tiger reserves help in mitigating natural disasters such as floods and cyclones. Additionally, they also play a critical role in reversing the climate change impact by storing and sequestering carbon.
Choosing the three key Tiger Reserves – Bandhavgarh, Kanha and Pench
It was an uphill task to pick a handful of national parks out of 553 existing wildlife sanctuaries and 50 Tiger Reserves in India. After a lot of deliberation and help from Manav Khanduja of Pugdundee Safaris, I decided to spend twelve days in the wilderness of Bandhavgarh, Kanha and Pench Tiger Reserves. After all, these three reserves have played a big part in making Madhya Pradesh the 'Tiger State' of India.
While Tiger is a common denominator in all the three reserves their vegetation and landscape is remarkably different from each other. I was keen on seeing that contrast of landscapes and learning what they did differently that contributed to making Madhya Pradesh a front runner in the Tiger Conservation Campaign.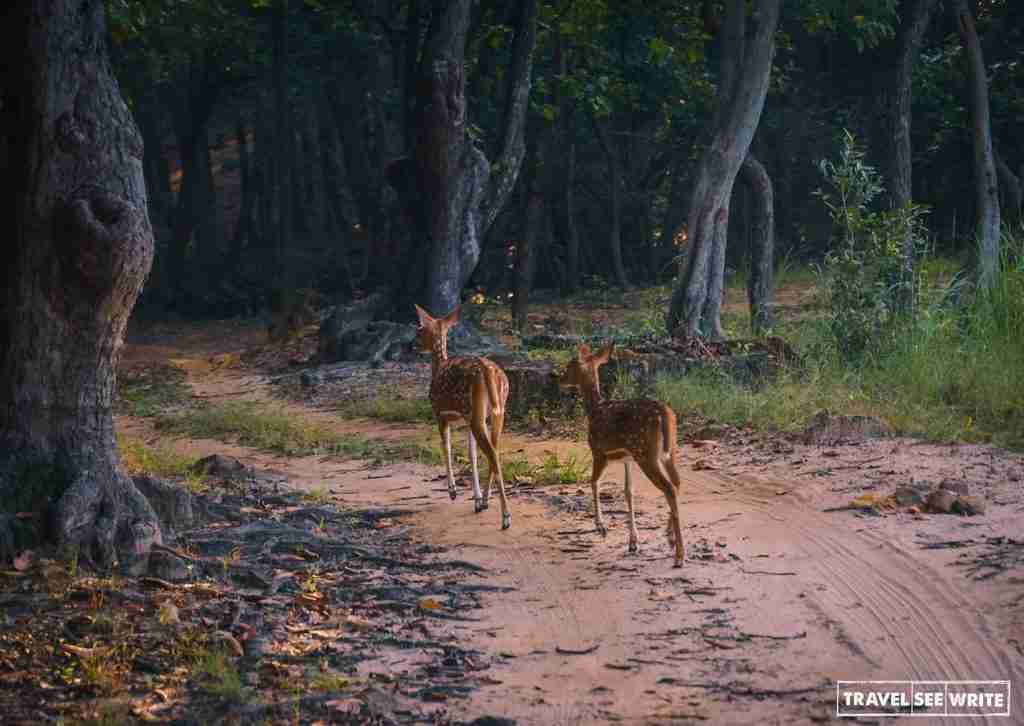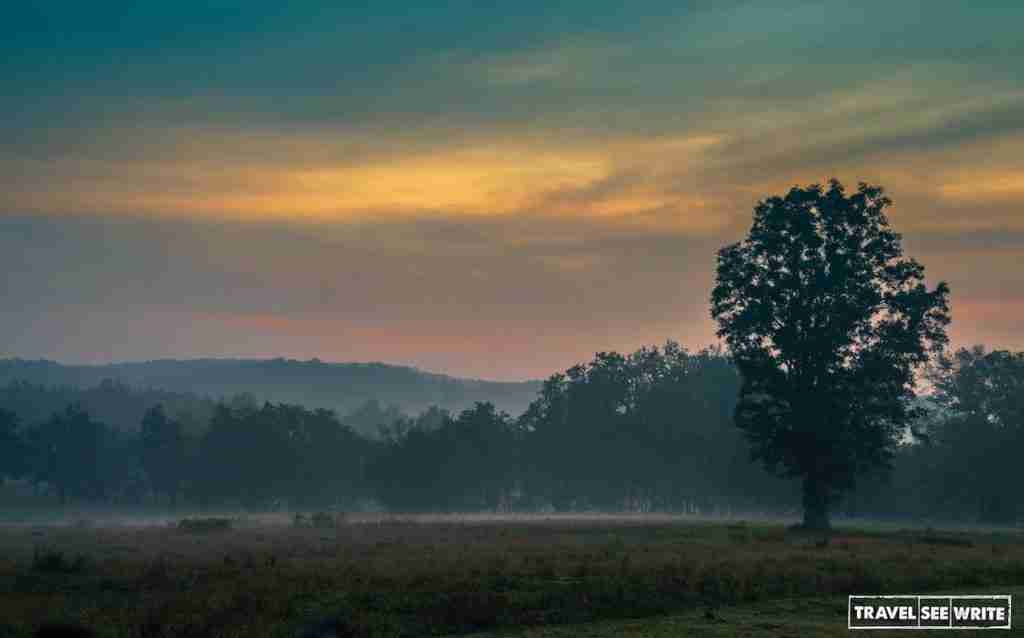 Why did I choose Pugdundee Safaris?
Choosing the right destination was just one part of the trip planning. It was equally important that I choose suitable accommodation too. And, here's why I picked Pugdundee Safaris for my travel.
Socially-distanced: All their lodges and treehouses are designed in a way where they become a part of the landscape and not vice versa. The built-up area is negligible as compared to the forested land. Imagine living in one of the 12 cottages or treehouses spread out in a 45-acre of forest estate with no lifts or elevators. It is like living in a wildlife sanctuary. And, most of the action takes place outdoors, whether it is dining or activities. The sparsely located design of the lodges by default makes social distancing a lot easier.
Safety protocols: Pugdundee Lodges are among the safest holiday places equipped with high safety and sanitisation measures as prescribed by the Ministry of Home Affairs. All their staff members wear masks 24/7 and sanitise themselves and surfaces they touch at prescribed intervals. All guest rooms, public spaces, furniture, cutlery and safari vehicles are thoroughly sanitised with pre-approved cleaning agents.
Sustainability: Pugdundee Safaris genuinely believe in 'being green' than just greenwashing, therefore, they have invested heavily in incorporating the three pillars of sustainability in all their operations – environment, society and economy. I wanted to experience this first hand.
Work from Wilderness: Although I was missing the open spaces, I didn't want my work to suffer, which was gathering steam after a lull of several months. So, I wanted to visit a place where I could be socially distanced yet connected. I was told Pugdundee Safaris lodges were equipped with good Wi-Fi. So, I decided to give their Work from Wilderness a shot.
More Affordable: Pugdundee Safaris is a luxury and unique wildlife experience provider whose lodges get booked much in advance. Therefore, it was a rare opportunity to find rooms available that too at a more economical rate than before. Additionally, staycation packages are launched for people looking for more extended stays, and even customised packages are allowed depending on your requirements. But don't wait too long, in my twelve days of stay at their various properties, they were buzzing with business. So, if you wait too long, you might miss the opportunity of staying in a literally over-the-top treehouse.
How was my wildlife holiday experience?
I felt like a liberated bird who got a new lease of life when she expanded her wings in the deep blue skies, flying over the thick Sal-Teak forests. The spotted deer, langurs, jackals, woodpeckers, giant spiders, leopards and tigers all felt like friends I had met after a long time. I got the most heart-touching welcome as the verdant jungle laid out its luxurious green carpet while the sweet misty forest fragrance and the perfectly orchestrated bird song melted my soul away. The three national parks – Bandhavgarh, Kanha and Pench – were so similar yet so different in their welcome. 
The knowledgeable naturalists from Pugdundee Safaris and guides from the national parks further enhanced my wildlife safari experience. Their personal stories were as enchanting as the sights, sounds and smells of the woods. The food, stay, safety, amenities, safari…everything was perfect. Most importantly, it was the warmth of the Pugdundee staff that melted my heart. Whether it was the cucumber-like coolness of Harish Jee or Choubey Jee's passion for the jungle, Ashu's great offroading skills or Amit's fondness for great food, Harpreet's love for the butterflies or Mohan's in-depth knowledge about tigers; I was left thoroughly impressed. All these people have become friends now.
I enjoyed my travels and even got time to ponder on some serious environmental issues that need our immediate attention.
What's next?
In the upcoming months, I'll share detailed individual posts on my experience at each National Park and lodge. Through a mix of experiential videos, articles and social media posts I'll talk about the whole wildlife holiday experience including the Jungle safari, accommodation, food and safety precautions taken by the lodges, unfiltered stories from the locals and the experts, step-by-step itinerary and costs involved. So, stay tuned for updates.
In a nutshell, I can just say whether you are looking for the best places to visit in 2020 in India or warm places to visit during winter, hope this post helps in convincing you to explore the national parks and the wildlife sanctuaries in India.
Further Reading
Inspired? Pin these to your Pinterest boards