The Czech Republic and Slovakia peacefully uncoupled in 1993 after Czechoslovakia's Velvet Revolution in 1989. 26-years after their velvet divorce, Slovakia is slowly and steadily attracting travellers. While most foreigners stick to Bratislava, which is a happening yet laidback European capital, I have always found the lesser known towns more intriguing.
BTW here are the 11 reasons why you should never visit Slovakia
One such place is the town of Banska Stiavnica, a Slovakian jewel in the Carpathian Mountains of Central Slovakia. This small-town is off the main tourist path, and was once the Eldorado of the Great Hungarian Empire. These days, the town offers a gentle pace of life that is downright serene. However, if you dig deeper, you see how the town of Banska Stiavnica changed the world.
It once used to be just as rich in silver and gold as rich it is now in interesting legends, astonishing places, and cultural heritage. No other town in the world has contributed more to development of the mining industry. Compared to other towns in Slovakia, Banska Stiavnica was a very wealthy town and received the nickname of 'Silver Town'. In the 14th century, Banska Stiavnica was the largest supplier of precious metals in Europe. This town has always been unusual and extraordinary and that's why it is a UNESCO protected town. ⠀
Background
On a pleasant autumn morning in October 2018, I landed in Slovakia. Bewitched by the untouched beauty around, I developed a genuine connection with the land of Tatras and healing waters. While I absolutely loved the virgin mountain beauty, it was the people who won me over. One such friendship was with Andrea-Tomas, a beautiful couple from Bojnice. I instantly hit off with them as they made me see Slovakia in the most genuine way – unpretentious and raw.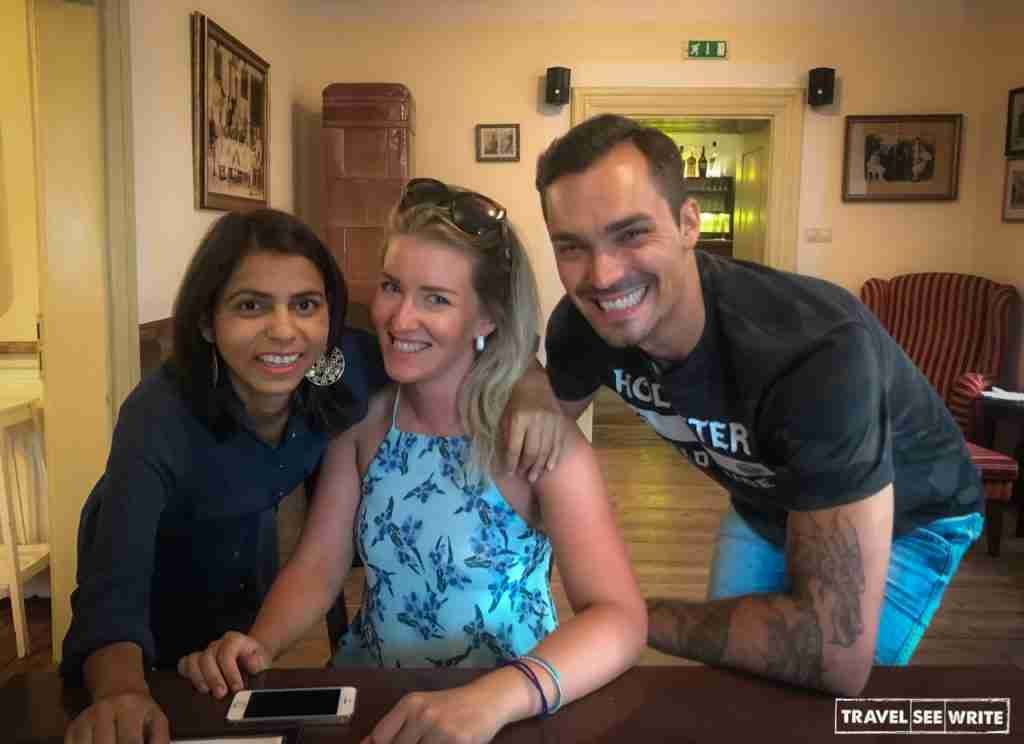 At that time, I almost made it to Banska Stiavnica but because of a tight schedule, I couldn't make it. Anyway, better late than never. After nine months, I was at a place where I wanted to be.
Before visiting this ancient mining town, I was treated to an experience, which till date remains one of my favourite experiences of 2018 – Banska Bystrica. It is an experience that I am unable to put in words. Imagine a verbal diarrhea queen struggling for words. Yes, that can happen to you when something totally unthinkable happens. Very soon you'll read about that experience.
Today, I am here to share my experience in the former 'Silver Town' of the Hungarian Empire.
Journey
Sometimes high expectations can put undue pressure on others. And, that's what unknowingly happened to Banska Stiavnica. I arrived with sky-high expectations. Jiri and his team had handpicked the activities for me to experience the true soul of their region – climbing the Carpathian Mountains, trying adrenaline activities at Donovaly and Jasenská Ski resorts, hiking to Harmanecka cave, paying homage at the Museum of the Slovak National Uprising, reviving the medieval memories of castles, mining towns, and steam trains. I was convinced no experience can top the experience I had in Banska Bystrica. As he dropped me at my new exploration site, a tear rolled down my cheeks.
Moreover, the journey didn't start on a good note. The zig-zag hilly turns made me nauseated and when I arrived in the town I had no energy left to climb up and down the city centre from my AirBnB, perched on a hill top. So, I decided to vacate the place to find myself in a deeper trouble – no rooms available due to a long holiday weekend. Suddenly the reality dawned on me – I was homeless in a foreign land.
And, then a superhero emerged without a cape – Igor Kuhn. He offered me his place and graciously showed me around his place. What I liked the most about him was his attitude towards life. He is a marketing man during the day, a musician during the weekends and a dotting husband and father 24×7. The next few days I explored the vital mining and historical relics of the oldest mining town of Slovakia – Banska Stiavnica.
RETRACING THE MINING HERITAGE
Banska Stiavnica region sits atop the ore veins – one of the world's biggest deposits of precious metals in the Middle Ages. And, it would have been blasphemous to visit the town and not retrace its mining heritage. So, Igor and Viki, my local friends, suggested a few important historical places and events to get me acquainted with the land of miners.
Slovak Open-Air Mining Museum
We drove about one and a half kilometre out of town to the Slovak Open-Air Mining Museum, where through a guided tour we learned about the technical and historical aspects of mining in the region. Banska Stiavnica was awarded a UNESCO World Heritage Site title, both for the medieval architecture as well as for its mining contributions. An introductory video and our guide explained,
"The year 1627 was a golden year in the history of Banska Stiavnica – for the first time, gunpowder and explosives were used in mining. And, that was just the start. Over the next 200 years, many of the world's ground-breaking innovations in mining, metallurgy and forestry took place in this tiny little valley."
Things to do in Slovakia: Visit the gold and silver mines near Banska Stiavnica

Things to do in Slovakia: Visit the gold and silver mines near Banska Stiavnica
I spend half an hour looking around the ground-level mining exhibits at the skanzen (open-air village museum) displaying agricultural and mining implements from the last 200 years. Then along with my guide holding a torch in my hand, dressed in a olive green hard-hat, we descended a 40m-deep, 1km-long squeeze along the 18th-century mining paths to see how the silver was extracted.
World Gold panning championship
Despite being a sports lover, I had never heard about the World Gold Panning Championship. Therefore, I was very excited to see hundreds of people from around the world – as far as Australia, Canada, South Africa – from all age groups fight for the caveated titles in the Silver town with a golden history. We drove through the Hodruša-Hámre village to reach the SALAMANDRA Ski Resort situated in the middle of the Štiavnické vrchy Mountains next to Rozalia gold mine in Hodruša-Hámre. While the participants were trying their luck at gold panning, others were either taking a dip in the adjoining emerald green reservoiurs or cycling in the lush Slovak greens.
Trying my luck at Gold panning in Banska Stiavnica region, Slovakia

World Gold panning championship, Slovakia

A mand-made reservoiur near the championship venue
GOING BACK INTO MEDIEVAL TIMES
The Celts, Slavs, Saxons, Turks, Poles, Hungarians, Slovaks, and Czechs all settled here and worked together in the mines of the mountainous region. As a result, the wealth in the veins underneath the town of Banská Štiavnica translated on the surface in the form of opulent buildings lining the town square and central streets. Most of these restored bourgeois houses were built in the 15th and 16th centuries, and now house galleries and restaurants.
The UNESCO protected town centre is decked with affluent Gothic and Renaissance burgher houses, the town hall with an unusual clock, and the Gothic Church of Saint Catherine. The Town hall clock tower bewildered me for a moment with its usual hands' arrangement – the shorthand pointed to the hour and the long to the minutes. Apparently, it was a mistake committed by a drunk clock-master and his incompetent apprentice.
Holy Trinity Plague Column
From whichever direction you may arrive, it's impossible to miss the centerpiece of the square – the Holy Trinity column, a baroque sculpture featuring seven saints. It commemorates the end of an 18th-century plague that wiped out nearly half of the town's population.
Old Castle (Starý Zámok)
Among all this street splendour, Banská Štiavnica's old castle stands tall on an incline up from the main square, gazing down on the town like a hawk-eye. Considered as a "stone chronicle of the town" it holds the oldest secrets of Štiavnica. From being a Romanesque basilica in the 13th century to getting fortified 300 years later to defend against Ottoman invaders; the castle is now well restored. It now offers a melange of architectural styles and is home to several exhibits, including a medieval jail.
Knocking Tower Klopačka
Not too far away from the Old Castle, the 17th century Klopačka (knocking tower) contains a giant black tower that was used by miners as their alarm-clock, prison, and insurance office. Today, there is an amazing teahouse in this building with wide variety of teas from around the world.
The New Castle (Nový Zámok)
As I continued my hike up the hill, I reached the New Castle (Nový Zámok), a white Renaissance fortress occupying a far more tactically savvy position than the old castle with a commanding view of the town as well as the entire valley.
Calvary (Kalvária)
When I asked Igor and Viki, one place that I should definitely visit, both of them replied instantaneously – Calvary (Kalvária). A great specimen of baroque art perched on a volcanic hill, led through a series of chapels and sacral buildings. The crimson hilltop church with magical panoramic views of the surrounding hills is a great place for sightseers and pilgrims alike.
BANKING ON LOVE
As I walked through the town centre I stumbled upon the world's only "Love Bank" where couples can deposit small cherished tokens of their love in lovers' vault made up of 100,000 tiny drawers. However, behind this Love Bank lies the tragic tale of Marína Pischlová and Andrej Sládkovič, the lovers who made the MARINA house famous.
Marina's affluent parents — in keeping with the age-old poor boy-rich girl trope — decided to separate the teenaged lovers by getting their daughter married to a wealthy gingerbread maker. A heartbroken Andrej, who was Marina's tutor, turned to priesthood for solace. His love for Marina found expression in a poem (titled Marina) he wrote for her in 1846. The "world's longest love poem" runs into 2,910 lines and is read widely across Slovakia.
While the legendary love story is impressive, I was intrigued to know how the idea of Love Bank came into existence and so I approached Katarína Javorská, the Museum Manager for details.
"The love bank is a fundraising project to save and restore the historic House of Marína, and bring more love to the world through Andrej's poem. We have created love boxes from the poem. Each Love Box bears a piece of the original manuscript and can be taken by anyone for €50 for a year and €100 for a lifetime." says Javorská
This Valentine's Day, however, many visitors can get a chance to be a part of the world's biggest love experiment for 100,000 love seekers. Anyone from around the globe can go on their website www.RealLoveBank.com and share their love wish. They will print the wish without revealing the sender's identity and store it in the Love Bank. The museum will continuously evaluate the results of the experiment on their website and will publish the final results on Valentine's Day in 2020."
Excited by the idea I then move on to check other interactive exhibits – 'love-o-meter' that claims to measure the strength of a couple's love and the talking portraits that bring alive the eternal love story through emotions of yearning, wrath, jealousy, and passion.
Although, the eternal love story of Andrej and Marina didn't end on a happy note, till date they inspire lovers to believe in the power of love and work towards preserving it.
PRACTICAL TIPS TO PLAN YOUR VISIT
How to Get There
Fly to Silac/Vienna/Prague/Budapest/Bratislava and then either drive from Bratislava to Stiavnica (2 hours) or take a direct bus (3 hours).
Drive for half an hour to reach Zarnovica train station and from there you can take the local train to Bratislava. I used my Eurail Global pass to travel all around Europe.
When to Visit
Banská Štiavnica is all year-round destination. However, the best time to visit is at the end of summer or during non-touristy season, when temperatures start to cool, days are long, and shops are open till late. In the summer, you can swim in the tajchs (reservoirs). In winter, you can ski or cross-country ski on many kilometres of maintained tracks. Hiking is great in every season.
Where to eat
The Monarchia restaurant: Restaurant with original old town taste serving traditional meals from Slovakia as well from Austrian-Hungarian Monarchy.
Black M – pizzeria, restaurant and bar: located in a cozy environment in the heart of the town serving home cuisine, excellent pizza and delicious desserts.
Tulsi restaurant: A place where you can try dishes from all over the world, as well as local homemade delicacies.
4 statues (4 Sochy): An impressive gourmand restaurant sitting in a quiet garden 17th-century house is a great place to enjoy cakes and coffee.
Teahouse Klopacka: a cozy tea room with a varied selection of teas, and tasty local cakes and sweets.
Art café: A small outdoor terrace with a cosy attic upstairs is an ideal place to start random conversations, play darts, people-watch and enjoy live music and cultural forums on some evenings.
FINAL VERDICT
Banska Stiavnica, the Slovak City of Culture for 2019, urges you to slow down and walk around its churches and mansions that once belonged to rich miners. Cowering in the hills above it are small houses that were home to the ordinary miner. No one knows if love stories — of the kind that the museum celebrates — blossomed in the lanes that led to the mines. But once you are in Banska Stiavnica, love will find you.
Hope you now have an answer on things to do in Slovakia. So, when are you booking a trip to Banska Stiavnica?
PS: I am sure many of you have followed by #OffbeatEuropeWithTSW journey on my social media channels. In case you want to know more, do read
Published on
An edited version of this story was published in the following publications:
Inspired? Pin these to your Pinterest boards
Disclaimer
I was invited by the Banska Stiavnica Tourism in 2018. However, everything expressed above is based on my personal experiences in the country during my visit. Images used are shot by me. Please do not copy anything without written permission.