Planning a trip to Udaipur? Find all your answers in this travel guide – places to visit in Udaipur, best restaurants, best hotels, best places to shop, how many days are enough, the best time to visit, how to reach Udaipur and much more.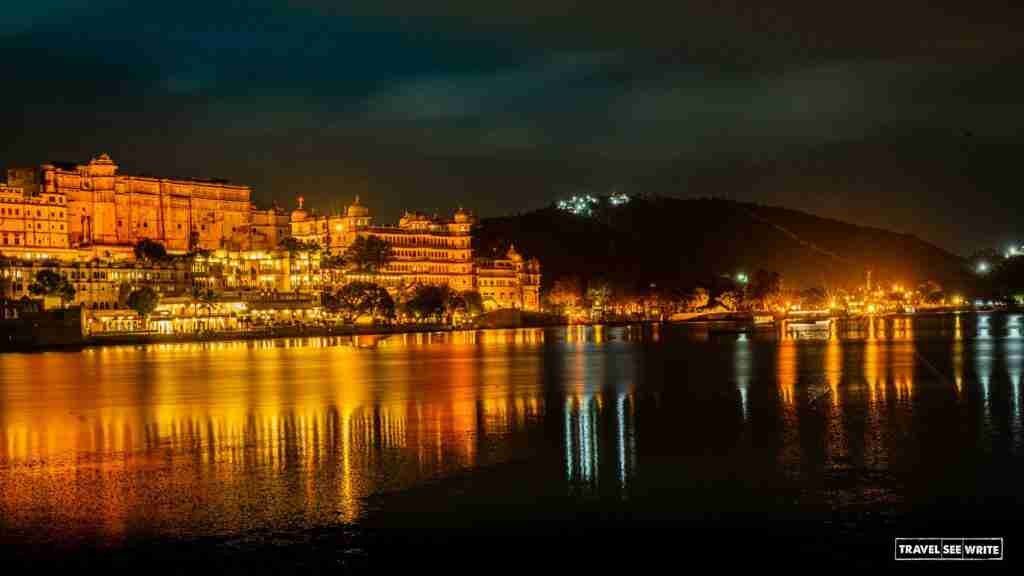 As the mercury level falls in Northern India, the tourists start flocking Rajasthan. The land of Maharajas is famous for splendid palaces, imposing forts, vibrant culture, spicy Laal-maas daal baati churma, rich heritage and marvellous stories of bravery. Rajasthan is all this and a lot more. There are so many beautiful places in Rajasthan, each with its unique charm and appeal, that it's almost impossible to cover all in one trip. Imagine exploring the pink city of Jaipur, the blue city of Jodhpur, the dunes of Jaisalmer, havelies of Bikaner, ghats of Pushkar, tigers of Ranthambore, and more in 7 days deeply. Hardly anything will register. You'll just be doing touch-go at every destination that deserves at least 3-4 days per destination. Therefore choosing one place and exploring it slowly and deeply is a better idea. And that's what I did on my last trip to Rajasthan when I decided to visit – Udaipur in monsoon season. In this travel guide you'll find places to visit in Udaipur in 2-7 days and much more:
Here is a short video about my trip to Rajasthan in this monsoon:
What is Udaipur famous for
Udaipur lies in Mewar, the land of bravery and chivalry, a treasure of impregnable forts and grand palaces. The saucer-shaped fertile valley, often referred to as the 'Venice of the East, is most famous for its azure water lakes and lush green hills of Aravallis. While Udaipur has a plethora of star attractions, some of the prime sites are – Lake Palace, strategically located in the middle of Lake Pichola, which is considered one of the most romantic hotels globally. City Palace and (Monsoon Palace) add to the architectural beauty and grandeur of the city. Jaisamand Lake is claimed to be the second-largest man-made sweet water lake in Asia. The city is also known for its abundance of zinc and marble reserves.
Places to visit and things to do in Udaipur
Despite visiting Udaipur several times (staying for at least 7 days each time), I have barely scratched the surface. Here are some I would highly recommend you to visit whether you are looking for places to visit in Udaipur in a single day or 2-7 days:
Lakes of Udaipur
Udaipur got its moniker, the city of lakes, owing to over seven fresh-water man-made lakes in and around the city. The interconnected, cascading lakes around Udaipur were primarily created by building dams to meet the city's drinking water and irrigation needs and its neighbourhood. So, every time I visit Udaipur, I make it a point to see at least 3-4 lakes. The best lakes to visit in Udaipur are Pichola, Fateh Sagar, Udai Sagar, Doodh Talai, Jaisamand and Badi Lake.
Udaipur City Palace
An imposing architectural marvel towering over the Lake Pichola on a hill surrounded by crenellated walls, it is a conglomeration of courtyards, pavilions, corridors, terraces, rooms and hanging gardens. The balconies, domes, and towers of the palace give an excellent view of the lake and the surrounding city. "City Palace is the largest palace complex in Rajasthan and was built in 1559 by Raja Udai Singh II. The original palace expanded, and successive generations added 11 new palaces to the original structure", said the Culture and heritage promotion Assistant Manager of City Palace, Poorva Bhatia. Twenty-three Royal families have lived in this 462-year old palace, including the current one who now resides in Shambhu Palace. This is now a major tourist attraction and a much sought-after wedding venue of the Haut monde.
The old complex consists of four major and several minor palaces that collectively form the magnificent City Palace. The central part of the palace is now preserved as a museum displaying artefacts.
Timings – 9:30 am to 5:30 pm on all days of the week
Entry fee – City Palace Museum fee is 300 INR for both Indian and well International guests. Children from the age of 5 up to 18 years is 100 INR and senior citizen 200 INR.
Lake Palace
Now a hotel owned by the Taj Group, it was initially called Jag Niwas and served as a summer palace of Maharana Jagat Singh. Built between 1743 and 1746 on an island in Lake Pichola, the palace is a majestic marvel of architectural beauty. The walls of the Taj Lake palace are made of black and white marbles adorned with semi-precious stones and ornaments. Courtyards of the restored palace are lined with well-manicured Gardens, fountains, pillared terraces, and columns. Restored to its original glory, this spectacular palace became world-renowned when the James Bond film 'Octopussy' was filmed at it. Equipped with well-appointed 65 luxurious rooms and 18 grand suites, this heritage hotel in Udaipur is a destination in itself.
However, the Taj Lake Palace is a resident-only facility. All hotel services and facilities are solely for in-house guests. So, you can enjoy its beauty from outside only unless you are staying here.
Karni Mata Temple
One of the best places to see the aerial view of Udaipur without taking a helicopter ride is from the top of Karni Mata Temple. And that's what I did. I have always visited this temple constructed from 1620 to 1628 by Maharana Karan Singh in my last three trips. But the temple never came into the public's eye until 1997, when the Manshapurna Karni Mata Development Committee decided to redevelop the temple. A well-paved path was developed with stairs and resting areas at various spots on the way to the temple. For those who didn't want to hike, a ropeway was installed. It takes anywhere between 20-25 minutes to reach a staircase and around 5 minutes by ropeway.
Once you reach the top of the Karni Mata Temple, you see a panoramic view of the entire Udaipur City. Starting from Dudh Talai Lake, Pichola Lake, Lake Palace, City Palace, Jagmandir, and a lot more. From the backside of the temple, you get to see an aerial view of the residential areas of Udaipur.
Sajjangarh (Monsoon Palace) and Udaipur Biological Park
Situated just outside Udaipur, the 19th-century Sajjangarh Palace is built on top of Bandara hills. Used as a monsoon palace and hunting lodge, Maharana Sajjan Singh originally planned to make it an astronomical centre. The plan was abandoned with the king's premature death. However, it is still an awe-inspiring sight on the Udaipur skyline. It offers spectacular views of the city, Sajjangarh Wildlife Sanctuary, and areas around.
Just beneath the Monsoon Palace lies Udaipur Biological Park, also known as the Sajjangarh Biological Park. The Sajjangarh Biological Park is an ecotourism site built to conserve the threatened flora and fauna within the area. While it's open all around the year, the best time to visit this park is during the monsoon season (July to September). The biological park is home to over 60 wild animals from 21 species, making it a haven for wildlife and nature lovers. It's a plastic-free area where you are not allowed to carry any plastic item with you.
Jagdish Temple
If you love heritage architecture, you must visit Jagdish Temple, a prime example of the Indo-Aryan style of architecture. This multi-storied temple was built by Maharana Jagat Singh I in 1651; to date, it continues to be one of the most visited temples in and around Udaipur. Devoted to Lord Vishnu, the structure of Jagdish Temple is an architectural marvel with carved pillars, elegant ceilings and painted walls.
Saheliyon Ki Bari
What do women do in Rajputana kingdoms to pass their time? They would visit gardens. One such garden was built by Maharana Sangram Singh II – Saheliyon-ki-Bari or the Garden of the Maidens. There is a small museum, marble elephants, fountains, kiosks, and a lotus pool within the garden.
Bharatiya Lok Kala Mandal
Udaipur and nearby areas have a rich cultural heritage. One place you must visit in Udaipur is Lok Kala Mandal. Dedicated to studying folk art, culture, songs, and festivals of Rajasthan, Gujrat and Madhya Pradesh. This autonomous institution is mostly self-reliant and provides livelihood to over 40 artists from across the region. Daily there are cultural shows and puppet shows. The institution also houses a museum that exhibits a collection of folk items from Rajasthan like rural dresses, ornaments, puppets, masks, dolls, folk musical instruments, folk deities and paintings.
Jalsa Food and Adventure Hub
This place was a complete surprise package with its authentic Rajasthani food and adventure activities. Visit this place if you want to try your hand at adventure activities like Zipcycle, Zoombike, Rope course, Rocket ejector, Wall climbing, etc.
I found above the best places to visit in Udaipur in the monsoon, but you can see them in any other season. Below are some more options.
Other places to visit in Udaipur
Besides the above, the other places worth visiting in Udaipur are Bagore-ki-Haveli, Shilpgram – the Rural Arts and Crafts Complex, wax museum, Ambrai ghat, and old city, Phoolon Ki Ghatti in Cheerwa, among many other places. If possible, visit Shilpgram during the ten-day Shilpgram Festival, which starts from 21 Dec to 30 Dec every year.
Places to visit around Udaipur
Udaipur has a lot of exciting places around to visit, such as Eklingji (22 km), Nagda (23 km), Nathdwara (48 km), Haldighati (50 km), Jaisamand Lake (50 km), Rajsamand Lake (66 km), Kumbhalgarh (84 km), and Banswara (160 km).
Best hotels to stay in Udaipur
Being a tourist magnet, there's no shortage of accommodation options in Udaipur for every budget:
Luxury and heritage hotels in Udaipur
When it comes to spoiling the guests with luxury, very few cities in India do better than Udaipur. Whether you are seeking a romantic plush experience in Rajasthan or wish to relish the royal hospitality, there are the best 7 star and 5-star hotels in Udaipur that will satiate your needs, whatever they may be. Almost every prominent hotel chain in India has a presence in Udaipur. While there are beautiful properties all around, the heritage hotels are the showstoppers of the city. These properties are either run by the erstwhile royals or were once their residences. One thing is common about all of them: all of them are near Lake Pichola. Once the grand homes of the Maharajas of the bygone century, these hotels now serve tourists seeking regal experience.
Here's a list of the best luxury hotels in Udaipur with lake views- Taj Lake Palace Udaipur, the Oberoi Udai Villas, Aurika by Lemon Tree, Raffles Udaipur, Taj Aravali Resort & Spa Udaipur, Jagmandir Island Palace – Grand Heritage, The Leela Palace Udaipur, Trident Udaipur, Taj Fateh Prakash Palace Udaipur, The Ananta Udaipur Resort & Spa, RAAS Devigarh, TatSaraasa Resort and Spa, and many more. The price of high-end 5-star luxury hotels such as Taj Lake Palace Udaipur, the Oberoi Udai Villas, Leela Palace etc., starts around 50,000 INR per night. In contrast, the price for the next tier of luxury hotels can be anywhere between 12,000/- INR to 30,000 INR per night.
Hotels in Udaipur Near Lake
When people visit Udaipur, the most sought after hotels are around the lakes. There are a lot of 5-star hotels in and around the lakes, namely Taj Lake Palace Udaipur, the Oberoi Udai Villas, Jagmandir Island Palace, Jag Niwas Palace, the Leela, Udaipur. Then there are many touristy Havelis and hotels near the lake cater to all kinds of budgets like Jaiwana Haveli,
Budget hotels in Udaipur
There are many good hotels in Udaipur that are worth spending a few days. Udaipur welcomes a budget traveller with as much attention and warmth as it does a luxury traveller. These budget properties are well equipped with all the essential facilities required for a smooth stay. Most of these accommodations offer fantastic views of Lake Pichola and Lake Palace from Mewar Haveli. They are close to the bus stand and the railway station. Don't be fooled by the 'budget' hotels tag – they are no less than any charming haveli of the yore. But if you like to stay away from the hum-drum of city life, the properties such as Tree of Life Vantara, Udaipur are a great option to stay.
Best Restaurants in Udaipur
Udaipur is a city where you can dine like a royal. While navigating through the narrow lanes of Udaipur, you are bound to get surprised by its culinary offering. You'll discover that the city's culinary offerings go beyond Rajasthani fare. From chic European-style cafes to picturesque fine dining restaurants on the lakeside—the possibilities are endless. I'll highly recommend some restaurants and cafes: Ambrai Restaurant, Khamma Ghani, 1559 AD restaurant, Upré by 1559 AD, Udai Kothi, Millets of Mewar, Neel Kamal Restaurant, Darikhana, Savage Garden, and Enigma. 
You can know more details about the best restaurants in Udaipur here.
Apart from plush restaurants, Udaipur has a rich legacy in street food as well. You can gorge on street food items such as hot samosa, crispy kachori, delicious aloo vada, tasty vada pav, or delicious dabeli at Sukhadia Circle, Chetak Circle or Bombay Market. Some worth mentioning places are Bohra Ghanpati Mishtan for samosas, Shri Lala Mishtan for kachoris dipped in curry and Bhole Nath Nashta Center for poha. One place that you shouldn't miss out on is Natraj Dining Hall and Restaurant. Their thali is. A must. Places like Bawarchi Restaurant, Queen Café, and Jasmin are worth visiting too.
Best markets to shop in Udaipur
Shopping and travelling go hand in hand. And, Udaipur doesn't disappoint when it comes to shopping. The famous markets of Udaipur are:
Bada Bazaar for Rajasthani trademarked Batik and Bandhani printed Sarees, traditional wooden and metal home décor items, handmade Juttis and Rajasthani jewellery.
Bapu Bazaar – Similar to Bada Bazaar, Bapu Bazaar is a lively place to experience the vibrant colours and culture of Udaipur. Besides handicrafts and clothes, you can experience the delicious Rajasthani street food also!
Hathi Pol Bazaar – a great place to buy authentic Rajasthani handicrafts and paintings. Hathi Pol Bazaar is loaded with fantastic wooden handicrafts, Phad and Pichwai paintings. Most importantly, don't forget to bargain.
Rajasthali – a Government-run, fixed priced market, Rajasthali offers the largest variety of ethnic Rajasthani items such as jewellery, brass home decors, camel leather footwear, ornamented mirrors and colourful glass items, etc. exhibiting the colourful culture of Mewar.
Shilpgram – Built in the form of a Village haat, Shilpgram has the widest variety of ethnic and traditional items. Moreover, the place is always alive with regular folk dance and music performances.
Jagdish Bazaar – While visiting the Jagdish Temple, you'll pass through this lively chowk famous for its souvenir items, including wooden toys, terracotta and metal artefacts and camel leather items.
Ghanta Ghar Bazaar – Famous for its jewellery made up of precious and semi-precious metals and gemstones, Ghanta Ghar is a treasure trove for buying tribal and ethnic jewellery. Other than jewellery, I loved trying out the famous Rajasthani pagdi (turbans) wore by the local men.
Suggested Itineraries for Udaipur – 24 hrs to 7 days
24 hours in Udaipur
Start with breakfast at cafe edelweiss. Their coffees and continental breakfast are great.
Then head to the City Palace, the number one attraction of Udaipur.
For lunch, you can either head out to Upre at 1559 AD (Approximately ₹2000 for two people without alcohol) or Jalsa Food & Adventure Hub (Approximately ₹ 500 for two people). You need to book in advance at both places.
After lunch, explore the gems of Udaipur – Jagat Mandir, Jagdish Temple, Sahaliyon ki Badi.
If time permits, go for a boat ride on Lake Pichola in the evening
For sunset, head to Karni Mata Temple
Wrap up the day with a dinner at lakeside or rooftop restaurants such as Amrai restaurant, Khama Gani, Upre or Enigma.
2 Days or a weekend trip to Udaipur
Day 1 – as above
Day 2 –
Start with a visit to Vintage Car Museum or Bagore ki Haveli and the old city heritage walk.
Have an early lunch at a lakeside restaurant like Rainbow restaurant.
At 1 pm, catch a cultural performance at Bhartiya Lok Kala Mandal. Post the one-hour cultural performance, explore the museum.
Alternatively, you can also catch a cultural performance at Shilpgram. The Shilpgram is at its best in December (21 Dec to 30 Dec)when the annual fair is conducted. The festival is both educational and entertaining for visitors.
In the evening, around 3-4 pm, head out to Sajjangarh (monsoon palace) to catch the sunset.
Wrap up the day with a romantic dinner at Udai Kothi or any of the above mentioned best restaurants of Udaipur
3 days or 72 hours in Udaipur
Day 1 & 2 – as above
Day 3 –
Visit any nearby attraction like Kumbhalgarh
Dinner at Natraj Dining Hall and Restaurant
5 days & more in Udaipur
Day 1, 2 – as above
Day 3, 4 & 5 – Banswara
Day 5 –
Visit Jaisamand Lake
While returning, visit the Maharana Pratap Statue at Fatehsagar
Dinner at any top restaurant
Day 6 – Visit Kumbhalgarh
Day 7 – Local sightseeing, shopping and departure
How to reach Udaipur
By flight
I took Vistara's afternoon flight from Delhi, which took around 1hr 25 minutes to reach Udaipur's Maharana Pratap Airport, about 22 km away from the city centre. By flight: Udaipur is well connected with flights from all over India. While I had a pickup arranged from the airport, you can easily hire a taxi or an auto from outside the airport to reach your destination. Pre-paid taxi costs approx. INR 700-800 and a prebooked OLA or UBER might cost around INR 400-500.
By road
Udaipur has good road connectivity. You can reach Udaipur from Delhi in 11 hrs, 13hrs27 mins from Mumbai, 6hrs 46 mins from Jaipur, 4hrs 59 mins from Ahmedabad, 7hrs 45 minutes from Indore, and 4hrs 49 mins from Kota. The roads are well maintained, and there is also an extensive network of regular bus services on these routes. Depending upon your budget and requirements, you can choose from air-conditioned coaches, luxury buses or state transport buses. The Rajasthan State Road Transport Corporation (RSRTC) buses connect Udaipur with places like Chittorgarh (115 km), Jodhpur (260 km) and Bhilwara (166 km), among others.
By train
Another easy way to reach Udaipur is via train. You can find frequent trains from Jaipur, Delhi and Mumbai. Trains such as Mewar Express, Ananya Express, Gwalior-Udaipur Express and Chetak Express run daily, connecting the city with Ahmadabad, Sealdah and Ajmer. Suppose you want to travel in a truly luxurious style. In that case, you can choose to travel in any of the luxury trains that cover Udaipur as a part of their itineraries, such as Maharaja Express, Palace on Wheels, Golden Chariot and Deccan Odyssey. Upon arrival at the Udaipur Railway Station, you can hire a cab or an auto-rickshaw to explore the city.
I hope you liked this travel guide for a trip to Udaipur.
Further reading
The best restaurants in Udaipur, Rajasthan
Why Tree of Life Vantara Resort is one of the Best Hotels in Udaipur?
Banswara – the city of 100 islands
Ranthambore National Park, Rajasthan, India
Castle Kanota, Jaipur – How tourism saved the royals of Rajasthan
Rethinking tourism could save Udaipur from its pressures
Inspired? Pin these to your Pinterest boards
Disclaimer
I had visited Udaipur on the invitation of Rajasthan Tourism but all the views expressed above are solely based on my personal experience. All the pictures and text written above is the sole property of Travel See Write. Please don't copy anything without prior written approval.