In this post, you'll read about my experience of visiting Switzerland in winters, where I talk about my business class experience with the Swiss, exploring the Lauterbrunnen Valley and attending the Lauberhorn Ski World Cup. Also, I'll share travel tips on where to stay, what to shop and which season is the best season to visit Switzerland. So, without further ado, let's begin!
I was in class 5 when a new classmate, Shiv, had joined. Within no time, this little boy with peach complexion and blue eyes had created a massive fan club comprising of classmates and teachers. Besides his chocolaty looks, his last place of residence had earned him brownie points. His eyes would glow when he would describe Switzerland. "Swiss Alps are dreamlike…. trains always run on time…the lakes there are so clear you don't need a mirror…and there's absolutely no comparison of Swiss cheese and chocolate", he said. His words and gestures created the magic that even Yash Raj couldn't build on 35mm. And, just like that, I fell in love. Not with the boy, of course, but with the place.
Since then, I started dreaming about the Swiss Alps. I would imagine the majestic Matterhorn and Jungfrau summits shimmering in the crimson golden-glow of the sunlight as the misty clouds played hide-n-seek in the Bernese Oberland mountains. I would dream of beautiful cows gingerly grazing as the big Swiss bells hanging on their necks made a sweet symphony in the middle of green meadows.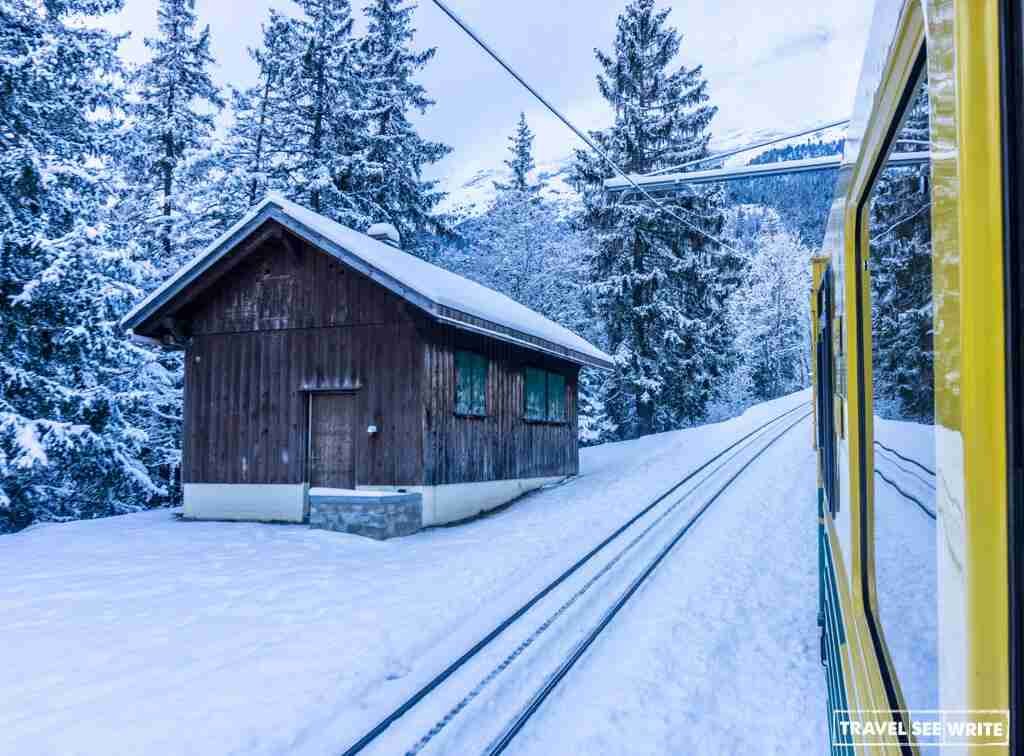 My dreams were finally realised in the 2000s when I visited the country not just once but twice. However, both the times it was in the summertime, which I loved. But being a mountain lover (who's crazy after snow) I would dream of snow-white Switzerland. The allure of winter lies in nature—so immense, overwhelming and, of course, achingly beautiful. So, when Swiss International Airlines (SWISS) reached out to me for a winter trip to attend the Lauberhorn Races, jumped at the offer. I could barely contain my happiness and I have to admit, it was a great start to the new year. Here's what I experienced:
Flying business class on Swiss
Although I had only spent six days in Switzerland, I felt like my journey started much before I arrived – thanks to my SWISS flight. My flight was after midnight – 2 am – so, I made full use of my flatbed seat in the spacious business class, which had an in-built massager too. And, before sleeping the friendly cabin crew made sure I ordered my breakfast from the myriad choices available onboard.
As soon as I landed in Zurich, after collecting my luggage, I freshened up in the Swiss Arrivals Lounge, located directly after Customs. The lounge offered 20 luxurious showers named after a different city, a separate quiet area and an extensive breakfast buffet for incoming passengers like me. (Read more about my Fly Swiss experience in my next post).
On-board the Swiss Trains
Feeling as fresh as the Swiss Air, I was all ready to explore the wintery beauty of the country by combining a city break in Zurich with a ski holiday in the Jungfrau region. The best part was I did not have to go far to catch the train. The SBB travel centre was located below the Airport Center in the Check-in 3 area. Luckily, I had bought the eight days Swiss Travel Pass beforehand, which is by far the best way to explore Switzerland – an all-in-one ticket that lets you travel unlimited by all means of public transport – train, bus and boat – throughout the whole of Switzerland. And it includes many bonus benefits as well as free admission to more than 500 museums.
What I liked most of the Swiss trains is their punctuality, comfort, and convenience. Just like their clockwork, Swiss trains run with impeccable precision and efficiency. You can get just about anywhere quickly, comfortably and efficiently on the train and the views can't be beaten.
Like a seven-year-old kid, I stared out of the window enjoying the sweeping views of the Swiss countryside blanketed in snow. My eyes were sparkling like diamonds gazing at the mighty Alps, glistening turquoise blue lakes, deep black forests with frozen white tips, rushing rivers with frozen waterfalls and charming chalets and churches dotted around snowy fields. The natural beauty of the countryside is charmingly contrasted with the views of culturally rich cities like Zurich and Bern. In between my 2h 20 minutes journey from Zurich to Interlaken, I took out time to enjoy a hot cup of coffee served at my seat. You could also enjoy a freshly prepared meal on board, either in the dining car or at your place.
The laid-back countryside life of Interlaken
At around 11:30 am as I alight from the train, a brisk winter wind hits my face in the sleepy resort town of Interlaken, which otherwise is bustling with tourists in summer. The town got its name from its unique location – lying on an alluvial plain between Lake Thun and Lake Brienz. The vacation destination, which is guarded by the three mighty mountains – Eiger, Mönch and Jungfrau – is the starting point for numerous activities in the Bernese Oberland.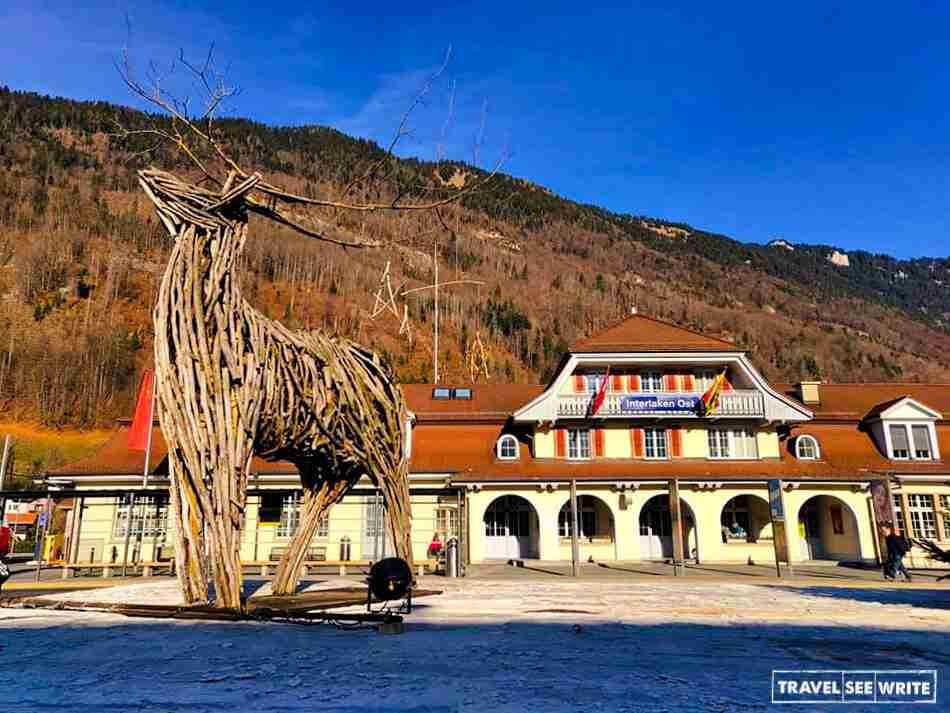 Despite the cold, everyone seemed to be enjoying the great Swiss outdoors – some are paragliding, others opt for a boat ride in the lake or go skating in the rink just outside my hotel – VICTORIA-JUNGFRAU Grand Hotel & Spa.
Staying here is like delving into a nostalgic luxurious past. It's a kind of place you read in books or see in movies. The hotel had mainly remained the same as it was built in 1865 is one of Switzerland's most historic luxury hotels. Despite functioning over 150 years, it has maintained its status and charm by committing to the finest Swiss traditions of hospitality while still moving with times.
No wonder it was a favourite of Yash Chopra where he had a Bollywood cinema-themed suite. He played a significant role in capturing Switzerland's picturesque landscape in his movies. He thus earned the title of Ambassador of Interlaken, and a special Yash Chopra Statue and Yash Chopra Train were inaugurated in his honour in Interlaken. I had almost a full day at my disposal, so I decided to take it slow and explore the old town on foot.
Related: One of the best ways to enjoy Swiss winters is by soaking yourself in the thermal baths in Switzerland.
The romantic wintry beauty of Bernese Oberland
The next day I was back at the station to take the scenic train with my local hosts – Celina Finger and Renato Julier – from Interlaken Tourism. We took a train from Interlaken Ost to Grindelwald, where we boarded another mountain train that trundled on up to Kleine Scheidegg. From there, we walked for around 45 minutes to Wengernalp. The whole journey was so atmospheric and magical; I felt like I was in a snow globe. Snow left the countryside blanketed in white, and small Swiss villages stood out against the dazzling background. The undaunted hills were dotted with resolute sun blackened wooden houses. The clouds hung low in between the valley and the towering peaks. Far away, the sun was waking up from his slumber.
While we preferred to walk to the ski village, many were snowboarding, skiing, sledging, or taking the helicopter ride. The stunning Alpine villages of Lauterbrunnen, Grindelwald and Wengen – and the soaring Eiger, Monch and Jungfrau peaks that guard them left me utterly awestruck as JRR Tolkein was in 1911. No wonder the Rivendell Valley in his books – the Lord of Rings and the Hobbit are based on his adventures in Switzerland.
The spectacular Air show and the Ski World cup
My main reason to visit Switzerland in winters was to attend the Lauberhorn Ski World Cup. The international Lauberhorn ski races were held for the first time in 1930, and since 1966 they have taken place within the framework of the FIS Alpine Ski World Cup. The best in the ski world compete in the three disciplines of Alpine Combination, Downhill and Slalom for the best time and the prize money. It's one of skiing's classic races at an iconic venue on a leg-jellying track with a fearsome reputation. The Wengen downhill is the oldest, longest and fastest on the men's World Cup circuit, and one of those titles coveted by the speed freaks, like a grand slam in tennis or a major in golf. This year 61,000 spectators were present in Wengen while millions followed it on Television. All the VIP areas and grandstands were completely sold out.
Thankfully I was booked at the Canadian Hospitality Corner where I watched the race from the comfort of a cosy lounge. The Swiss crew made sure we were well fed and hydrated.
But before the race began, we were entertained by a fabulous airborne spectacle by the Swiss Airbus and Patrouille Suisse pilots (official Swiss Air Force) over Eiger, Mönch and Jungfrau.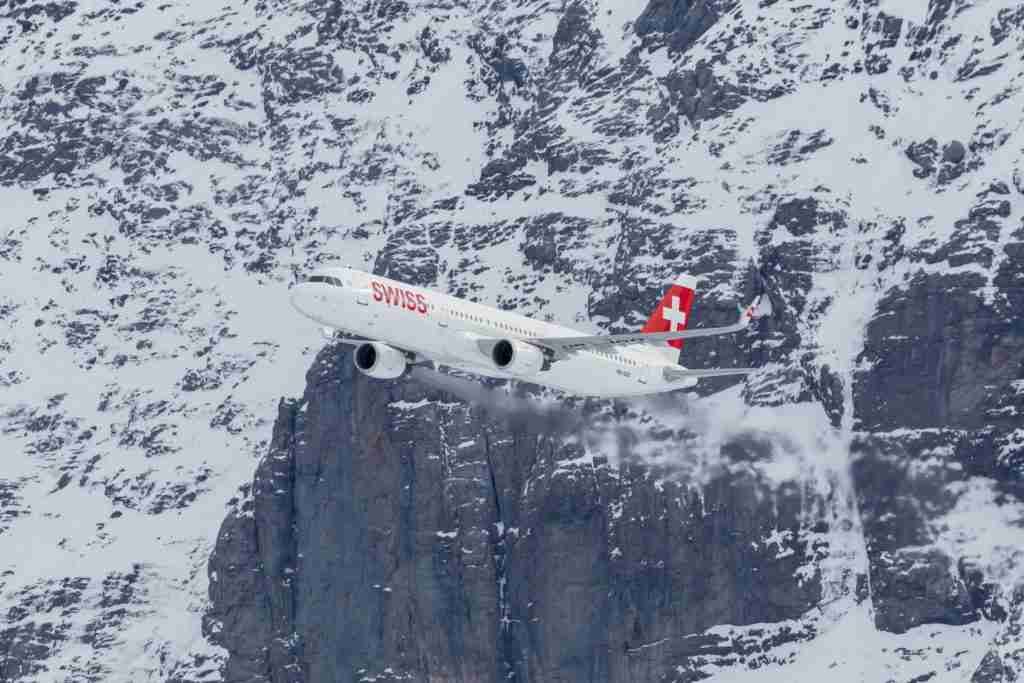 And, then the real action began – Lauberhorn Downhill Race. After the race, we took a train back to Interlaken. I enjoyed the evening savouring the Swiss fondue at Swiss Chalet and watching the ice-skaters on Top of Europe ICE MAGIC rink.
The next day started on a similar note. Although, this time instead of going to Grindelwald, we went to Wengen via Lauterbrunnen. Friendly, beautiful and car-free, Wengen looked as if it was lifted from a chocolate box cover and is best discovered on foot. The 30-minute walk was just so atmospheric and magical. Sitting pretty on a sunny shelf above the Lauterbrunnen valley in the Bernese Oberland region of Switzerland, the town was chock full of timber-clad chalets and grand 19th-century hotels, reached by a rack railway from the valley floor.
From the comfort of a cosy SWISS lounge, specially constructed for the event, we saw the winners complete their races successfully. The icing on the cake was interacting with the pilots that performed in the Air show, a day earlier.
And, once the races were completed, it felt like heavens were celebrating their wins too. Soft snowflakes started falling, and the whole valley was covered with fresh snow.
More of Switzerland was calling. So, after spending a few invigorating days in the storybook countryside of the Jungfrau region, I headed to a big city, Zurich, to savour the city life and the cultural vibe. Stay tuned for my next post where I'll share my urban adventures and a day-trip to Lucerne.
10 Travel Tips for combining a city break with a ski holiday:
If you are planning to visit Switzerland, do look up 'Stopover Switzerland' package offered by SWISS. It provides an affordable way to combine nature and culture on your holiday in Switzerland. When you book a ticket with Fly Swiss, you get to explore two destinations with a price of one. I highly recommend combing one city break like Zurich and one countryside experience like the Jungfrau region.
Visa: You require a valid Schengen visa to visit Switzerland.
Currency: the official currency of Switzerland is Swiss Franc (CHF), but credit cards and Euros are universally accepted.
Lauberhorn World Cup: Book your tickets in advance at https://www.lauberhorn.ch/en/ for next year's Lauberhorn races (JANUARY 15-17, 2021) as they get sold out pretty soon.
Accommodation: I stayed at VICTORIA-JUNGFRAU Grand Hotel & Spa in Interlaken and found it very convenient to travel by trains to the world cup site. However, you can also stay at chalets in Grindelwald and Wengen.
Food: I am a vegetarian, and I had no problem finding vegetarian or vegan food. Right from global cuisines to local swiss delicacies, you can find all kinds of food here. I particularly liked Swiss Chalet restaurant for fine Swiss specialities like Cheese Fondue in a cozy chalet atmosphere, Velo Cafe and Bar for Vegan food, ristorante-sapori.ch for Italian food and Swiss Chocolate Chalet for chocolates.
Transportation: Don't forget to buy the Swiss Travel Pass to enjoy free travel by trains, boats, buses and trams throughout the country.
Shopping: Switzerland is the most expensive country in the world. So, I would recommend you to just spend money on food, drinks and must-buy souvenirs like cowbells, Swiss cheese, chocolates, and keychains. However, if you can splurge, go and buy anything. The quality is no doubt the best here.
Best season to visit Switzerland: while there is no best or lousy season to visit Switzerland, I loved visiting it in January as I could attend the Lauberhorn Ski World Cup.
Packing: carry multiple layers of winter ware like waterproof snowshoes, warm down jacket, windproof jacket, gloves, scarf, sunglasses, sunscreen, thermos flask, swimsuit (if you want to go to the thermal spas) etc.
The small country though it may be, Switzerland always seems to find room to accommodate something wonderfully of its kind. I hope this article can inspire you to explore Swiss Alps and its cities. If you have any questions, drop them below, and I'll reply asap.
Liked the post? Pin these to your Pinterest boards
Disclaimer
I was invited to visit Switzerland by Swiss and My Switzerland. Everything expressed above is based on my personal experiences in the country, and all the images are shot by me. Please don't use any image or text without my written permission.