1. Dakshineswar Kali Temple
Located on the banks of the Hooghly River, this temple has always by religious as well as spiritual followers. The Bengali spiritual leader, Ramakrishna Paramhans, started his remarkable spiritual journey from this itself differently Hindu pilgrimage site, which is dedicated to goddessKolkata stillKali. The periphery of the temple courtyard has a string of shrines dedicated to Hindu god Shiva.
2. Belur Math
Set amidst palms and manicured lawns inHowrah on the banks of Hooghly River, this large religious centre serves as theheadquarters of the Ramakrishna Mission. A mission that follows the philosophyof the 19th-century Indian sage Ramakrishna Paramahamsa, who preached the unityof all religions. And, the same unity is visible in the temple architecture,which is a wonderful blend of Hindu, Christian and Islamic architectural stylessymbolizing the unity of all religions.
3. Howrah Bridge
The iconic landmark bridge spans through the Hooghly River connecting the two cities of Howrah and Kolkata. This sixth-longest beam bridge in the world is truly an engineering marvel – it does not have nuts and bolts and was created by riveting the whole structure.
4. Mullick Flower Market
Near the south-east end of the Howrah bridge, a flight of stairs take you to the colourful world of flowers. The 130 years old Mullick Ghat flower market is one of the largest flower markets in Asia. And, the interesting part is, unlike other flower markets in the country, it doesn't function for just few hours. It starts as early as 3 am and doesn't close until 10 pm.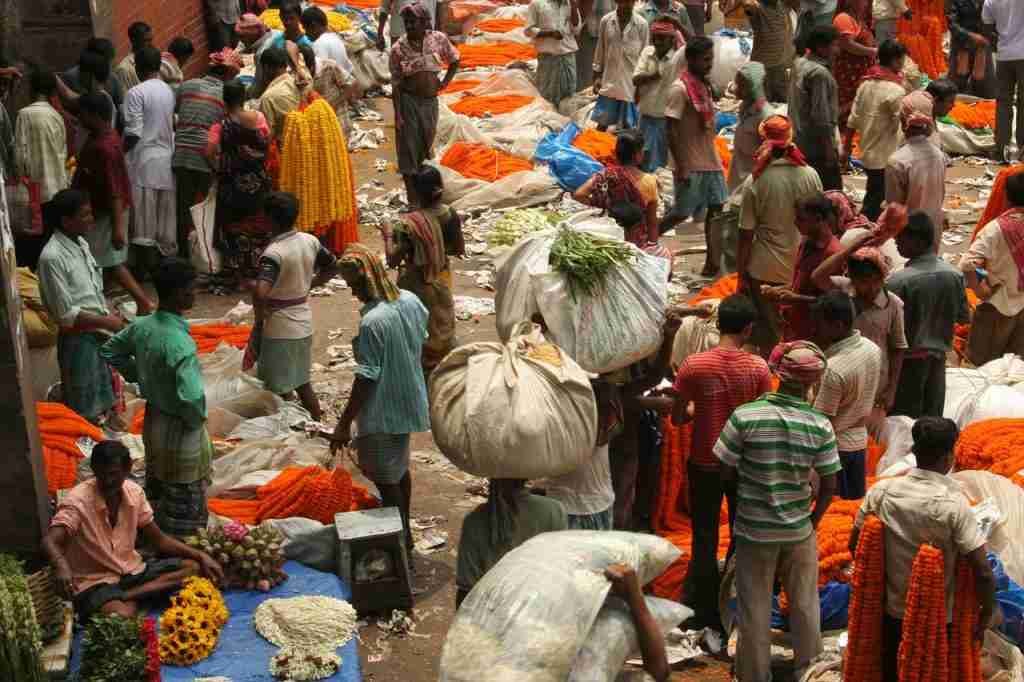 5. Kumartuli Idol Maker
What Christmas is to the Vatican, Durga Puja is to Kolkata. And, the countless clay effigies of deities and demons that are immersed in the Hooghly during Durga Pujas are crafted in special kumar (sculptor) workshops. The narrow lanes lined with workshops on both sides are filled with clay effigies of Maa Kali, and Lord Ganesh and others. It is a place where you can see the idol-making from scratch. Most of the artisans who work here as idol makers have been working for several generations.
6. Victoria Memorial
The iconic landmark building of Kolkata is a beautiful mélange of East and West architecture: think US Capitol meets Taj Mahal. The grand marble building was commissioned by Lord Curzon, then Viceroy of India, to commemorate Queen Victoria's demise in 1901, but it wasn't completed until 20 years after her death.
7. Marble House
This grand mansion is arguably one of India's best-preserved royal homes and was built by an affluent Mallick family Raja in 1835. This Marble mansion is a showcase of art, hunting trophies, glassware and original paintings by Murillo, Joshua Reynolds and Rubens. Anyone can visit this luxury home but they first need to take a prior written permission from West Bengal Tourism.
8. Indian Museum
India's biggest and oldest daddy of museumshas extensive collection comprising of over 100,000 exhibits of miniaturepaintings, antiques, armor, fossil skeletons, coins, porcelains displayed inover 60 galleries. Some of the notable exhibits date back two millennia like the 2nd-century-BC Bharhut Gateway, Egyptian mummies, relics from the ancient Indus Valley civilisation of Harappa and Mohenjo-daro, dangling whale skeletons and some 37 types of opium in the library-like commercial botany gallery. The museum has 6 different sections – Art, Archaeology, Anthropology, Geology, Zoology, and Economic Botany.
9. Tagore's House
Popularly known as the 'JorasankoThakurbari', the regal 1784 ancestral house of Rabindranath Tagore has become a shrine-like museum dedicated to the life and works of the Nobel Laureate. The gallery of the paintings, his quotations, exhibition on his literary, artistic and philosophical links with Japan gives an insight on his ideologies and philosophies. One thing that you must not miss is his photo withEinstein clicked in 1930
10. Botanical Gardens
Kolkata's 109-hectare Botanical Gardens provide a great escape from the city's non-stop sounds and smells. Founded in1786, the gardens have more than 12,000 plant species. The garden played an important role in cultivating tea bushes smuggled in from China by the British, long before the drink became a household commodity. Today, there are plants collected from all around the world.
Other places to visit
New Market or the or Sir Stuart Hogg Market for shopping
Dacres Lane for street food
Park Street for restaurants and pubs
If you are looking to explore
offbeat parts of India
, don't forget to read
why you should go on a road trip to Meghalaya
and
Sikkim – the Himalayan Shangrila
So, when are you going to visit Kolkata? Have you ever visited the 'City of Joy'? If yes, I would love to hear from you.
Published on
November issue of
Malindo Air inflight magazine
Inspired? Pin these to your Pinterest boards