Nizamuddin Basti Renewal project – find out how the mystic abode of Sufi saints got a mammoth makeover while rebuilding lives in Delhi.
Named after the Sufi saint Hazrat Nizamuddin Auliya, Nizamuddin Basti is one of the oldest inhabited areas of Delhi. It gained spiritual significance in the 13th century when it became the final resting place of the famous saint and his spiritual disciple, poet Amir Khusrau. While Basti has been forever popular among saints and spirituality seekers, its appeal increased when Imtiaz Ali shot the famous 'Kun Faya Kun' song from Superhit Bollywood movie 'Rockstar' at Hazrat Nizamuddin Auliya dargah. Besides the dargah, the area is home to Delhi's two top heritage attractions – Humayun's tomb and Sunder Nursery.
As you enter the Basti, you are greeted into a world of colour, culture and chaos. Over seven hundred year old crammed streets and winding lanes convey history lessons. While walking the narrow alleys, you realise that the Basti is not only rich in the built heritage but is a treasure trove of living cultural heritage. A heritage represented by old traditions, delectable cuisine, soul-stirring Sufi music, and intricate handicrafts.
Unfortunately, three decades ago, Nizamuddin Basti's image took a downward plunge – from a thriving cultural hub to a crime-ridden ghetto, discouraging visitors and encouraging criminals. But then something remarkable happened, and to everyone's surprise, Nizamuddin Basti got a mammoth makeover that stunned everyone. History was revived, and lives were rebuilt through a Nizamuddin Basti Renewal project that achieved 15 out of 17 sustainable development goals. Besides restoring over 20 historical monuments, the basti was sustainably developed, providing a better life to the local communities. A crumbling society grappling with social issues such as unemployment, illiteracy, poverty, gender discrimination and inadequate healthcare facilities got a new lease of life.
So, how did this transformation happen?
In 2008, through an innovative People-Public-Private Partnership model, the Nizamuddin Basti Renewal project achieved the unthinkable – placing heritage at the heart of sustainable development. The project overcame significant socioeconomic challenges by working on three core areas: health, education, and environmental sanitation. The initiative included the conservation of several important monuments, cultural programming, training of guides, creating a public school and toilet facilities and skills training, particularly of youth and women. The project has become a successful template for others to follow and won hearts globally. In 2021, Delhi's Nizamuddin Basti won two UNESCO Asia-Pacific Awards for Cultural Heritage Conservation – Award of Excellence and Special Recognition for Sustainable Development Award.
To understand how this miraculous transformation happened, Travel See Write reached out to Aga-Khan Trust for Culture (AKTC) and the locals of the Basti. Ratish Nanda, the CEO of AKTC, shared the underlying emotion behind the project.
All of us at Aga Trust for culture are working towards improving the quality of life of communities through culture. Take, for example, Nizamuddin Basti. One of the biggest assets of the Basti is their culture – both the built heritage and living heritage like music, food, traditions, beliefs etc. Yet these are poor communities.
The trust is trying to improve the community's quality of life by restoring monuments and building toilets, health clinics, primary schools, improving houses, and a lot more. Shedding light on how the project incorporated community development into heritage conservation, Nanda said,
Through this project, we wanted to develop a historic city centre model where conservation and development including education, sanitation, employment, and urban development go hand in hand. We look at heritage as an asset, not as a burden.
Nizamuddin Basti Renewal initiative went beyond monuments restoration to the holistic and sustainable development of the basti by working on five key pillars – Livelihood generation, environment sanitisation, Education, Healthcare, and heritage appreciation.
Livelihood Generation
In 2008, AKTC formed a women's self-help group named 'Insha-e-Noor' to train and create employment opportunities for the women of the Basti. To date, over six hundred women have attained economic and social independence by choosing to be part of this initiative. They create beautiful, handcrafted textile and paper products inspired by Nizamuddin's rich cultural and architectural heritage. 48-year old Zaida started learning tailoring here in 2008 and has become an essential part of the organisation since then. She feels joining Insha-e-Noor was one of the best decisions of her life. She attained financial independence, but she also gained a lot of self-confidence and respect from others. With a twinkle in her eyes, she told how proud her children are of what she has achieved,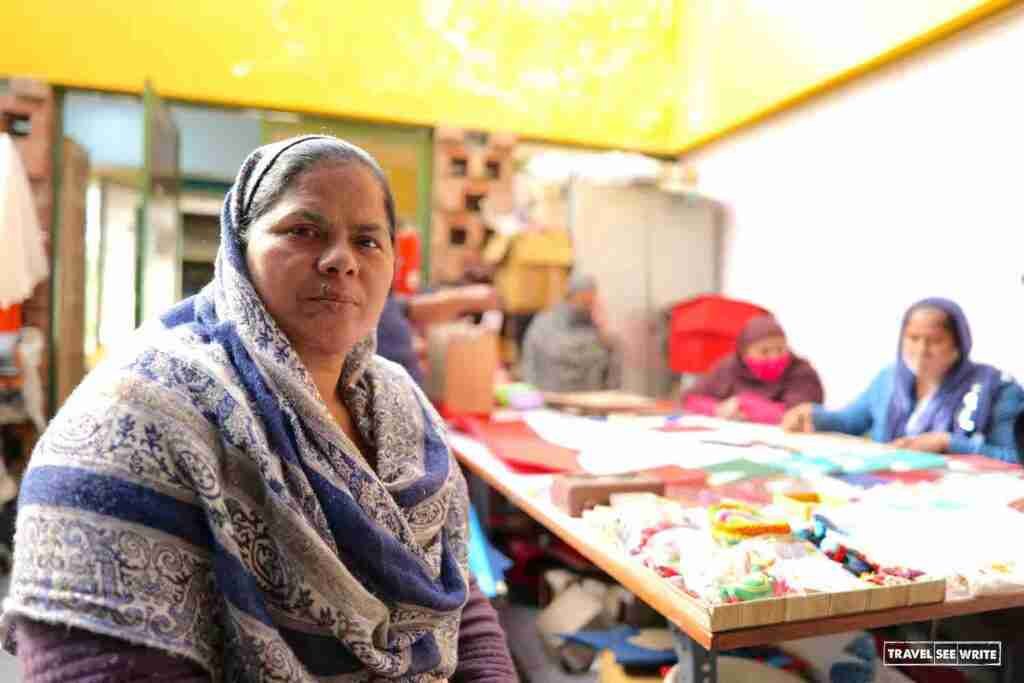 Bacchae Bhi dusro ko kahte hai ki Hamari Ammi yeh sab karti hai.
From being one of the first members of the women's self-help group to becoming its board member, she shared how Insha-e-Noor has made a difference in her own life and community. Local women, the actual shareholders, run the organisation, and the profits are equally shared. They collect money and help each other whenever required without charging any interest. They earn by selling their handicraft items online and participating in various exhibitions and melas like Dastakar, Diwali Mela, Basant Bazaar, etc.
Environment Sanitisation
Besides lack of livelihood opportunities, another big issue that the basti faced was the absence of safe and hygienic toilets. Over 25% of households in the Basti didn't have toilets and were dependent on the two public toilets, which were terrible to use, especially for the women. 35-year-old Anisa recounts the unpleasant old days,
Diwaren bahut chotti thee jinpar ladke chaddh kar humein chedte the. Subah Shaam akele Jaane main bahut darr lagta tha. Bahut ganda rahta tha aur badboo ki to baat hi mat Karo
(The walls of the toilet were too low on which boys would climb and eve-tease us. We were scared to use it, especially during morning and evening hours. It was too dirty and too smelly".
AKTC formed Rehmat Nigrani Samooh (RNS) to improve and maintain the condition of the community toilet. It has become South Delhi's model toilet with thirty toilet seats and a bathing and washing area from being a dirty toilet. Usually, it remains open from 6 am to 10 pm, but it remains 24hrs open when over 10,000 people use it during festive times. The locals are trained to take care of the public toilet and educate the visitors to maintain cleanliness. Besides the toilets, the Nizamuddin Basti Renewal initiative also undertook the landscaping and beautification of Barapullah Nalaah, Nizamuddin Baoli, local parks, streets and schools.
Education
The municipal primary school has transformed. Hyder Rizwi, who works at SDMC School, revealed that in 2007/08, the Baseline survey on Education of Delhi revealed that out of the total population of 15,000 in the Basti, only 150-200 children were enrolled in the schools. The reasons were aplenty–shabby school premises, lack of teachers, lack of midday meals, and mothers working as maids in other houses, so no one was there to drop the children at the school. AKTC revamped the school using the building as a learning aid (BALA) to make learning fun for children. The walls were coloured to depict nature, rows of low blackboards for children to scribble on, counting and tables were written on stairs, and measurement charts on the walls, among other fun learning things. New teachers were hired, and other infrastructural issues were taken care of by AKTC.
Healthcare
Before the project took off, the healthcare conditions in the Basti were abysmal. Unsurprisingly, pregnant women and children were found to be the most vulnerable. A path lab was set up, and fifty local women were trained as health workers called Sehat Sahelis (40) and Sehat Aapas (10). Each Saheli looks after 40 homes reaching out to 14,000 permanent population and 7000 floating population. They report to Sehat Aapas, who in turn reports to the doctor or public health specialist. 39-year-old Saira Qureshi, a single mother of six children, joined the organisation ten years back when her husband expired. She has singlehandedly raised her family. Today, her eldest daughter is in college and pursuing theatre. Qureshi's job involves going door-to-door and ensuring that everyone gets medical and nutrition help in time. According to her, fewer maternal deaths or malnourishment cases have occurred in the last ten years.
Heritage Appreciation
Hazrat Nizamuddin Basti is a custodian of 700 years of living cultural heritage. And one of the main objectives of the Nizamuddin Basti Renewal project was to generate awareness about the tangible and intangible heritage of the Humayun's Tomb – Nizamuddin Basti area amongst people especially the school children. And, thus 'Sair-e-Nizamuddin', a Self Help Group comprising Basti youth, was created in 2010 to promote heritage appreciation and provide employment to the young boys from Nizamuddin. Since then, the group has regularly conducted heritage walks through the Hazrat Nizamuddin Area, including the World Heritage Site of Humayun's Tomb and Rahim's Tomb. 35-year-old Md. Rashid Siddiqui, who has been one of the founder members of the 'Sair-e-Nizamuddin' self-help group, shared the success of his eleven member team. He said,
To date, we have taken over 50,000 school children on our heritage walks. We not only tell them about the monuments but also introduce them to our cultural activities like lime plaster, honey-bees, sanjhi (paper stencilling), and aari embroidery, among others.
According to Rashid, the main characteristic of these walks is to showcase the social life, tradition and customs of the Basti while giving equal importance to written history. Over the years, the heritage awareness programme has been established with many government departments, schools, hotels, and the tourism industry. Besides aiding the tourism, education and cultural sector, these walks have also provided an alternate career option to the youth from the community.
Nizamuddin Basti Renewal project has created a blueprint on how organisations can use conservation for people's social and economic upliftment.
Practical Tips for Nizamuddin Basti Visit
If you are planning to visit Nizamuddin Basti to know its history and the best things to do and see, keep in mind the following things:
Entry fee: There is no entry fee to visit the Dargah. If you want to take a heritage walk of the Basti with 'Sair-e-Nizamuddin' then a certain fee will be charged. You can book directly with them.
When to visit Nizamuddin Dargah: The Nizamuddin Dargah is open for devotees on all days from 5:00 AM to 10:30 PM. Thursdays are a special attraction because of the qawwalis being sung between 6:00-7:30 PM and 9:00-10:30 PM in the open courtyard within the Dargah.
Dress Code: It is expected that one enters the Dargah with his/her head covered. So do carry a stole, dupatta or a piece of cloth that can be used to cover the head while you offer prayers.
Nizamuddin nearest Metro Station: Indraprastha Metro Station & Pragati Maidan
Main Attractions: Sunder Nursery, Humayun's Tomb, Rahim's Tomb, Jamat Khana Masjid, Tombs of Jahanara, Mohammed Shah and Mirza Jahangir, Baoli, Chini-ka-Burj and Bai-Kodaldai's Tomb, Tomb of Amir Khusrau.
Food: There is mostly non-veg food available in the eateries situated in the lanes that lead to Dargah. Do try out the kababs and kormas of Zaika e Nizamuddin. It is a self-help group of 11 women chefs, all of who stay in Hazrat Nizamuddin Basti and meet every day to run a food delivery service.
Hope you liked the amazing work that the Nizamuddin Basti Urban Renewal project has done. Please let me know in the comment box below how you find the article or anything you want to know more about.
Related stories
Pin these
Sharing is caring. If you liked the post, please consider pinning these to your pinboards.