Ladakh, the northernmost union territory of India, is at high altitudes ranging from 8,780 ft to 25,170 ft height in the Karakoram Range. Most of the year, the region has to bear long, cold, harsh wind-swept winters where temperatures fall as low as – 40 °F. Because of such harsh living conditions, Ladakh is mostly barren, with few green patches here and there. Covering an area of 59,146 km², it supports 2.74 lakhs residents, most of whom make their living through subsistence agriculture. However, the population becomes more than double in summers when over three lakh tourists descend in this extremely picturesque land of high passes. Ever since Amir Khan's Three Idiots hit the cinemas, Ladakh became the most loved destination for Indian tourists. The exponential rise in tourist footfall (from 16,449 tourists in 1994 to 2,79 lakhs in 2019) definitely brought in money and employment opportunities in the jobs-scarce Ladakh, but it also brought in an unwarranted tax on its precious natural resources. Soon there were mountains of plastic waste everywhere and the region started grappling with other over-tourism led issues.
Sajad Nabi Dar, a climate expert with M. Phil and PhD degrees in Sustainable Mountain Tourism Development in Ladakh, sheds light on tourists' callousness. He told Travel See Write,
Ladakh has two types of toilets–traditional dry compost toilets and modern flush toilets. While the locals, especially farmers, prefer the conventional dry toilets, as they not only save water but are great for farming lands as well; but tourists prefer flush toilets. As a result, each tourist wastes around 7-8 buckets of precious water daily on a toilet, which is entirely unnecessary in a region where water is most precious.
Fe further continues that before the tourism boom, the glacial meltwater and springs were enough to supply water to the entire Leh town. But over the years, the water demand skyrocketed so much that they were not enough and the hotels and guesthouses had to dig bore wells to extract the groundwater, which further depleted the water table. Unfortunately, today almost all the springs in the town have dried up, and they require thousands of water tankers daily to fulfil the needs of the tourists. The worst part is the water shortage is forcing locals to leave their generational homes and give up their agrarian-based economy. Many villages in the valley, including villages such as Kulum near Leh and Kumik in Zanskar, were abandoned due to water shortage. While attempts are being made to rehabilitate ghost villages by solving the water crisis through artificial glaciers (Ice Stupas) the problem won't get solved until they take concrete steps to reduce the unregulated tourism-led pressure on Ladakh.
Unregulated Tourism's After-effects
While the tourist boom has undeniably created employment opportunities in the trans-Himalayan region of India, it has brought along severe after-effects, namely on the environment, culture and socio-economic divide of Ladakh.
Environment Paying the Price
The tourism industry has created a massive garbage and plastic problem in the region. Unfortunately, infrastructure in terms of waste disposal and management is still lacking, and the fragile ecosystem of Ladakh is being destroyed beyond repair. In a mindless race to lure tourists, hotels and guest houses try to match the western standards, undue pressuring scarce natural resources beyond what the local community usually requires. For example, instead of consuming the indigenously produced food items such as potatoes and barley (requiring lesser water to grow), tourists demand to eat tomatoes and peppers imported from other states where there is no water issue. Not just that, they litter non-biodegradable waste in the most pristine lands that are hard to clean.
As per Aparajita Goswami of Zero Waste Ladakh, "Ladakh has always been a Zero Waste society. However, with the opening of Ladakh to the outside world, the contents of the local waste changed, comprising a large portion of inorganic materials such as plastics, cement, glass, metals, ceramics, polyester, rubber and much more. Although dearly paid for by the locals, such waste materials hold little or no value for them. Thus, waste proliferation and pollution of the pristine environment have become the most pressing concerns in Ladakh."
Konchok Norgay, who works with SECMOL (Students' Educational and Cultural Movement of Ladakh and HIAL (Himalayan Institute Alternative Ladakh), founded by Sonam Wangchuk for Sustainable Development of Ladakh, told shared how Ladakh is loved to Death by tourists.
In tourist season every day 300-600 cars visit Pangong Lake carrying approximately four persons per car and each passenger buying at least four single-use plastic bottles. All these 5000 – 10,000 bottles are recklessly littered in the valley without thinking about who will clean up their mess once their trip ends. Since there is no proper waste management system in Ladakh, the plastic waste remains discarded forever in the open area, sometimes reaching inaccessible lands where tourists can't reach it.
A sentiment further echoed by Sajjad, "Locals are more responsible for managing waste, but tourists don't act responsibly. They have this mentality that because they are spending money on their trip, they have bought the hotel, and it's their right to do whatever they want."
He points out a simple solution to control plastic bottle waste that already exists but is not followed. There are water refilling stations everywhere in Leh, and locals always use them, but tourists don't. They still buy single-use plastic bottles and contribute to ever-increasing mountains of rubbish in Leh.
Sharing the grim picture of an almost non-existent waste management system in Leh, Vilayat Ali of Pristine Ladakh says,
Every single day in the Tourist season, Leh generates over 50,000 single-use plastic bottles and approximately 16 tonnes of waste generated per day during tourist season. All this waste goes to an open landfill area called Bombguard that lies just outside Leh. Once a livestock pasture is now a large landfill and a breeding ground for 5000 Feral Dogs. These dogs have become a big menace–they attack locals, kill local wildlife and even mate with foxes. Thus bringing a permanent change in the wildlife of Ladakh.
Ladakh had no waste problems until two decades back; locals could recycle everything back to the land. Konchok Norgay explained Leh had no landfills until the two roads opened–Leh-Srinagar highway and Leh-Manali road. Once the roads opened, it brought hordes of tourists keen to get clicked on pristine landscapes but showed no respect and responsibility for managing their waste. The large volume of waste produced by them is polluting land, air, and water. While the plastic waste degrades the soil fertility and chokes water bodies, the poisonous fumes from open landfills make the already thin air non-breathable. Adding to the misery, the faulty sewage systems put up by hotel owners mix the contaminated water with spring water used by the local communities. To appease temporary tourists, they create permanent health hazards for locals.
Tourists also demand city like services such as air conditioning, heating, lighting, and transportation needs primarily run on fossil fuels. They add harmful diesel fumes and smoke to the list of Ladakh's environmental woes. This unplanned tourism growth has been playing havoc on Ladakh's fragile ecosystem for a while and irrevocably changing Ladakh's climate. Temperatures are rising, glaciers are melting, and snow and ice sheet are becoming thinner by the day. The Zanskar river, which used to freeze for three months, hardly freezes for a month. As a result, they cut short the Chadar trek on frozen Zanskar this year for less than a month. Vilayat reminisces about his childhood when the temperature dropped as low as -35°C in winters, but in 2021, the lowest recorded temperature was just – 18°C. That shows the severity of the issue that no one is discussing.
Cultural Erosion
From being primarily an agricultural economy, Ladakh's economy now depends heavily on tourism-related activities, such as running hotels and restaurants, operating travel agencies, trekking and guiding companies, offering taxi and flight booking services, having souvenir shops, and so on. An uncountable number of people, especially the young, draw their income from these activities, thus making tourism almost the lifeline of Ladakhi economy and society. Because of the shift to tourism, locals are gradually giving up farming – their traditional source of livelihood. Thus, tourism has posed a direct threat to the conventional, agriculture-based economy of Ladakh. Not just that, the ancient Buddhist culture and ancient trans-Himalayan traditions are in danger too. Tourists look at locals as mere props of the pre-industrialised Tibetan era and don't understand the local culture and cuisine of the place. Take, for example, how tourists objectify the unique Aran Valley culture. Dolkar, a resident of one of the last remaining villages of the claimed Pure Aryan race in the world, said how tourists are just interested in getting clicked with them wearing their elaborate headgear and sheep's wool kaftans. Nobody wants to know how this over-commercialisation of culture is hurting the younger generations.
Uneven Wealth Distribution
Tourism, Ladakh's major cash cow, has brought clear economic benefits, but only to a minority of the population employed in this industry. Leh is the hub of Ladakh's tourism economy, and very little of the economic benefit of tourism reach over 90 per cent of Ladakhis who live outside this area. Within Leh also, it's the handful of Ladakhis owning large hotels that benefit disproportionately. Much of the money spent in Leh go to tour operators and merchants who come to Ladakh just for the tourist season.
According to the President of All Ladakh Tour Operators Association (ALTOA), Daleks Namgyal, 90% of the domestic tourists who visit Ladakh definitely keep Leh-Nubra-Pangong on their itinerary but explore little beyond that. Kargil, the other district in Ladakh, is similar in size and attractions as Leh gets only 15-20% tourists. And, they too mostly spend a day in the town to visit the war memorial or use it as a transit night halt destination when travelling on Leh-Srinagar highway.
Can Ladakh be saved from unregulated tourism?
The only way to save Ladakh's fragile environment from unregulated tourism is through Sustainable Development. And, tourists can make a lot of difference in preventing damage to the environment of Ladakh by making wise choices.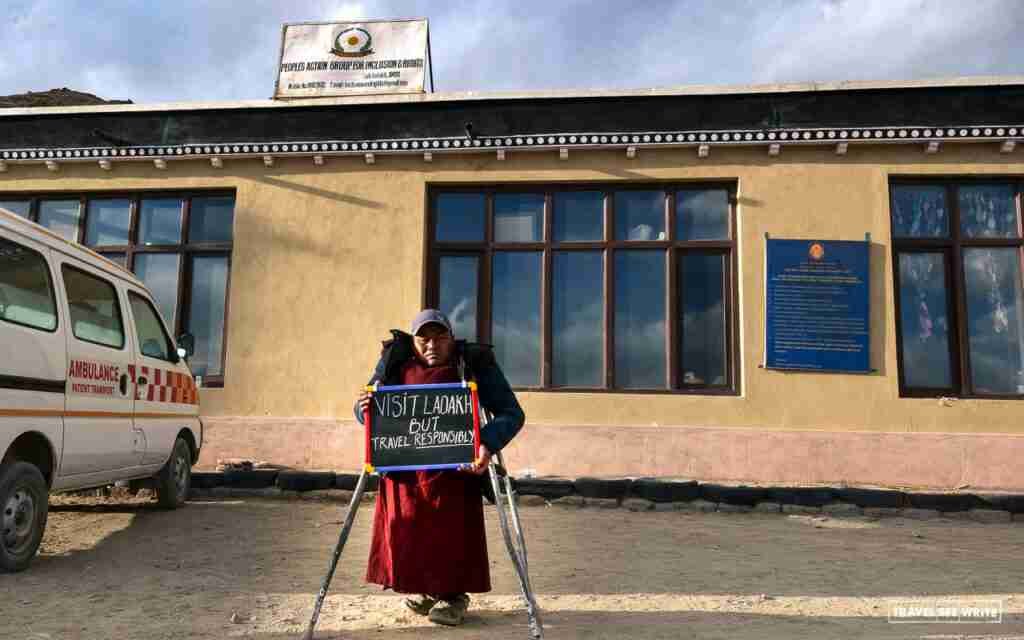 Responsible Travelling
You can avoid undue pressuring Ladakh and its people by travelling in the off-season and by visiting lesser-visited places. Look for unique experiences beyond visiting star attractions. Choose locally grown vegetables and fruits to support the local farmers. Waste less water and use dry compost toilets wherever possible. Choose homestays over swanky hotels. Have freshly cooked meals and locally made snacks instead of pre-packaged junk foods like chips, biscuits, and soft drinks.
Reduce Plastic Usage
The only way to reduce plastic is not to use it. You can do that by not buying single-use plastic bottles, plastic straws, single-use toiletries, and processed food and drinks that come in non-biodegradable packaging. Instead, opt for a reusable water bottle that you can refill from anywhere. Carry eco-friendly wooden or steel cutlery, and a reusable thermos flask. Relish freshly prepared food and drinks by the locals instead of eating packaged junk food. Most importantly, ensure that you don't leave your trash behind when you travel and dispose of it properly at designated waste collection centres. Never litter on streets, in water bodies and scenic spots.
Support local NGOs
NGOs like PAGIR (People's Action Group for Inclusion and Rights) are providing garbage solutions in Ladakh. Under their zero waste program, they collect waste from different parts of the city, bring it to their campus, segregate it and, according to the usability of the trash, recycle each item and use tailoring and various other techniques to make handcrafts that anyone can purchase from them. They even make sustainable bricks from rubbish. The best part is, besides solving the waste problem of Leh, PAGIR trains and provides employment to differently-abled Ladakhis who are otherwise considered as a burden by society.
Choose Sustainable Activities
As a responsible traveller, include adventure and nature activities in your itinerary, such as hiking or biking. It will keep you fit, reduce your carbon footprint, and help you build deeper connections with the locals.
Watch a documentary on how Ladakh is loved to death
Published in
Liked the post? Pin these to your Pinterest boards