"Perhaps you may not have seen me but please don't be disappointed, I have seen you."
This is the goodbye message from Sher Khan you see when you exit the Bandhavgarh National Park (BNP). Sprawling across 1536 km sq. area (including Panpatha Sanctuary and Bandhavgarh Tiger Reserve) in the Umaria District of Madhya Pradesh, this park is the ultimate address for wildlife enthusiasts as well as nature lovers. Home to about 22 species of mammals, 250 species of birds, and 300 species of flora, the main attraction of Bandhavgarh National Park still remain the Royal Bengal Tigers. There's a saying about the park that goes:
"In any other Park, you are lucky if you see a tiger. In Bandhavgarh, you are unlucky if you don't see (at least) one."
But it's not a thumb rule any more. Let me share my experience Bandhavgarh National Park experience and all the information you need to plan a successful Jungle Safari trip to this natural treasure trove.
Why Visit Bandhavgarh National Park?
While there's no guarantee that you'll see Royal Bengal Tigers during your Jungle Safari, but the past sightings data suggest that Bandhavgarh Tiger Reserve is one of the best places to spot tigers, Simply, because of the high density of tigers in a small area as compared to other national parks, the tiger census report released in June 2019 recognises Madhya Pradesh as the state with the highest tiger population (526). No wonder it is called the 'Tiger State of India'. On top of that, the park also has the largest breeding population of leopards and various species of deer.
And, the credit for this healthy density of the predator and prey goes to the Forest department's conservation efforts and park's diverse vegetation and immense natural wealth. Hemmed with mountains, tall grasslands, thick Sal forest, gurgling streams, many ancient caves and lakes; the park is home to the majestic Royal Bengal Tigers and some rarely seen animals like leopard and sloth bear. Along with them, you can also see herds of spotted deer, samba, Langur and Red-Faced Monkeys, Jungle Cats, Bengal Fox, Mongoose, Striped Hyena, Asiatic Jackal, Wild Boars, Nilgai, Chinkara, Indian Bison and nowadays, even the herd of elephants.
Thanks to lush vegetation, the park is heaven for ornithophiles. Even if you are a greenhorn like me, your naturalist will help you spot birds such as Greater Racketail Drongo, Red-wattled Lapwing, Brown-headed Barbet, and Indian roller, among many others.
History and Mystery about Bandhavgarh Tiger Reserve
Once the private hunting ground of the Maharaja of Rewa, Bandhavgarh was declared a national park in 1968 covering a core forest area of 105 sq. km. Since then the tiger reserve has swelled to the current size of 1,536 sq. km (core area – 716 sq. km, buffer area – 820 sq. km). The park is also known as the 'White Tiger Country' for Maharaja Martand Singh of Rewa captured the first white Tiger here in 1951.
But the history of Bandhavgarh is far ancient than the erstwhile kingdoms. Apart from the rich wildlife and lush vegetation, the fascinating part in the Bandhavgarh vicinity is the old Bandhavgarh Fort that dominates the park's skyline. Spread across an area of 582 acres at an elevation of 811 meters above the sea level, this impressive fort is 2000-year-old. And, is said to be the oldest fort in India. As per the legend, Lord Rama built Bandhavgarh fort and gifted it to his brother Lakshmana. Hence the name "Bandhavgarh" ('Bandhav' means brother and 'Garh' is the fort).
But in the recent era, Bandhavgarh became famous as the "Land of Sita and Charger". In the 1990s, this was the address of the legendary tiger pair of the country — Sita and Charger. Perhaps the most photographed tiger pair of the park, they had a significant role to play in the success story of tiger conservation here. Today almost all the tigers that you see in the park are their progenies. Charger, as my experienced naturalist, Choubey Jee, recalls, owed his name to his charging behaviour towards tourist jeeps but he never harmed anyone. Even today, the tiger reserve basks in the glory of this legendary pair.
Here's the detailed breakdown of my Bandhavgarh National Park Safari experience.
Day 1 – Arriving at Kings Lodge, Bandhavgarh
Taking a flight from New Delhi, I arrived at Jabalpur in the afternoon. Post a quick lunch break at Coffee Home in Jabalpur, and few pitstops midway, I reached Kings Lodge Bandhavgarh around 6:30 pm. The whole staff was waiting for my welcome at the entrance with folded hands and warm smiles behind the safety masks. After quick thermal scanning and sanitisation; my contactless check-in happened in no time. Post which, I was debriefed in detail about the region, property and my upcoming jungle adventures by the very generous Lodge Manager, Amit Mukherjee.
After debriefing, I was escorted to my stilted cottage. My first impression was like I was staying in a wilderness retreat nestled in a large natural forested estate of 35 acres, where 95% of the land is forested. After all, Kings Lodge is an eco-lodge with just ten cottage rooms and eight stilt cottage rooms with en-suite modern bathrooms. The best part is that not even a single tree fell during the construction of the lodge.
Moreover, the construction is done keeping in mind the local landscape and architecture. Eco-friendly materials such as 'Kavelu' red ceramic roof tiles, Bandhavgarh sandstone, refurbished furniture (built from the wood procured during railway sleeper auctions), and natural colours fusing with the forest scene are used.
The interiors and furnishings reflect the local art and culture of the region. The rooms are well light, airy and 15-18 feet in height that keeps them cooler naturally, thus saving electricity. Single used plastic is replaced with a stainless steel water bottle and organic toiletries in eco-friendly glass-steel containers.
I was little tired from my full day of travel, so I wrapped up the day early after having mouth-watering starters such as Hara Bhara Kabab, Bhel-Tikki, minestrone soup and flavourful dinner made from the freshest ingredients.
Day 2 – Jungle safari in Bandhavgarh National Park
Waking up at 4:30 am, I was ready for my maiden Jungle Safari at Bandhavgarh Tiger Reserve. The park gates opened at 6:00 am and off we went vrooming with my in-house naturalist, Mohan Chandra Joshi, and Ramnath Yadav, a guide allocated to us by the park. Before our jeep entered the park, it was thoroughly sanitised and even passed through a sanitisation liquid pool meant for disinfecting the tyres.
As we entered, the mist-shrouded park woke up from slumber and the golden rays began turning everything into gold – the hillocks, meadows, trees, water bodies and wildlife. The imposing Bandhavgarh Fort stood majestically in the park, and we waited for a while to ogle at its timeless beauty before continuing our search for the queen of Tala region – Spotty – and her cubs. As we drove around, the golden rays kept peeping from the lush branches of the Sal trees. We saw many langurs and red-faced monkeys, three stripper palm squirrel, spotted deer, wild boars, sambhars and barking deer.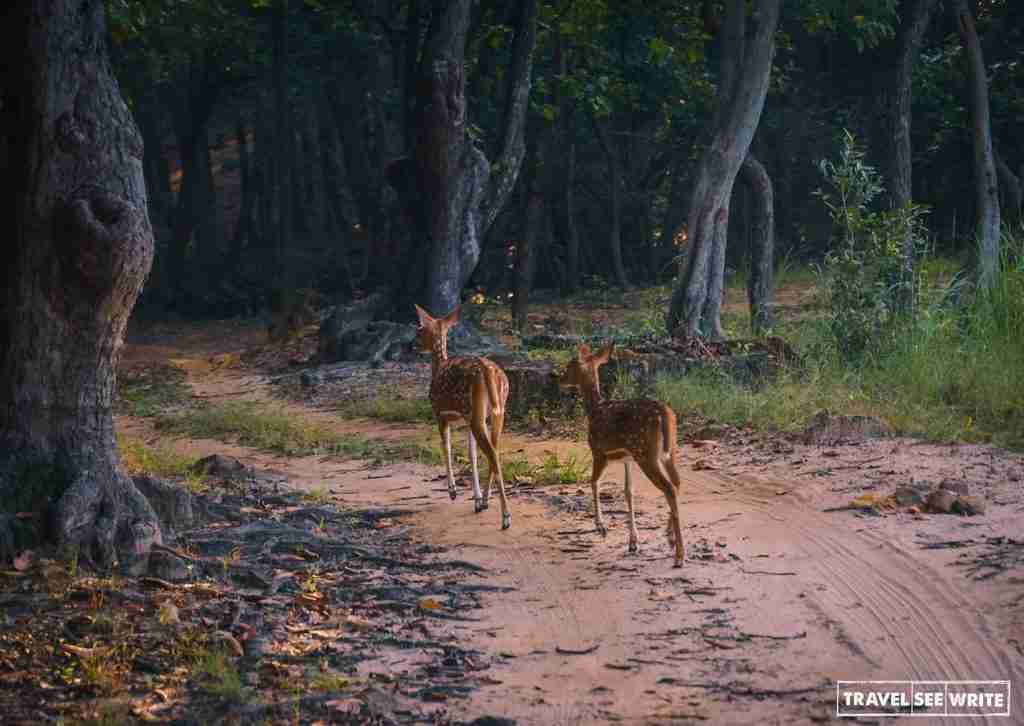 For close to three hours we kept following the Tiger footmarks of Spotty, Kajri and Trident – the famous trio tigers of Tala region of Bandhavgarh Tiger Reserve- at their favourite spots. Still, probably they weren't in a mood to oblige us. So, we opted for the next best thing – breakfast. A fully-loaded breakfast consisting of boiled eggs, kathi rolls, bonda, paranthas, brownies along with tea-coffee was served at the breakfast point. I took this opportunity to know more about the park and Tiger's importance in the lives of the locals from extraordinarily knowledgeable, Mohan Chandra Joshi.
Hailing from another great national Park of India – Jim Corbett, Mohan is an encyclopaedia of wildlife and super passionate about his work. His eyes glow like a diamond when he starts talking about his first love,
Tiger is like God to me. In Bandhavgarh region, Tigers are known as Bandhwadheesh or Bageshwar, which essentially means protectors of the locals.
When I probed him why not everyone sees a Tiger despite Bandhavgarh having the highest density of the Tigers in India, he calmly replied,
If you drive for 8km anywhere in the park, you'll enter into a new tiger's territory. But not everyone gets to see them because they are very territorial and don't let any other tiger enter their territory. They are solitary nocturnal creatures who hunt in the night or during early hours of the day. So, when they are not hunting, they would just be relaxing in tall grasses or deep forests.
He further added that our chances to spot them increases in summers as Tigers are very heat sensitive and they usually come around water holes. If you do 4-5 safaris in your trip, you have high chances of tiger sighting. Since in October forest is brimming with water streams and lush vegetation, the Tigers prefer to stay away from the peering eyes of visitors like us. I found it incredibly endearing that despite spending over a decade in the forests Mohan still dances like a kid in the jeep when he sees a tiger. That explains how much his heart beats for this magnificent predator and its conservation.
After a hearty breakfast, we tried our luck again to spot the elusive Spotty. Still, we didn't get disheartened when we couldn't locate her as Mohan kept us engaged with other wildlife creatures. We spotted giant wood spiders, greater racketail drongo, red-wattled lapwing, brown-headed barbet, Indian roller, common peafowl, red jungle fowl, crested serpent eagles, parakeet, king-fisher, and jackals.
Besides he took us to a 10th-century holy point in the forest – Shesh Shaya – where the statue of "Lord Vishnu" along with "The Shivling" and "The Brahma" are situated. The origin of the River "Charan Ganga" is also from the foot of "Lord Vishnu". Twice a year almost 50,000 locals walk barefoot to this place and Ram-Sita temple in the Bandhavgarh fort.
As we descended, we saw many natural caves and a climber point from where you could see the panoramic view of the forest. Around 11 am, we left the park to try our luck next time.
The rest of the day was spent relaxing at the lodge and taking nature walks around the property. And, of course, the yummy meals in the dining hall and company of great books in the nature-library. It was here I found out that Pugdundee Safaris as a policy employs 70% of their staff from local villages. All of them are well-groomed and within a short span, take important offices in the lodge. During regular times, cultural performances are held every night to introduce the guests with the local culture of the region. Unfortunately, due to COVID19, I couldn't enjoy the same. But there's always the next time. At least I got to enjoy the local delicacies.
Day 3 – Arriving at Treehouse Hideaway, Bandhavgarh
The day started with a surprise – multi-cuisine breakfast in the kitchen garden of the property. Besides Amit and Mohan, many colourful butterflies joined us for the morning rendezvous.
Post lunch, Balwant Negi – a naturalist with Treehouse Hideaway – came to pick us up for our next destination.
Ashish Tirkey, the lanky Lodge Manager at the property, ensured that everything was in place before I arrived. Following the set safety protocols as prescribed by the Ministry of Home Affairs, I was checked-in to my sprawling Treehouse built on a Mahua Tree. It was my first time staying in such a unique accommodation, and I can't recommend enough why it's a must-try.
Not only treehouses are worth staying because of their unique design, but they also have a sustainable edge over traditional hotels. Not even a single tree was cut to build treehouses. On the contrary, they planted more trees. Pugdundee Safaris calls their treehouses the "Tree House Hideaway" for a good reason – visitors are almost entirely exposed to the vast wilderness right outside of their room. It features only five tree houses on a 21-acre forested land.
And, it wasn't just the exterior of the Treehouse that I fell in love with, I was thoroughly impressed by the interiors too. The contemporary rustic design of the room was beautifully matched with traditional earthy tones and eco-materials harmoniously blending with nature. Most importantly, all Treehouses were built by local staff using regularised wood, native craft knowledge and traditional expertise.
Day 4 – Jungle Safari and Bush Dinner
I was back in the Bandhavgarh National Park to try my luck again. Although, this time, I chose to visit another zone – Magdi Zone. And, I had veterans with me – Ashley Chaturvedi lovingly called as Choubey Jee who has spent 24 years driving in the National Park and Binod Dwivedi, who has been guiding in the park for the last 27 years. We started our search from Umrah naalah – the favourite place of Dotty and her cubs – sewed with long white grass, this slightly hilly terrain has enough water to satiate their thirst.
We waited for quite some time but probably the big mama had different plans. Disappointed, we decided to explore other points in the park. But neither Spotty nor any other Tiger appeared. Dejected we left at 11 am just to learn at the exit gate that Balwant Negi, the second naturalist from Treehouse Hideaway had seen Dotty for close to 15-20 minutes. I wish we had waited for ten more minutes. But that is life! Patience rewards those who wait for it.
Ashish tried to make up for our loss by organising a Bush Dinner under the gigantic Haldu Tree (Haldina cordifolia or commonly known as yellow teak). The bushes were lit up with traditional lanterns, and the table was decorated with flowers and candles. A bonfire in the background kept us warm and a classic village style Mitti ka chulha (clay oven) our food. The ambient sound of the wild felt more melodic than any sound I'd heard before. The sky was clear, with bright stars sparkling over our heads. The flavourful ala carte meal was served lots of love and red wine. Happy, I slept like a baby that night.
Day 5 – Jungle Safari and Bird Watching
Another day brought another hope to see the big cat. This time we were accompanied by not just one but two naturalists – Choubey Jee and Negi, the lucky naturalist who saw Spotty a day before. We drove around all the important spots in the Tala region – came across Dotty's droppings and pugmarks of other Tigers and Tigresses. Heard alarm calls by macaque from two different sides of the forest but again my luck steered me to miss the most desired sight of the wild.
Nonetheless, I thoroughly enjoyed the forest and some rare species of flora and fauna. But what I most enjoyed was the great insights shared by our experienced naturalists and guides. I learnt a lot about Tigers behaviour, their current conservation challenges, the growing menace of the wild elephants and how wildlife Tourism has benefited the locals and the wildlife.
One great piece of advice that Choubey Jee gave was,
We can learn how not to be greedy from Tigers. They never hoard things and will only take as much as they want. They won't kill any prey if they are not hungry.
Imagine what a beautiful world it would become if we start following this behaviour.
I spent the rest of the day birdwatching, taking nature walks and talking to the locals working at the Treehouse Hideaway.
While I missed seeing Sher Khan I wasn't disheartened, the wildlife tour in Bandhavgarh National Park still fetched me some life-long memories. As Choubey jee aptly put it,
There's a lot more to the forest than just the Royal Bengal Tigers. Enjoy the jungle. Keep Tiger as a bonus.
Here's a video about my experience in Bandhavgarh
Useful Travel Tips
How to reach Bandhavgarh Tiger Reserve
BY AIR: The nearest airport is in Jabalpur (190 km) and the second nearest airport is in Khajuraho (237 km). The park is around 4 hours' drive from Jabalpur airport and 5 hours' drive from Khajuraho airport.
BY TRAIN: Umaria (35 km) is the nearest railway station to the park. The other nearest railheads are Katni (102 km), Satna (120 km) and Jabalpur (190 km). Many direct trains run from New Delhi to Umaria, namely Hirakund Express, Chhattisgarh Sampark Kranti Express and a few more.
BY ROAD: State and Private transport buses ply on regular intervals from Katni, Satna and Jabalpur to Umaria. Private taxis are readily available to hire from nearby cities to drop you to your hotel.
When is the best time to visit Bandhavgarh National Park?
While I would visit in every and any season, the best time to visit Bandhavgarh national park is from April to June. The probability of tiger sightings in summer is higher because the big cats are out near waterholes in search of water. However, November to February the Park is lush green. The park remains closed from 1st July to 30th September due to monsoon. Winter temperature varies from 8-20 degrees, and the mercury rises to 46 degrees in summer.
Which are the best zones for Tiger Safari
The park is divided into three tourist zones – Tala, Magadhi and Khitauli. Tala is the central zone and remains most famous for tiger sighting. The Magadhi zone is located at the fringe of the park and is also good for tiger sighting. Khitauli zone is the latest addition that is gaining popularity fast amongst visitors and is well-known for its excellent birding experience.
How many safaris are enough to spot a tiger
Go for at least 4-5 safaris for higher success rate because no tiger sighting is guaranteed and no sighting is the same. Usually, morning safaris have a more extended period to explore – approx. 5.5 hours as compared to 3 hours in the evening. Remember to carry an identity card that's mandatory to check before letting you inside the park.
Accommodation – where to stay in Bandhavgarh
There are many private resorts and hotels around the park. You can also book MP tourism owned White Tiger Forest Lodge, which is located on the Bandhavgarh National Park main road. However, I would highly recommend staying at either Kings Lodge or Treehouse Hideaway for the luxurious and serene wildlife experience they provide along with incomparable hospitality.
Bandhavgarh National Park safari timings and how to book them
Permit and safari both can be booked from Madhya Pradesh, Forest Department website. You can either book a full vehicle or individual seats, depending on the requirement. Either your hotel can book it for you, or you can do it yourself. Separate permits are given for every zone you want to visit. Jeep Safaris booking open 120 days in advance and can be pre-booked online. They get sold very quickly, so suggest you book early. Along with advance payment copies of Photo ID (Driving licence, Aadhar card, PAN card, voter ID or passport) are required to secure your safaris.
Cost: how much does the entire Bandhavgarh trip cost
Flights: The price for Delhi- Jabalpur is approximately between INR. 4500-9000 per Person and INR. 4000-8000 Per Person for Nagpur -Delhi sector
Accommodation:
02 Nights at Kings Lodge AC Cottage: BAR (best available rate) of INR 14000 per night for double occupancy for Weekdays and INR 16000 per night for Weekends.
02 Nights at Treehouse Hideaway: bar rates of INR 16000 per night for double occupancy for Weekdays and INR 18000 for Weekends
Jeep safaris: INR 9500 per Jeep per trip
Food and local road transportation: Approx. INR 20,000
Suggested Bandhavgarh itinerary – how many days are enough
5-6 days are good enough to enjoy the park and wilderness.
Day 1 – Arrive at Bandhavgarh
Day 2-4 – Morning or/and evening safaris with nature walks and bush dinners at the lodge
Day 5 – Keep an extra day to unwind or go for a jungle safari
Day 6 – Leave for another National Park or your destination
What to pack for the safari
Clothes & Accessories: t-shirts, pants, shorts, swimsuit and raincoat. Please avoid dark/bright colours as neutral colours are best for safari. For walking, carry comfortable sneakers or sandals. To avoid sun have Polarised sunglasses and a wide-brimmed hat. A small day backpack to carry your water bottle, sunscreen, snacks etc.
Don't forget to carry woollens if you are travelling in winter (November till February). Safaris start as early as 6am, and the mercury drops further inside the forest. Carry a fleece jacket or a sweater along with warm hats and gloves.
Toiletries: Sunscreen with high SPF and personal toiletries. Mosquito repellent and prescribed medication, if any (including antihistamine).
Electronic items: camera with extra batteries, chargers for your gadgets, plug adapter to charge your electronic devices, and your mobile phone with power banks.
Where to go next
You can either drive down to Panna National Park or Kanha National Park. I chose the latter for the park is very different from Bandhavgarh.
Over to you now…
Bandhavgarh National Park is one of the most visited and among the best wildlife sanctuaries in India, and I would highly recommend you see. Have you been to this beautiful land of wild cats? Share your experiences with us in the comment section below if you have already visited this fantastic wildlife park or whenever you make a visit.
Further Reading
Inspired? Pin these to your Pinterest boards
Disclaimer
Pugdundee Safaris invited me to experience their lodges after COVID19. However, all the views expressed above are my own and based on my personal experiences. Pictures were either shot by me or Nakul Sharma. Please do not copy anything without written permission.