Do you love travelling and want to get paid for it, this step-by-step guide is for you on how to become a successful travel influencer on Instagram and other social media platforms.
One of the most often asked questions on my social media channels is – "I want to travel the world like you. How can I become a travel influencer?"
The answer is pretty simple and complicated, and I try to answer as many people as possible. I decided to pen everything down in this detailed blog post to save time and provide all the relevant information on becoming a paid travel influencer. Here you'll find information on how to start, build your brand, and eventually how to start earning from influencer marketing. But before sharing that, let me give you some idea about how big this industry has become in the last few years.
Influencer Market Size and Growth
Five years back, when I was in the advertising world, influencer marketing was a negligible part of the marketing budget of just a few big brands. And a decade ago, the phrase 'influencer marketing' was unheard of. Cut to 2022, it has since become one of the fastest-growing industries in India and across the world. The influencer market grew from $1.7 billion in 2016 to $13.8 billion in 2021. This year, the market is projected to expand to a whopping $16.4 billion industry. The industry is expected to grow at a CAGR of 32 per cent to reach USD 24.1 billion by 2025. The Indian influencer marketing industry is also keeping pace. Valued at Rs 900 crore, it is expected to grow at a CAGR of 25 per cent to reach Rs 2,200 crore by 2025.
The shift from relying on celebrity endorsements to employing influencers for product placements has been massive and noticeable. Unsurprisingly in 2021, celebrities held only 27 per cent of the market share of marketing campaigns, while influencers had the bigger piece of the pie at 73 per cent. The spectacular growth of influencer Marketing is attributed to the increasing popularity of short video formats on platforms like Instagram, TikTok, Facebook, and YouTube, the effect of the global pandemic on consumers, which catalysed social media consumption, and the optimisation of data collection, which marketers used for social media ads. Instagram is the Preferred Social Media Channel for Brands Who Engage in Influencer Marketing.
Influencers are no more a homogenous group, but they have become brands themselves. While there are no strict definitions of follower numbers, there are generally five types of Influencers:
Mega-influencers with more than a million followers (think celebrities or social media stars like Ronaldo, Beyonce, Kardashians, Messi, Virat Kohli, mostly sane, etc.)
Macro-influencers with 500K to 1 million followers (think TV stars or specialists such as kevinbparry bruisedpassports, shaazjung, ankitbhatiafilms, etc.)
Mid-tier influencers with 50K to 500K followers (think tanyakhanijow, travelseewrite etc.)
Micro-influencers with 10K to 50K followers
Nano-influencers with 1K to 10K followers. Although they have the least followers, they have immense influence with a comparatively narrow niche.
Moreover, the growth of influencers is also not merely limited to traditionally dominant sectors like food & beverage, personal care, fashion and technology. It is now noticeable among other sectors like BFSI and fintech too.
Now, becoming an Instagram influencer is no longer a hobby but a career. So, if you are still sitting on the fence and evaluating your options, this post will help you.
How to start the process of becoming an Instagram Influencer
Want to know how to become a successful Instagram or YouTube influencer? Start by giving up procrastination and taking action. Don't wait for the perfect opportunity to knock on your door. Don't wait anymore. Start today.
Find a niche
According to Earth Web, there are between 3.2 million to 37.8 million influencers globally. So, if you want to be one of them and a good one, you have to find a niche. A unique spot where you can create your own identity. Start creating content on one thing – travel, food, culture, fashion, finance or something else. In travel, what is it that you are good at or like – it could be anything like solo travel, adventure travel, couple travel, backpacking, luxury or something else.
When working on your niche, find something that fits you and that you want to create content about! Then ask yourself if you love it enough to devote time and resources to it. Also, if you think people would like to see it. If, in both cases, the answer is yes, you found your perfect niche! Once you have found your niche, keep peeling the layers to further fine-tune it. For example, I only talk about offbeat travel, and I am now leaning towards sustainability.
Search for a good name
The next big decision for you would be finding a catchy yet simple enough to remember a name that stands out from 3.2 million influencer handles. If possible, look for a word related to travel in your name. It would do three things – your name will immediately make apparent that you create travel content. It would be good for SEO if you want to expand to other channels. It would establish you as a brand from the beginning and not just an individual. For example, anyone who comes on my page would know that I post content about travel by just looking at my username 'Travel See Write'.
Create content regularly
The secret to good organic growth on Instagram, YouTube, Facebook, Twitter, TikTok or any other social media is to create and post regularly. More importantly, you want to approach your account more professionally to be a travel influencer. Create content that is high quality and would be of interest to your audience. Do look up trends and hashtags to come up with fresh content ideas. Instead of posting stand-alone content pieces that look haphazard, create a series with a unique brand look for your gallery. Use presets or filters or apps like lightroom, snapseed etc., to edit your pictures professionally and have a uniform look. Plan your content calendar for at least 6-9 posts in advance. Use a mix of content pieces like Instagram reels, static posts, carousel posts, IGTVs and stories. Instagram is promoting reels big time, so focus more on that.
Don't quit your job yet.
Brands would not line up to sponsor your travel when you are just starting up. You'll need to invest from your own pocket on your travels and in your photography gadgets. As you start shooting professionally, you'll need to regularly upgrade your equipment – from mobile to DSLR to mirrorless. All that costs money, which is where your day job will come in handy. I kept blogging for two years before taking up a travel blogging career full-time.
How to build your brand online
Once you have zeroed on to becoming a travel influencer and have done the groundwork to start off, it's essential to start thinking and strategising on building your brand. Don't look at Instagram or any other social media channel in a silo. Instead, consider them as pillars of running a successful business. A passion that can earn money for you. But like all businesses, it requires a lot of hard work and planning. Here are a few things you should do to build your brand:
Write a stellar bio.
Your bio is the first thing people mostly see when checking out new Instagram profiles. Along with your profile photo and feed, it gives the first impression of your account and what it stands for. This combo will decide whether people would follow or not follow you. It is essential to think about what you write down in your bio. For example, you can specify what your Instagram page is all about. Or you can give some information about yourself and share your contact information for potential brands to reach out for collaborations. Since there is a word limit, I use a linktree in my bio to share my latest works and social media presence.
Create your own website
Even if Instagram or YouTube is your primary channel, having a website is essential. Here you can give all the relevant information about yourself, post your portfolio and past achievements, and show how people can get in touch with you. This is great for your followers and the brands you work with. Buy a domain name (ideally, use one brand name across all channels, be it your website or social media handles). And link your website in your bio. Also, don't forget to list your business on Google even if you are not selling anything yet.
Be omnipresent and cross-promote
In 2014, each person had approximately 4.8 social media accounts, and in 2020, that number went up to 8.4 accounts per person. As social platforms and usage continue to increase, content creators must embrace a cross-channel approach to reaching out to a broader audience. While some platforms share similarities, they're not necessarily the same. For example, Twitter content speaks to a different audience—users who most likely want to be interested in political or newsy affairs. At the same time, Instagram is more appealing to those who prefer entertaining content.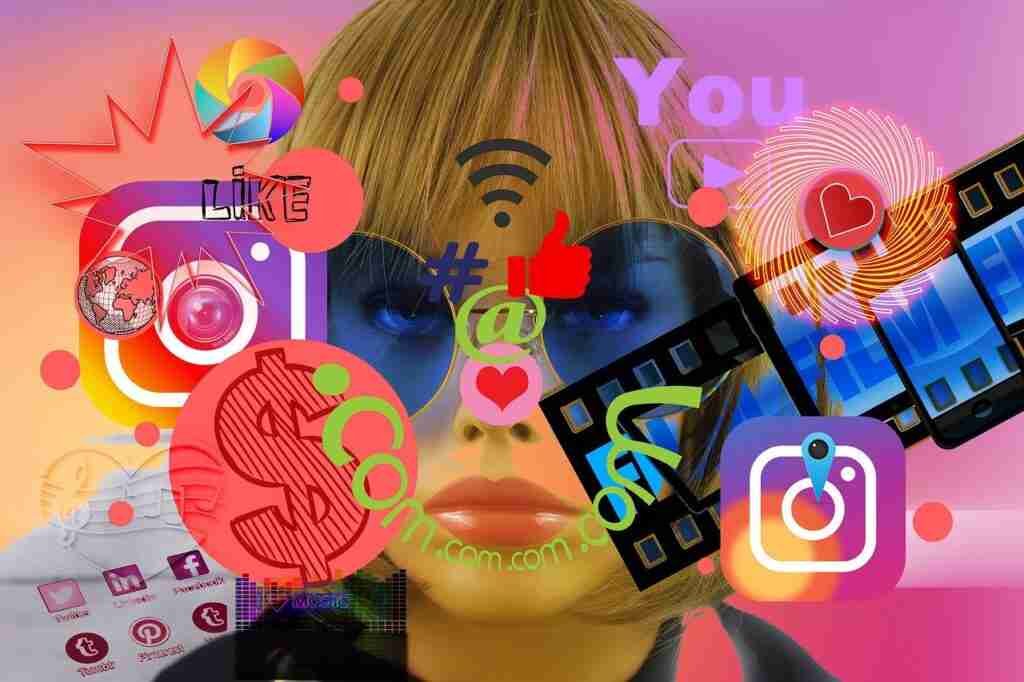 For content creators to stay relevant, we should be able to generate content that's tailored for each type of social media platform. Duplicate content can be repurposed and tweaked for each media. Also, cross-promotion can help in driving traffic from one platform to another.
Be authentic. Be yourself.
Even if your vision is to become a successful company, do not let go of your authenticity in the long run. Be yourself and be relatable. Never forget why people followed you in the first place. Many influencer marketing studies have shown that people are more likely to follow influencers who look like "everyday people". Contrary to popular belief, most consumers prefer following influencers who look and act like us instead of celebrities. The key to winning people's hearts and growing your followers' list is by personalising your content and engaging with your audiences on a more human level or through a down-to-earth approach. Always reply to your comments or DMs, howsoever trivial they might sound.
Keep upgrading your skills.
The entry barriers in influencer marketing are almost negligible. Anyone with good creative skills and a business mind can make it big. It's very easy to earn through social media. But the trick is how to stay relevant when trends and platforms change. So, suppose you see Travel Influencer as a long-term career. In that case, you have to invest in continuously upgrading yourself and staying ahead of the curve. Learn photography, video making, SEO, travel writing, and social and media management. There are many free and economically priced courses available on platforms like Simplilearn, Coursera, HubSpot Academy, Alison (Free Online Courses), Udemy, Reliablesoft Academy, Udemy, MasterClass, Google Skillshop, LinkedIn Learning, Skillshare, SEMRush Academy, Udacity, edX, Google Digital Garage, Facebook Blueprint, Harvard University (Online Courses), Microsoft Learn, Shaw Academy, Google Primer, and many more.
Outsource and collaborate
As your brand will start getting built and you'll start getting recognised as a successful travel influencer, you find yourself struggling for time. While it's important to be hands-on in all aspects of your business. It's simply not viable to perform everything by yourself. Outsource whatever you can that can help save time for you and not hit your bottom line. Collaborate with other content creators to get an additional reach and learn new skills. For example, before going on a new trip, I search for instagrammable spots and local photographers who would know those local places better than I would. In Varanasi, I collaborated with two local photographers, and the results were wow.
Also, video editing is not my skill, so I outsource it.
How to earn money from Instagram
So now you have learnt how to become a successful travel influencer. Once you have mastered the art of travel influencing, it's time to get paid! There are different ways by which you can earn from social media, but before that, you have to be ready with your media kit and a rate card. Through a well-designed Media Kit, you can show brands a summary of your brand, your past associations, awards and achievements, reach and engagement insights, and your services. Also, don't forget to create a work portfolio that you can include in your media kit or have a separate portfolio.
Possible collaborations
Here are the possible ways by which you can earn as a social media influencer, travel blogger, travel writer, photographer, and videographer.
Sponsored Reels, static Posts or IGTV video
Once you would have become a micro or a mid-tier influencer, you'll start getting requests from brand promotions through in-feed sponsored posts. Sponsored posts are the posts that appear in your feed. An example of an in-feed post is me talking about the Adani Airport mother's Day initiative. You are required to hold the product or talk about it in your reel, post, stories or IGTV video. When posting a sponsored post, it is normal to tag the brand's Instagram account in your photos and use the relevant hashtags provided by the brand. That way, you are honest with your followers about what brands you are promoting. You must specify your paid in-feed posts are paid. You could use #ads or #sponsored hashtags when posting a paid in-feed post or Instagram's paid promotion tools.
Product Photography and Videography
Besides posting sponsored posts in your in-feed, there are other ways by which you can earn as a travel influencer. You can also make money as a travel influencer through product photography and product videography. You can shoot exclusive content for brands that won't get posted on your own Instagram account. Follow Jordi.koalitic, imagelicious, taraherron_photography, Colette.peri and many more talented creators.
Become a Brand Ambassador
If you have been regularly working with a client, then propose a Brand ambassadorships proposal to them. More companies are embracing an always-on approach to influencer marketing, which helps establish a brand's consistent presence on different social media platforms. By selecting a strong, long-term relationship with influencers, marketers look to turn opinion leaders like us into true brand advocates. For example, I have worked as a Brand Ambassador for Northern France, Panasonic Lumix and OECS – a United Nations Sustainable Development Program in Africa.
Social Media Management
Once you are an established travel influencer, you will have acquired a lot of experience with social media and how to grow on Instagram and other social media channels, which is where many brands struggle. They might need someone that can make their Instagram profile pages better. You can reach out to such brands and handle their social media.
Content writing
Content has always been the king, and today it's even more critical. Suppose you are good at writing short and long format content. In that case, you can do content writing for brands ranging from different industries, be it travel, technology, hospitality, Edtech or anything else.
You can also do freelance writing for publications. Start with smaller ones.
Besides the above, you can also earn by selling your presets, luts, merchandise, affiliate marketing, online courses, etc.
What Kind of Brands Work With Travel Influencers
As a travel influencer, you can work with different kinds of brands. The travel brands such as tourism boards, hotels, restaurants, tour operators, train companies, and more are the easiest to work with! Besides brands related to travel, you can work with brands that might not be directly linked to travel but your lifestyles, such as clothing brands, makeup, mobile phones, camera brands, insurance companies, telecom operators, luggage, apps, and jewellery a lot more. These are only a few examples of all kinds of companies that travel influencers can work with. The possibilities are endless.
How to Get in Touch With Brands
When you want to earn as an influencer, your primary source of income will come from brand sponsorships, Here are three main ways to reach out to them:
Send Emails
One of the ways to get in touch with brands is by sending them an email. Do a bit of research about the brand and see if there are synergies between you two, and then you can approach them through email by sending them a proposal. Here is a template if you are looking for a hosted stay with a hotel:
Media Request: Hotel Name
Hi [name of marketing manager],
I'm a [travel writer, digital content creator, just say anything here but "influencer"] visiting [destination] this month, and I wanted to reach out about a potential collaboration.
I'm [writing travel articles / creating a video series ] highlighting the best places to stay in [destination] and was hoping to include [hotel name]. [detail about the property here. Explain why you wanted to include them in your content based on your research]
The [article you're writing / photos you're shooting] usually reach between [monthly blog traffic / Instagram stats].
I'll be in [destination] between [your dates] and would love to work with you — please let me know if you're accepting any collaborations!
I'd be thrilled to create a content package for [hotel name] in exchange for [2-3 nights] accommodation. I usually offer [3-6] in-feed Instagram posts or reels and Instagram Stories throughout my stay, plus a feature in my blog post.
Please let me know if you are open to collaborations currently! I'd be delighted to work with you.
Thanks so much for your time!
Warm regards,
Many hospitality brands would sponsor your stay but might not pay you. Nonetheless don't forget to tell them about your rates and what you can offer for that.
Influencer Networks
Nowadays, many influencer networks connect brands and influencers. They usually keep a database of the influencers and reach out to you whenever they have a requirement or see a fit. Sign up with these Influencer Networks. But be prepared to not hear 90% time after they take quotes from you, and many times they are only fishing to get quotes from influencers.
Summary
By following the above tips, you can start as a travel influencer, build your own brand, and earn through Instagram and other social media channels. The desired growth may take months or years, but by starting today, getting started well (by picking a good username, well-written bio and posting content regularly with well-chosen hashtags), and focusing on small but significant steps like connecting with your followers and reaching out to other collaborators and brands, you can begin building momentum to grow your travel influencer profile.
It's never too late to start – even if your account never explodes in popularity, a travel Instagram can work as your own travel journal. Consistently creating travel-related content can build followers and engagement over time to launch our travel Instagram to success.
Hope you found this post helpful. Please share any questions or feedback in the comments section below.
Save this post to Pinterest if you like it!