Hotel Review: Are you planning a holiday in the city of Lakes and looking to stay in one of the best hotels and resorts in Udaipur? In this post, you'll read about my honest review about staying at Tree Of Life, Vantara Resort in Udaipur.
The magnetism of the exotic city of Udaipur is so intense that it lives in your mind long after you have left the place. And, one of the most important decisions to take while visiting the royal city of lakes is where to stay in Udaipur. While there are ample options to choose from the best houses and resorts in Udaipur, it could get confusing. From enjoying a royal stay at the aristocratic and illustrious Taj Lake Palace of Udaipur on Lake Pichola to finding a nature retreat in the Aravalli mountain range; Udaipur has ample options to suit every pocket. Some of the top hotels in Udaipur for couples, families and weddings are newly opened Raffles, Leela Palace, Oberoi Udai Villas, Aurika by Lemon Tree and many more. During my last visit to Udaipur, I stayed at two different hotels and resorts. One was in the city's heart, next to Fateh Sagar Lake, and the other away from the hustle-bustle of the city, in the middle of lush Aravalli hills. If you are looking for the Best Hotels in Udaipur for couples and families, this post could help. Here are my reasons to choose Tree of Life Vantara Resort, Udaipur over any other 5-star hotels in Udaipur:
Related – the best places to visit in Udaipur in 24 hrs top 7 days
Location
Being a nature lover, I prefer places that are peaceful and unobtrusive, where I can be one with nature. That kind of tranquillity is difficult to get in the bustling's heart of Udaipur, therefore I stayed with Tree of Life Resorts, Udaipur. Nestled among the undulating forested Aravalli hills, the resort is strategically at Debari. A village lying midway between the airport (13.3 km, 25 mins) and Udaipur city (approx. 11 km, 25 mins). Reaching here itself was like a mini adventure—driving on a mud road with trees all around made me feel as if I was on a jungle safari. I got a grand welcome when, along with the welcome drink, the heavens opened their floodgates. Despite heavy rains, the resort looked extremely gorgeous with all the greenery and open spaces around. As I entered, I couldn't stop myself from noticing the architecture that was built to blend in—made entirely in Jaisalmer stone. The resort reflects Rajasthan's architectural style and design.
Travel Tip: Since the resort is in a secluded area, therefore, getting public transport or even an uber can become an issue. The best is to share your travel plans with the front office and they can arrange a taxi for you, in case you don't have your own conveyance.
Rooms
Unlike big hotels with 150+ rooms, Tree of Life Vantara Resort in Udaipur doesn't intimidate you with its size. You feel you are staying in a nature retreat for relaxation with just 16 hideaway rooms spread over 4 serene acres of picturesque land on two floors. I stayed at one of their Superior Hideaway Rooms on the ground floor. My room had a large sit-out area with an all-encompassing view of the forested Aravalli Hills. I spent a lot of time here just marvelling at the serene beauty of the landscape. With around 400sq. ft. area, my room was very spacious, well-lit and fully equipped with all modern amenities. The bathroom had a separate closet area and individual WC and shower areas.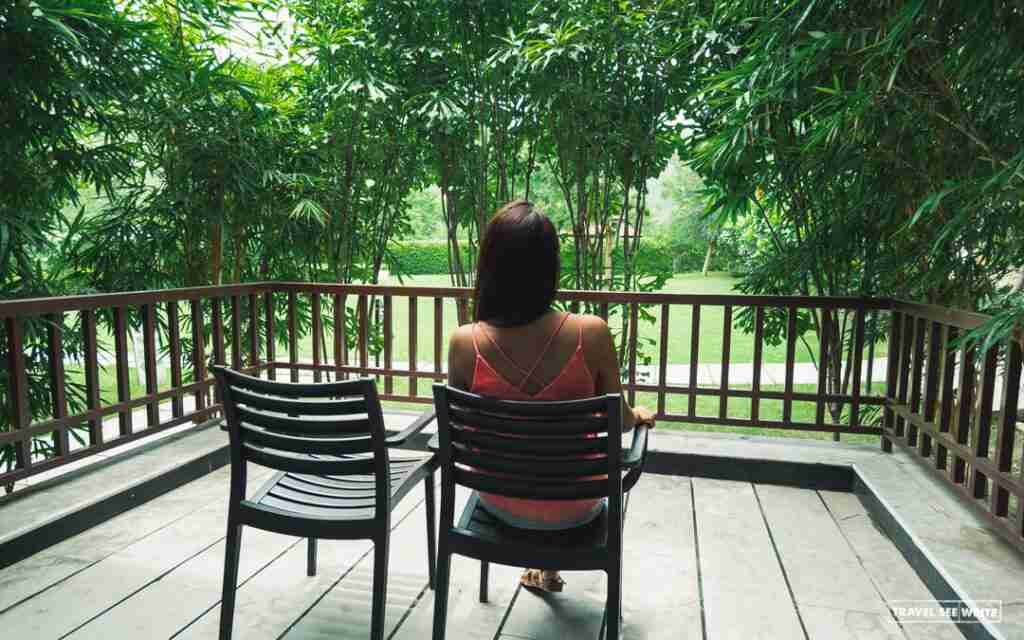 Resort Amenities

The resort has all the amenities that you look for in a mid-range resort starting from 24-hour security, daily housekeeping, taxi service, express check-in/check-out, luggage storage, free parking, free High-Speed Internet (Wi-Fi), outdoor swimming pool, game room, airport pick and drop, restaurant, conference facilities, dry cleaning, and Laundry service.
Also, the resort is pet friendly. So, you can travel with furry babies without worrying.
Dining
No travel experience is ever complete with good food. Thankfully, the food served at Tree of Life Resorts was freshly cooked and delicious. Made as per the guests' liking, it provided the best of both worlds – a variety of restaurant menus and quality of home-like food. You could either eat at the buffet or order à la carte. I tried and loved both. You could order anything from the carefully selected menu of Rajasthani, Continental and Gujarati cuisine. I tried Rajasthani and continental cuisine. Both were delicious. Daal-baati-churma, Gatte Ki Sabji, ker Sangri, Laal maans, were served with great love and care. I ate so much that it became difficult to move after lunch.
The breakfast was well laid out with South Indian, continental and North Indian food to choose from. One evening, I had an outdoor dinner with my friends. The candlelight setting next to the outdoor pool was splendid.
Staff
For me, the staff in a hotel or resorts are the unsung heroes. And, I have to say, the staff at Tree of life Resorts is one of the best I have come across lately. Not only they were respectful, courteous, and mindful of my needs, but they went out of the way to arrange things that were not even part of their service. Here's an incident I would like to narrate. While checking out, I forgot some stuff in my room, which by mistake was carried home by the guests who stayed in my room once I checked out. Kudos to the Property Manager, Mahendra Singh, for checking with the other guests and ensuring I get my stuff back. This kind of commitment is something you don't see often. Even during my stay at the property, Mahendra Singh and his team ensured I had a comfortable stay.
Experiences
The reason I thought Tree of Life Resort, is one of the best hotels in Udaipur for couples and families is because of the experiences it provides. The provided experiences are unique, sustainable and bespoke. They can be organised both inside and outside the property at a nominal extra cost. Some experiences include a soft trek in the hills, which is led by a Bhil tribal, who call the Aravalli hills their home. The trek takes you to a hilltop from where you can enjoy a panoramic view of the hills and Fateh Sagar lake.
If you are amused by temples, architecture and culture, you would enjoy 'A day with the Gods' day trip taking you on a temple trail of temples from 724 AD to the 17th century. Besides that, you can go on a village tour to meet the tribals or see the village life. Other than that, you can always enjoy a special high tea or cocktail by the pool.
Cost
There are different room packages available at Tree of Life Vantara Resort, Udaipur. You can choose either of these:
Standard Hideaway Room – Stay with Breakfast costs Rs 6,500.00 per room per night for 2 adults.
Standard Hideaway Room – Stay with Breakfast and another meal costs around Rs 8,500.00 per room per night for 2 adults.
Standard Hideaway Room – Stay with all meals costs Rs 9,400.00 per room per night for 2 adults.
Booking
You can book directly on the resort's website or through a third-party website like tripadvisor.com or booking.com. You can also book my calling up the Tree of Life Vantara Resort, Udaipur contact numbers – 9116104009 or 9015242000. For more information, either visit their website or write to them at unwind@treeofliferesorts.com
Inspired? Pin these to your Pinterest boards