"I have an upcoming trip and I really need your Hong Kong Travel Tips"
"Is Hong Kong good for family holiday"
"For the upcoming long weekend, I am thinking to do a quick international trip. Confused between Dubai and Hong Kong. What is there to see and do in Hong Kong"
"I am planning to go on a quick international holiday, could you suggest a Hong Kong Itinerary for 3-4 Days"
"What is the best place to stay in Hong Kong"
"When is the best time to visit Hong Kong"
"Out of all the months, when is the cheapest time to travel to Hong Kong"
"There are so many things to do and see in Hong Kong. I am so confused. What are the absolute must-see places"?
These are some of the questions I am often asked whenever anyone is traveling to Hong Kong for the first time. So, instead of answering each one of them individually, I decided to write a post for everyone's benefit. So, without further ado, let's begin.
12 Hong Kong Travel Tips you should know if you are travelling to Hong Kong for the first time
1. What kind of Visa do Indian citizens need to travel to Hong Kong?
For a short trip to Hong Kong, Indian nationals don't need a visa. You are allowed a 14-day visa-free entry to Hong Kong after successfully completing Pre-arrival Registration (PAR) online. The application process for PAR is easy, convenient and doesn't cost a penny. During the period of validity of the registration (six months), you may visit Hong Kong multiple times, each for a stay of 14 days, by presenting the printout of the PAR notification slip and your Indian passport. For more details of PAR, please click here. If your PAR application is not successful, or if you intend to visit Hong Kong for more than 14 days, you may apply for a visa with the Hong Kong Immigration Department directly.
2. When is the best time to visit Hong Kong?
Hong Kong is a season proof place. Ideal to visit any time of the year. Weather is mostly pleasant through. The average temperature is perfect for exploration – 17°C–26°C in Spring (Mar-May), 26°C–31°C in Summer (Jun–Aug), 19°C–28°C in Autumn (Sep–Nov) and 12°C–20°C in Winter (Dec–Feb). I had visited the city twice – March (Spring) and September (Autumn) and both the times I had a great time.
Spring is a perfect time to explore the city's cultural life, particularly the art scene. It's Hong Kong Arts Month and for the entire month of March, the city welcomes visors to participate in the plethora of arts and cultural events around town, including the internationally renowned Art Basel Hong Kong and Art Central. The four-decade-old 'Hong Kong Arts Festival' features opera, theatre, music, dance and more. You can pick and choose from 166 performances and over 300 exciting arrays of outreach activities by over 1,700 artists from around the world till 29 March 2019. ⠀
And, it's not just Spring that is the best time to visit the city, you can plan any time of the year and you won't be disappointed. Here are the monthly highlights:
January: Hong Kong New Year Countdown Celebrations at Victoria Harbour
February: Hong Kong Chinese New Year, Night Parade and Hong Kong Marathon
March: Hong Kong Arts Festival, Art Basel, and FIA Formula E Hong Kong E-Prix
April: Hong Kong Sevens, Birthday of Tin Hau
May: Cheung Chau Bun festival, birthday of Buddha
June: Hong Kong Dragon Boat Carnival and Water Parade of Tai O
July: Hong Kong Summer Fun (music festivals, ports tournaments, major fairs and other events)
August: e-Sports and Music Festival
September: Mid-Autumn Festival and Tai Hang Fire Dragon Dance
October: Hong Kong Wine & Dine Festival, Hong Kong Cyclothon and Hong Kong Tennis Open
November: Hong Kong Great November Feast, Hong Kong's Music & Art Festival and Hong Kong Open
December: Hong Kong Pulse Light festival
3. What currency to use in Hong Kong
Like its own unique culture and identity, Hong Kong has its own currency too – the Hong Kong dollar, which is pegged at HK$7.8 to US$1. You can easily get currency exchanged at Currency exchange counters available at the airport, as well as all over the city. International credit and debit cards are widely accepted. You can also withdraw money from most ATMs.
4. How to stay connected in Hong Kong
Connectivity is not an issue at all in this global city. Prepaid SIM cards can be bought cheaply from any convenience store. I picked up a Discover Hong Kong Tourist SIM Card, special 5-day or 8-day passes loaded with minutes and data. If you'd prefer to stay mostly unplugged during your excursions and catch up in the evening, free Wi-Fi is available.
5. How to reach Hong Kong
All major airlines have regular flights to Hong Kong. I flew with Cathay Pacific and had a very comfortable experience. Currently, Cathay Pacific Airways and Cathay Dragon operate 48 flights a week from India, with double-daily services from Delhi to Hong Kong and ten flights a week from Mumbai to Hong Kong, a daily flight from Chennai and four weekly flights from Hyderabad. Cathay Dragon operates daily flights from Bengaluru and six weekly flights from Kolkata.
And, please keep an eye on offers the airlines come out with like I got a discount of Rs. 300 on their UberPremier ride during Woman's day to and from the airport. Right now, they even have an ongoing offer wherein if you are travelling before July, you get discounts on a range of popular attractions and more. And, please retain your boarding pass to get discounts at many restaurants where you can get up to 20 % discount on food and beverages. You can read my full Cathay Pacific Airlines review here.
6. How to reach the city from the Airport
The Airport Express is the quickest way to get into the city, a 24-minute train journey that makes stops in Tsing Yi, Tsim Sha Tsui and Central. There are also buses that cover all major districts of the city. However, they take more time compared to the Airport Express. I took Bus A21 from the airport to reach my hotel in the Tsim Sha Tsui district. While it took approx. 1hr 15 minutes, I didn't have to change over. On top of that, it's the cheapest option. For all seven ways to reach the centre, check https://www.rome2rio.com
7. How to get around in Hong Kong
The best way to get around Hong Kong is by using an Octopus Card, even if you're visiting for a couple of days. You to travel cash-free on all major transport systems, and can also be used at convenience stores and some shops. It costs HK$150 at any MTR station (HK$100 value, plus HK$50 deposit refunded on return), and can be topped up easily. Here are different modes of transport to explore Hong Kong:
MTR: Hong Kong's subway system covers nearly every part of the city. You can either buy tickets at cash machines or use your Octopus Card. Tip: Be sure to check the signs to see which exit to take, as walkways can be long.
Bus: Buses operate all across Hong Kong. Double-decker buses are most frequent, minibuses are harder to navigate, green ones have set paths and stops, but red ones follow whatever route is the quickest.
Taxi: Taxis in Hong Kong are cheap and found almost everywhere at any given time. Red taxis run across the city, green ones are for New Territories, and Blue is for Lantau Island. Red taxi metre starts at HK$24, and each piece of luggage carried costs HK$6.
Tram: Street trams travel between the east and west points of Hong Kong Island. The Peak Tram, meanwhile, is really a funicular that scales up to the island's highest viewing point.
Ferry: Most ferries start from Central Pier, including the Star Ferry to Kowloon, as well as Outlying Island ferries to Cheung Chau, Lamma Island, and Lantau Island. Other piers include Wan Chai, North M Point, Aberdeen, Stanley, Hung Hom, Kowloon City, and Sai Kung.
8. What are the must-see attractions in Hong Kong?
Cloud-piercing skyscrapers, top-of-the-town panoramas, villages built on stilts, eminent night markets, buzzing art scenes and home-grown theme parks. Hong Kong will spoil you with its variety of attractions. No other city in Asia offers such an amazingly varied array of attractions as Hong Kong.
If you are a first time visitor to the city, make sure you visit the Avenue of Stars, Tsim Sha Tsui Promenade, 1881 Heritage, Old town central, DukLing Harbour Cruise, Ngong Ping 360 (the Big Buddha and Po Lin Monastery), the Peak, Tai O Village, Hong Kong Disneyland, Stanley, Repulse Bay, Outlying Islands of Cheung Chau, Lantau Island and Lamma among others. For more details check out the 15 must-see attractions in Hong Kong.
9. Where to shop in Hong Kong?
Shopping is almost a national pastime in Hong Kong, a place where anything can be found if you look hard enough. From designer stores to local markets, Hong Kong is a shopping haven. For thrift shopping, I prefer the CAT market, Ladies market, Li Yuen East and West Streets, Temple Street and Stanley market. Sift through Cat Street's antiques by day, and then cross the harbour to its nocturnal counterpart in Temple Street.
Browse hipster stores in Wan Chai, and then make your way through Causeway Bay's frantic mini-malls. Hunt for hidden finds in piled-up vintage stores, and then get fitted for a classic suit at a refined tailor. Whatever you desire, it's here.
10. Where to try outdoor activities in Hong Kong
Hong Kong might have one of the best skylines in the world but it has an equally outdoorsy side too. Escape the urban hustle and take a walk on Hong Kong's wild side. Whether you prefer paragliding over rural hills or reclining on a pristine beach, hiking over mountains for spellbinding views or taking in the thrills of a major sporting event, there's something for everyone. Some of the places I highly recommend are Hong Kong UNESCO Global Geopark, Sai Wan Beach, MacLehose Trail, High Island Reservoir, Dragon's back trail, and Shek Pik Country Trail
11. Where and what to eat in Hong Kong
Hong Kong is the ultimate place for foodies, with some of the world's very best restaurants. Here the variety is mindboggling – from cheap eats and street food to high-end Michelin-starred eateries. But what makes Hong Kong's dining scene truly unique is undoubtedly its local dishes.
As you'll bite into Hong Kong flavours you'll realise like its DNA, its dishes also capture Hong Kong's east-meets-west heritage in the most delicious of ways. From traditional Cantonese dim sum to beverages influenced by British culture, there's a lot to surprise your taste buds. For one of the world's most affordable Michelin star and Michelin recommended restaurants check out Tim Ho Wan at Tsim Sui Po.
For an authentic taste of Hong Kong food culture, check out wonton noodles at Mak's Noodles, egg tarts at Tai Cheong Bakery, seafood in Sai Kung, and barbecued meats at Joy Hing.
Hong Kong is not just about meat, here are some of the must-try vegetarian and vegan restaurants:
Grassroots Pantry: A haven for veggies and vegans that serves nutrient-rich food made using the freshest, most nutrient-rich, organic and locally sourced sustainable ingredients, but with a creative spin. Highlights of the menu include the pan-fried gyoza, macadamia cheese, beetroot agnolotti, and the braised jackfruit and konnyaku clay pot rice. One big advantage Cathay Pacific passengers have over others is that you can get a straight 15% discount on the food bill by just showing your boarding pass. So, don't throw that boarding pass away once you land in Hong Kong.
Bodhisattva, Mong Kok: I was staying nearby so this happened to be one of my first HK vegetarian restaurants, thanks to a quick search on HappyCow. With a seating capacity of 100, this restaurant was pretty packed at lunch hour. The menu was in Chinese but had pictures. The restaurant serves vegetarian Chinese food based around mock meats and is mostly vegan as dairy is rarely used. They have one of the best dim sums in Kowloon. The only weak point is their staff's limited English vocabulary.
Gingko House: Eating can feed a lot of mouths, especially the ones who have fed others their whole life. Established in 2006, Gingko House provides employment to elderly people, while also promoting vegetarian food. All the waiting staff and the chef are elderly folks, and sometimes they even put on live performances by senior citizens.
Isoya: Love Japanese but struggle for vegetarian options on the menu? No worries. Wan Chai-based Isoya serves up vegetarian versions of beloved Japanese classics. Dishes are delicate, delicious and immaculately presented.
Mana, Central: This popular café, with locations in Poho in Sheung Wan and Central, specialises in healthy, organic and vegetarian fare.
Kind Kitchen: Based in Nan Fung Place, Central, it is a completely vegan café that serves both Asian and Western fare.
Veda: Located in Ovolo Central, Veda is the first hotel restaurant in Hong Kong to serve only vegetarian cuisine.
Chi Lin Vegetarian: Nestled in the renowned temple at Chi Lin Monastery, this restaurant is visited by pilgrims and visitors alike. The vegetarian meal here is a must.
Tulsi Indian Restaurant: Named after a holy herb, Michelin-starred restaurant Tulsi boasts a delectable selection of authentic Indian cuisine.
Pure Veggie House, Mid-Levels: Pure Veggie House does not use any food additives or dairy products in any of its food, and all dishes are prepared with organic produce freshly harvested from a local farm.
Kung Tak Lam Shanghai Vegetarian Cuisine: This Northern Chinese veggie joint's dishes are completely MSG (Monosodium glutamate) free, with a heavy reliance on mock meats
Tishifang Tea House: Run by Taiwanese Buddhists, Tishifang Tea House offers affordable and healthy dining options for around $60 per head. Try the steamed vegetable dumplings and Indonesian fried rice.
12. Where to stay in Hong Kong?
Hong Kong is a place where there is no dearth of good places to stay. Depending on your liking and budget, there are a lot of options. The most popular areas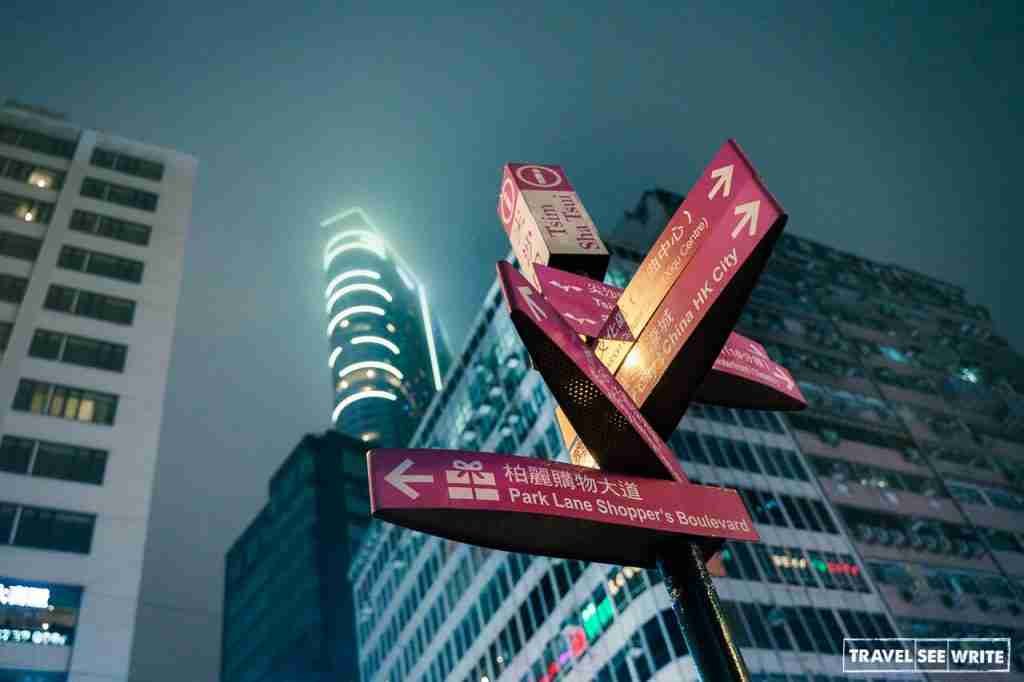 Tsim Sha Tsui: Located in the heart of Hong Kong, Tsim Sha Tsui is a popular place to stay for tourists. It's close to Victoria Harbour, Avenue of Stars, Nathan Road. From posh hotels like the Sheraton, Peninsula, and InterContinental to cheap hostels and low-budget hotels located in the Chungking Mansions; Tsim Sha Sui is an ideal place to stay in Hong Kong. I stayed at BP International, which is located in the heart of Tsim Sha Tsui and is within walking distance of many attractions.
Central: The financial hub of Hong Kong, is an attractive place to stay since it's located near Lan Kwai Fong and Victoria Peak, two of the most popular spots in the city. Nearby attractions include Man Mo Temple, the Mid-Level Escalators, and the International Finance Center.
Mong Kok: Ideal for people looking for good Airbnb options as it is mainly a residential area. It's also within walking distance of the Temple Street market and Langham Place which is a good contrast between old and new Hong Kong.
Wan Chai: One of the oldest and the busiest commercial areas in Hong Kong, but relatively cheaper to stay here than in the neighbouring Causeway Bay area, which is arguably the best place to shop.
Hong Kong is a megacity, which will keep attracting you. One trip is never enough. I have visited the island thrice, yet I have barely scratched the surface. I hope these Hong Kong Travel Tips help you to at least explore the key attractions. For more details, check out the following:
Inspired? Pin these to your Pinterest boards
Disclaimer
I was hosted by Cathay Pacific. However, everything expressed above is based on my personal experience. Images used are either shot by me or provided by the airlines. Please do not copy anything without written permission.