Life before and after COVID19
Before we were locked inside our homes because a virus took the Earth and its inhabitants hostage, I was enjoying the triple dose of sun, sand and sea in a tropical haven popularly referred to as the paradise on Earth. In the Maldives, nature is the real showstopper – everyday sky puts up a grand show filled with eye-popping colours as the white sands melt your heart like the smiles of the locals. You can swim with the fishes in the turquoise blue waters of the Indian Ocean or just laze around on your sundeck in a plush water-villa. Blessed with tropical weather that's always in a good mood, and where the vibe is always right. No wonder the Maldives tops amongst the preferred holiday destinations for honeymooners, families and MICE travel.
This was true until February, today the world has changed completely and travel has taken a big pause. Ban on non-essential travel has proved one thing – when the world stays home, the planet benefits. There is clear water in the Venice canals, blue skies over Delhi, thousands of flamingos are painting Mumbai pink and wild animals are roaming boldly in locked-down cities. Yes, emissions are falling and earth is finally breathing clean air but not for long.
The connection between COVID19 & Climate change
We must take lessons from COVID-19 and use it as a springboard to living more sustainability. While COVID-19 is not a climate-change-induced pandemic, it surely is a preview of our climate-change future. Climate change is frequently described as a threat multiplier, something that exacerbates existing problems and creates new ones. No aspect of life on this planet has been untouched by climate change — viruses included. By altering the environment at a faster rate than any other moment in geologic history, scientists say, humans have created a wealth of chances for viruses to evolve. To make matters worse, a warmer planet is expected to be a less stable one.
When Covid-19 is behind us, we will travel again, but it will not be the same. Guests will prefer contactless travel and destinations that have reported a low number of COVID-19 cases and are better geared up to handle social distancing. Maldives Marketing & Public Relations Corporation's managing director Thoyyib Mohamed says that the country is at an advantage compared to other destinations since all the island resorts stand isolated and not connected to one another.
Trouble in paradise: Sinking Maldives
But this glimmer of hope shouldn't make us forget the flooded future that is threatening to drown Maldives. If there is a ground zero for observing the impacts of a changing global climate the Maldives are definitely a front-runner. Comprised of 1192 islands and 22 atolls, most pancake flat, the highest reaches no more than five feet above sea level, making the Maldives the lowest country on earth. Only two hundred of the islands are inhabited, by roughly 320,000 people.
But there is trouble in paradise – the Maldives is now the poster-child for the consequences of climate change. With 99% water and 1% land, the archipelago is extremely vulnerable to storm surges, sea swells and severe weather. In the last two decades, Maldives has lost over 20 islands, more than 100 islands are reporting erosion, and around 30 islands are identified as severely eroded. Global warming will almost certainly lead to the demise of these islands which are predicted to drown in our lifetime. Disappearing into the rising sea, it will become the first country having to relocate all its population as refugees due to global climate change.
It's a Climate Emergency – sea level is rising at an alarming rate due to increased carbon emissions. The irony is that while the Maldives has not contributed much to greenhouse emissions, as it produces very little, it is facing some of the worst consequences created by others – mainly the USA, China and India.
Interested to dig deeper and witness the climate change impact first hand, I visit small villages, prominent diving sites and a few leading luxury resorts. After an overnight flight with Srilankan Airlines with a stopover in Colombo, I reach Male Airport. From there I take a 45-minute seaplane ride to Adaaran Select Meedhupparu, located 154 km to the north of the city of Malé.
Another 20-minute ride by a traditional Dhoni brings me to the Meedhoo island where I get a taste of the local Maldivian life and their daily struggles. Most of the villagers are employed at the Adaaran Select Meedhupparu Resort and the rest are into fishing. Axxam Rafeeu, a 21-year old Technician working at the Meedho Island Power Plant, apprises me of the current climate situation in his village,
Although climate change is not starkly visible on our island which has a population of just two thousand, the subtle hints are everywhere. When I was a kid, weather was predictable like June and July used to be the rainy months and rest of the time it used to be wall to wall sunshine and calm seas but that's not the case anymore. Flooding is a common phenomenon now. Not only it destroys infrastructure but contaminates inland freshwater sources.
One of the reasons why flooding has become so common in Maldives is because, with the rising sea temperatures, Corals are either getting bleached or dying completely. Andres Mehner, who specialises in Shark Ecology and is the Speciality Dive Instructor at Divepoint, Hudhuranfushi island says,
The best way to explore the Maldives is to dive into its turquoise blue waters to see its vibrant marine life that's rated amongst the top two best diving sites in the world. However, this rich marine environment has suffered a loss of around 60 to 70 per cent of its corals since 2014 due to rising sea temperatures.

Scientists warn if adequate steps are not taken the Maldives might not have any coral reefs by 2045. Moreover, coral reefs protection is critical for the island's protection as they not only provide shelter and food for the local fish population but are also the first line of defence when sea storms hit.
What is Maldives doing to fight the climate crisis?
Becoming energy efficient
The Maldives has the distinction of being the first country in South Asia to achieve 100% access to electricity but this power is based on a diesel-powered grid system, which makes its carbon emissions per unit of electricity among the highest in the region. The Asian Development Bank (ADB) and the Environment Ministry of the Maldives have initiated a project to help the country tap solar power and reduce reliance on costly, polluting diesel by installing a solar–battery–diesel hybrid system in 48 islands out of the 160 inhabited islands.
Additionally, the private sector is warming up to renewable energy – some resorts like Kudadoo Maldives Private Resort are powered entirely by solar panels while others are slowly but steadily making a progress like Adaaran Resort uses Solar panels to heat its bathroom water and uses energy-efficient lighting and appliances. Airconditioners are set at energy-efficient temperature and 'save electricity' messages are displayed abundantly in the resort.
Reduce, Reuse & Recycle
Both locals, as well as resort owners, are motivating people to reduce, reuse and recycle resources as much as possible. Vivek Tiwari, who works at Adaaran Hudhuranfushi Resort says,
We don't waste anything on the island. Even the discarded wood is reused for island beautification or creating quirky garden furniture. Water is very precious here and we don't waste a bit – the wastewater is recycled to be used in the toilets and kitchen garden, where we grow our own vegetables and fruits.
Vivek further explains Resort's efforts to make the island plastic-free – Adaaran Hudhuranfushi is in a process of setting up their own water purification plant. Despite being a luxury resort they don't provide individual transfers to the guests as it increases carbon emission. They bring them together at set times during the day and use electric cars for in-land transfers for the ocean Villa guests. Additionally, on a regular basis, they engage with the local communities to bring down carbon emissions and initiate island cleaning drives.
Even tour providers such as Secret Paradise chooses not to own its own fleet of vehicles and speedboats. They hire public vehicles or the services of other boat providers. This ensures money goes back into the local community as well as preventing additional unnecessary emissions.
Coral protection and restoration
With the help of the Global Environment Facility and United Nations Development Plan, Maldives is trying to prevent marine pollution, reef damage and biodiversity loss sustainably through a community-based approach. The effort is already showing results with coral cover increasing by 20%.
Even private resorts, marine biologists, NGOs and local communities are coming together to spearhead the coral recovery programme. Ruth Franklin, the Co-founder of Secret Paradise, the Maldives which organises day tour and multi-day tours for its guests shares their part of the story,
"Ecotourism and sustainable tourism have always been an integral part of our philosophy and part of our mission statement. Not only do we employ local guides but also our guests can become actively involved in conservation programs and learn how they too can be responsible during their stay in the Maldives. All our guests participating in ocean-based activities including swimming and snorkelling are briefed using the Green Fins Guidelines on how to be responsible in the water."
10 tips to save sinking countries like Maldives
Bring a behavioural change in your daily life: The greatest contribution you can do to safeguard vulnerable low-lying islands like the Maldives is by bringing down your carbon emissions in daily life by choosing more sustainable choices like public transport over private vehicles, organic products over pesticide heavy produce, vegetarian or vegan diet over meat-heavy consumption, and following the 3Rs – reduce, reuse and recycle products.
Fly less: Short-haul flights under 500km are comparatively the worst polluters because they take a lot of energy to get up and down. So take a train or bus instead sometimes. This can massively reduce the amount of carbon you produce – a return trip from London to Paris return would produce 110kg of CO2 by plane versus 6.6kg by train. And if you must take the flight then choose a more efficient airline and flight. Lower impact airlines usually have more modern, fuel-efficient planes and carry more passengers. Atmosfair has some very helpful rankings to help you decide.
Offset your carbon footprint: If air travel is unavoidable, you can reduce the impact on the environment through carbon offsetting your flight. Carbon offsets are voluntary schemes where you can pay to 'offset' or make up for the emissions that your flights produce. You can buy the credits directly with the airline when you book your flight. You just pay an extra fee on top of the flight cost which is donated to a carbon offset scheme like forestation projects or investing in green schemes. or you can do it directly with the organisations in the business of carbon offsetting like Gold Standard, a Swiss non-profit founded by a group of environmental groups and NGOs including the WWF. Their projects are based in developing countries and combine reducing CO2 with sustainable development.
Choose sustainable holiday partners: When you book a holiday, do a bit of background research about the property you would be staying at, activities you will be indulging in and the guides you'll be hiring. Choose sustainable holiday partners like Aitken Spence Hotels that have dedicated sustainable programs to protect the local communities, marine life and the environment.
Experience the local culture: Don't be a tourist. Explore the Maldives with the local guides beyond the luxury resorts and glossy holiday brochures. Visit the nearby local villages to form a bond with the locals. For example, I visited a village called Meedhoo Island that houses over three hundred years old mosque built entirely from corals. Eat local food and shop locally.
Get involved: Get a greater understanding of Maldives fragile eco-system and how you can be a responsible traveller during your stay by signing up with activities with adventure partners like Secret Paradise. If you like, you can volunteer for their coral restoration projects with Save the Beach, Maafushi Eco Dive and Coral Doctors. Get actively involved in projects like conducting reef surveys, cleaning the coral frames, assessing coral health and updating online databases, coral planting and Crown of Thorn cleanups.
Financial aid: If you can afford, help the locals and sustainable projects financially. The Maldives is not a rich nation and every penny counts.
Start a movement for change: Join or start strong civil society movements to drive change in the mindset and behaviour. If enough people put pressure on the Government and stakeholders to reduce the carbon emissions, the change will happen. We need to ask them hard questions on what are their concrete plans to tackle this #ClimateEmergency and if they can't answer, stop buying their products.
Pressurize the authorities: Put pressure on the government to stop deforestation and improving land management, we could reduce emissions by the equivalent of about 9bn tonnes of carbon dioxide a year by 2030.
Become energy efficient: Stop buying non-renewable fuels run petrol and diesel cars that release toxic carbon gases. Instead buy an electric or hybrid vehicle. If they can make 90% of the market by 2030, emissions from transport would get vastly reduced.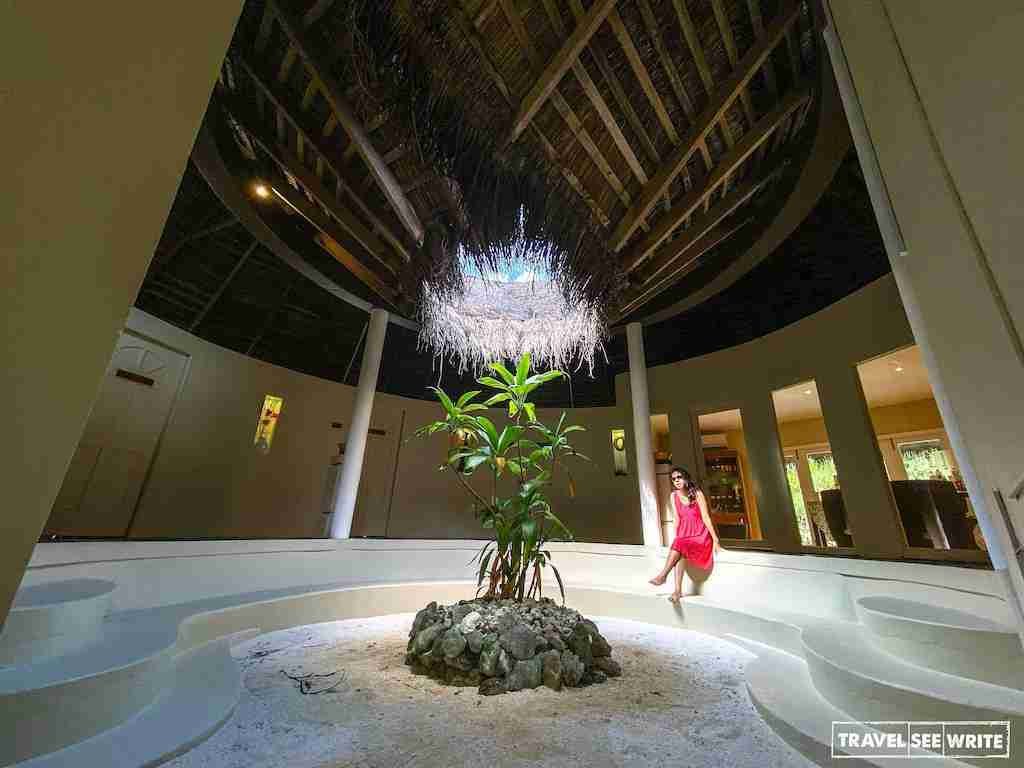 Further reading
Pin these to your Pinterest boards
Disclaimer
I visited the Maldives on the invitation of Adaaran Resorts and Srilankan Airlines. All the views expressed above are based on my personal experiences in the country during my visit. Images used are either shot by me or provided by the locals I interacted with. Please do not copy anything without written permission.