I have just returned from four-month solo budget travel in Europe and still within a week, the post-travel depression kicks in. And, to make it worse, my morning sneezes induced by a smog-smothered Delhi becomes a routine. I am craving to get back to nature at the slightest possibility. I start looking for options – the hills of Himachal, desolate land of Ladakh the pristine beaches of Kerala or the sand dunes of Rajasthan. After pondering for a few days, the decision is made. I am going to visit the forests that inspired Rudyard Kipling's Mowgli. At the end of November, I set off from Delhi to explore wildlife tourism in India. While there are many options to choose the best jungle safari in India, I settle for a five days Tiger Trail in Madhya Pradesh.
The best Jungle Safari in India starts at Pench
At 5:30 am on a misty morning in November, I leave for the Pench National Park in an open-jeep along with my Naturalist, Alwyn from Jamtara Wilderness Camps. Before starting our Jungle adventures, we are treated to a hot cuppa coffee and tea along with home-baked cookies. Our naturalist reminds us to leave behind all electronic equipment at the lodge barring our cameras and binoculars. The chilly wind stings my cheeks and makes my eyes water but I am well-prepared with several layers of winter clothing, woollen cap, muffler and a hot water bottle tucked under my blanket.
As we enter the park, I see langurs jumping from tree to tree, birds tweeting in unison, chital and sambar herds gingerly grazing in the grassland. We move along the jungle and I smell the sweet aroma of the damp earth at daybreak. I see the morning dew dripping from the trees onto the lush undergrowth. Before I could capture any of those, the jeep moves and the smells and sights disappear. The silence of the jungle is occasionally broken by Alwyn and the local park guide, who encyclopedically and passionately tells us about the flora and fauna of the jungle. They share tales of the forest that are an intriguing mix of scientific facts gleaned from their training and the books they have reading, and local lore from the area.
Suddenly Alwyn hears an alarm call of a langur followed by the grunting of a deer. It is a signal that a tiger is on a prowl. A sense of alertness grips the group as we drive towards the distress call. As soon as our jeep comes to a halt, we cram onto one side of the Jeep to look outside.
After 10 minutes, our patience is suitably rewarded when the majestic cat reveals itself to us from the thick foliage. My heart is forever gripped by the shiny orange coat with black stripes. Just a few feet away…the Royal Bengal Tiger crosses the dirt road…gives us a disdainful look…and vanishes again in the dense forest. My day is made!
We then move on to explore the park's large diversity of wildlife, including Leopard, Tiger, Jungle Cat, Dhole (Wild Dog), Sloth Bear, Wild Boar, Mongoose, Gaur, Cheetal (Spotted Deer) and Sambar. Once our hunger for Tiger satiates, hunger pangs kick in. At around 9:30 am a picnic breakfast is served in the middle of the jungle with a cup of hot tea or coffee. We then stay in the park until 11 am before returning to our base camp at Jamtara.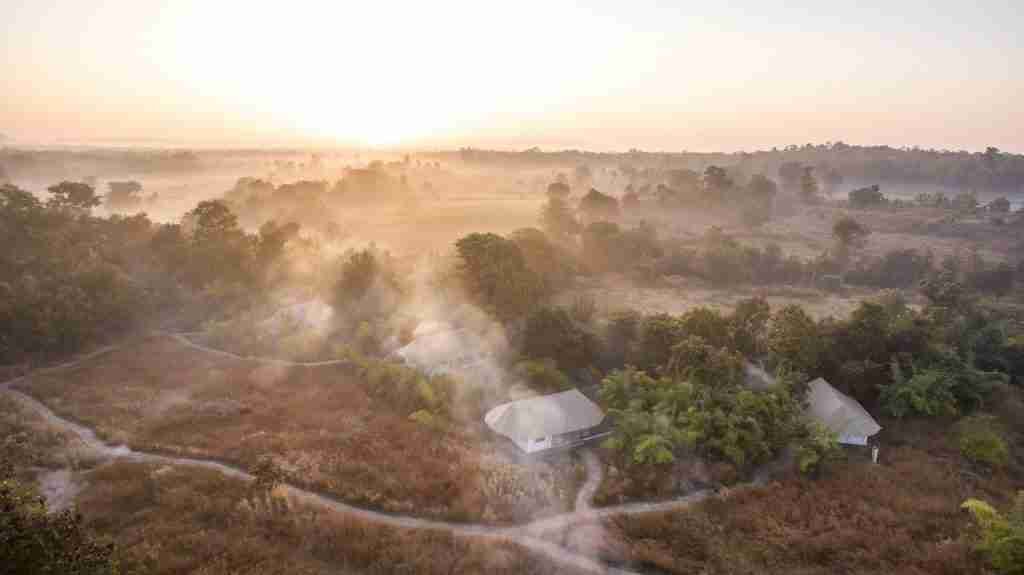 In the evening, we had an option to either go for the afternoon Safari from 3:00 pm to 6:00 pm or immerse ourselves in the tribal lives of the Jamtara village. We walk through the village market selling all kinds of knick-knacks – from silver jewellery to fresh vegetables. Hawkers earnestly call us as we pass through the mud path with our eyes stuck on the cobs of corn, which grow abundantly in the area, dry in courtyards. Bottle gourd vines climb wooden fences and tiled roofs. We are invited for a cup of piping hot tea in a local house made up of wood and mud. As the sun sets, we return to our camp witnessing the domestic cattle coming back home with their herders.
This was my first day of a five-day Tiger Trail in Madhya Pradesh, where Rudyard Kipling got inspired to write the Jungle Book. While visiting the two key national parks, Pench and Satpura, I saw a variety of animals and birds including tigers, leopards, wild dogs, wolves, sloth bears, bisons, wild boars to name a few. Alwyn and Aly Rashid (naturalist and the owner of Reni Pani) kept sharing the in-depth knowledge about the undulating topography and wildlife.
About the National Parks – Pench and Satpura
There are over 1,200 species of plants in Pench and 1300 in Satpura including several rare and endangered ones. We passed through an array of vegetation ranging from moist, sheltered valleys to open, dry deciduous forest. Satpura is unlike Pench, though they are just a few hours drive from each other. The former is lusher and has trees greener and taller than Pench. In Pench, there are higher chances of Tiger sighting, while Satpura has plenty of leopards, sloth bears, giant Malabar squirrels, and migratory birds. Pench is best explored on jeep safaris, Satpura can be explored on foot, boat, jeep or elephant.
Beyond the wildlife
Every evening, we shared our stories of animal sightings as the snacks and drinks made the rounds around the bonfire. And, each night a lucky person got a chance to sleep under the stars in the Star Bed – a glamorous machan in the middle of fields at Jamtara Camps. The Star Bed experience is a source of income for local farmers, and 80 per cent of the staff are hired from surrounding villages.
In fact, it was here I got to know how deep-rooted company's history is in conservation. Owner Amit Sankhala's grandfather – Kailash Sankhala – was the one who started Project Tiger, a conservation programme in India in 1973. And, the legacy has grown ever since then with his son Pradeep Sankhala taking over the charge of the Tiger Trust after his father's death and setting up eco-friendly Jungle lodges. And, now Amit is holding the fort successfully.
Food is either grown on-site or sourced locally from the surrounding farmlands. Furnishings are made from recycled wood, all-natural products are used where possible, and guests are given a stainless-steel bottle for filtered water.
However, it wasn't just the national parks and camps that impressed me. I was amazed by the genuine conservation and community development works of Jamtara Wilderness Camps and Reni Pani Jungle Lodge. Not only do they provide a great Jungle safari experience but also connect you with the local communities that call these remote areas home and play a vital role in safeguarding the national forests. Both Jamtara and Reni Pani resorts supply school desks and other items to the community and play an active role in Tiger conservation.
I had gone to central India to get rid of my travel blues but I ended up seeing so much natural beauty and glimmers of hope in wildlife tourism – thanks to enlightened law-making, a few committed individuals, and some truly wonderful lodges.
So, when are you heading on a Tiger Trail in Madhya Pradesh?
Travel Essentials
Where to stay in Pench
While there are all kinds of accommodation options available in the Pench National park area, I highly recommend staying at eco-friendly resort Jamtara Wilderness Camps situated in the Village of Jamtara, near Pench National Park. There are 10 luxury safari tents with en-suite bathrooms and private verandah, outdoor and indoor lounges, library, valet parking, swimming pool and laundry. Rooms are equipped with free filtered water, tea- and coffee-making facilities, hot-water bottles, air-conditioning and Soultree bath products. There are no TVs and no WiFi or mobile signal throughout this remote, eco-friendly camp.
Where to stay in Satpura Tiger Reserve
In recent years, the Satpura National Park has seen the blossoming of several boutique jungle lodges. Among these, the Reni Pani Jungle Lodge is second to none. Located in a pristine forest typical of the Satpuras, it gets its name from the neighbouring tribal village. Reni Pani features twelve luxury cottages encompassing three distinct architectural designs.
The nallah units, the forest units and the hill units are all built using local/indigenous material and are characterized by viewing decks, large lounging bay-windows and luxury bathrooms. The 'GolGhar' or the meeting place, has a fascinating and unique design and features a dining area, a bar, a library and a lounge set in its various corners. Its true forest environment coupled with neighbouring patches of agricultural land make Reni Pani and its surrounding areas a hotbed for animals and birds.
How to get there
The Pench National Park is well connected by air, road and railways
By Flight: Arrival to Nagpur, Dr Babasaheb Ambedkar International Airport (130 km away) or Jabalpur Airport (213 km away) from any major Indian city.
By Rail: The nearest railhead to Pench is Seoni Railway Station, which is about 30 km from the Pench National Park and has regular trains connecting the place to Mumbai and other places.
By Road: Pench lies on the Nagpur- Jabalpur highway and is easily accessible by buses and taxis. Take a bus or a cab from Seoni bus stand to the Pench National. Seoni is linked to all places in Madhya Pradesh and Maharashtra by a good network of Roadways. If you plan to take the bus from Nagpur, you will have to get down at Suktara or Khwasa.
The Satpura National Park is a 3.5hr/130km drive from Bhopal. Bhopal is well connected by air, rail and road to major Indian cities.
What to pack
Comfortable clothes: t-shirts, pants, Fleece jacket/sweater/jacket, shorts, swimsuit
and raincoat (please avoid dark/bright colours – neutral colours are best for safari)
Knit hat and gloves (for early mornings/evenings)
Comfortable sneakers and walking shoes. Slippers/sandals
Polarized sunglasses and a wide-brimmed hat
Sunscreen with high SPF and personal toiletries
Plug adapter to charge your electronic devices
Binoculars and a camera with extra batteries
Headlamp
Mosquito repellent/DEET and prescribed medication (including antihistamine)
Extra Cash/Credit Cards
A small backpack for day use to carry your water bottle, sunscreen, snacks etc.
In case you are interested in wildlife tourism in India and how to behave responsibly in the National parks, do read
Into the wild – Chitwan National Park, Nepal
Published in
The abridged version of this story was published in Malindo Air inflight magazine
Inspired? Pin these to your Pinterest boards
Disclaimer
I was invited by MP Tourism as a part of Adventure Next India event organised by MP Tourism in collaboration with the Adventure Travel Trade Association (ATTA). However, all the views expressed above are based on my personal experiences in the region during my visit. Please do not copy anything without written permission.