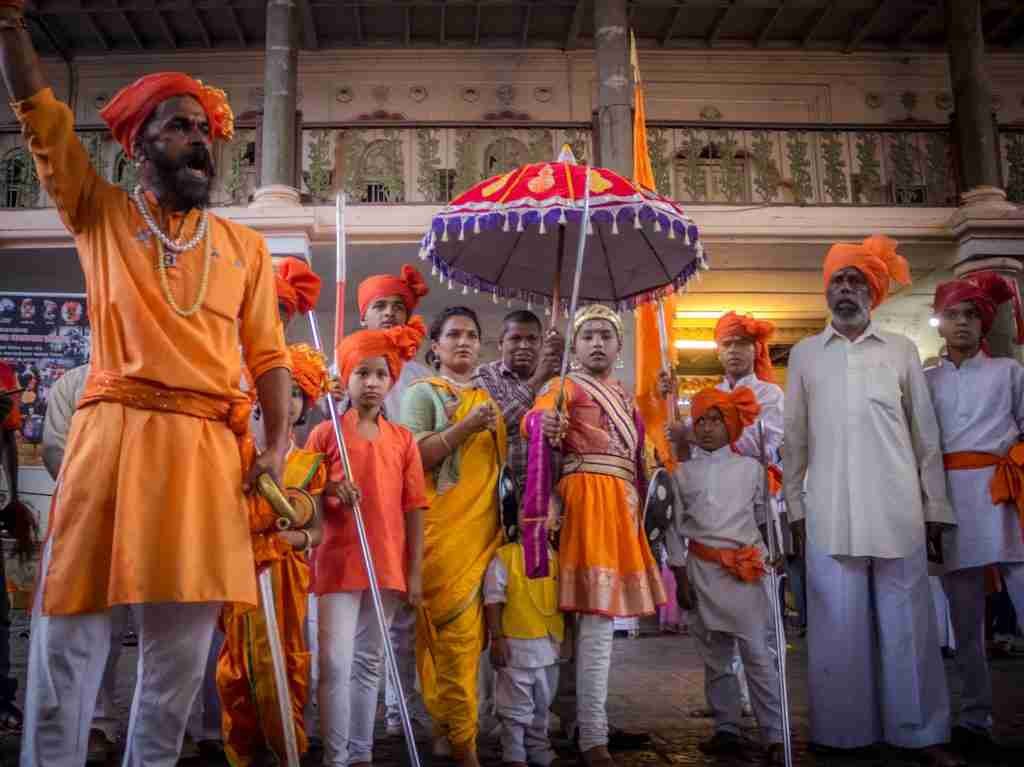 Kolhapur to me stood for the Mahalakshmi temple, Kolhapuri Chappal, Spicy Mutton and Lavani dance. On a beautiful spring morning when I alighted from the Deccan Odyssey luxury train as a part of India Blog Train initiative by Incredible India, I had no idea that a new name was going to be added to the 'must do' list.
After walking through the monumental gateway in a cobblestone Plaza, I got busy capturing the atmospheric old town quarter around the Mahalaxmi Temple. In the middle of an unceasing tide of humanity, I heard a roaring voice along with sounds of Dhol-Nagada (drum) and Shankha (conch shell). My feet started following the music and I reached a performance area encircled with spectators hypnotized in a hair-raising performance of an ancient Indian martial art.
A woman draped in a Maharashtrian Saree and a kid tied to her back was fighting a gang of 7-8 men. Her sword and body moved with the speed and agility of a leopard. With a raging red face and piercing eyes, she looked like a splitting image of Rani Lakshmi Bai in a battlefield. I reminded myself this wasn't a scene from an action movie where multiple retakes and Computer Graphics make an action scene but I was witnessing a real-life Mardani Khel performance in Kolhapur. An ancient Indian martial art practised majorly in Maharashtra.
I had my heart in my mouth when I saw lemons, green chillies and coconuts shredded precisely from the middle placed on the neck, stomach and forehead of the performers. One miss and a life could have been lost. I was trembling with fear but there wasn't a strand of anxiety in the eyes of the performers. They had literally put their lives in someone else's hands. From sword gladiators, bamboo stick warriors, fire guzzlers to dagger fighters; I had never seen so many brave men, women and kids using weapons so swiftly and elegantly.
The most interesting thing about this ancient Indian martial art performance was seeing three generations of men, women and kids from 80 years to 3 years of age joining in unison to put together a show of Maratha valour, precision and pride.
Claps were not enough for such a riveting ancient Indian martial art performance. Goose bumps and tears joined the applause.
The Origin
The bloodcurdling performance had piqued my interest to know more about this ancient Indian martial art form, so I probed Madhav Rathore, the Deccan Odyssey Train Manager who had been organising this performance for several years.
Mardani Khel is a weapon-based Maharashtrian Martial Art form, which flourished under the reigns of Chhatrapati Shivaji Maharaj and Shahu Maharaj of Maratha Dynasty (1674-1818. In 1700s, due to incessant enemy attacks, Rani Tarabai Bhonsle, the warrior queen and brave daughter-in-law of Chhatrapati Shivaji, asked everyone (including women and children) to be trained in this art. Kolhapur used to be the centre of the Maratha Kingdom and it became a hub for the training centres called 'Talims' where skilled elders prepared men, women, boys, girls, and even kids for the war
said Madhav answering my question of how this art came into being.
He further elucidated why Mardani Khel had to change for its survival,
After the revolt of 1857, the British banned the use of weapons and the 'Talims' were forced to turn Mardani Khel into a folk entertainment to ensure its survival. The use of weapons such as swords, lathi-kathi (bamboo sticks), kattar (dagger), bhala (javelin), veeta (darts), dand and patta (long-bladed swords) continued but the moves were made more entertaining and less lethal.
Having known the glorious past of Mardani Khel I was interested in knowing what the future holds for this spectacular ancient Indian martial art form.
The Revival
Upon further research and talking to several 'Talim' centres, I got to know that today many individuals and organisations are working relentlessly to keep this ancient Indian martial art alive.
One such family runs the 'Khandobachi' Talim in Kolhapur to practice and train new people into this ancient art of self-defence. It was this family whose martial arts performance I saw at the Plaza Performance area near Mahalakshmi Temple in Kohlapur. They rigorously train to achieve perfection in their strategic moves, techniques and 14 ways to wield a sword, sticks and other weapons. Like all good martial arts, it teaches you the weaknesses of human anatomy in attack mode.
The martial art shot to global fame when a popular British Rapper, Mathangi Maya Arulpragasam (M.I.A), of Srilankan Tamil descent came out with a new short film titled 'Matahdatah Scroll 01 Broader Than a Border' in 2015, which featured local girls displaying their Mardani Khel skills.
This video and the rising molestation cases in India gave Mardani Khel a new leash of life. A lot of youngsters joined 'Talim' centres to learn this art of self-defense. Even the Kolhapur civic body started a programme to train girls and women in this art for self-defence in the aftermath of the Nirbhaya incident. With renewed youth interest, Mardani Khel is here to stay. And, it's popularity is not limited to Kolhapur alone. It has spread its wings to other parts of Maharashtra too.
You don't need to be an avid history buff or an expert to love this unsung Indian martial art form, which deserves a lot more attention.
Have you been to Kolhapur or seen any Indian martial art? If yes, please do share your feedback in the comments section below.
Please don't forget to read my detailed posts on my #IndiaBlogTrain journey with Incredible India and The Deccan Odyssey.
If you are looking to explore more of Maharashtra, do read:
Exploring the Maharashtrian Ecotourism
The best 5 places to enjoy Ganesh Chaturthi in Mumbai
Disclaimer
I was invited on the #IndiaBlogTrain journey organised by Incredible India in Feb 2018 ON 4 luxury trains – Palace On Wheels, Deccan Odyssey, Golden Chariot and Maharaja's Express, that took 60 bloggers on a 7N/8D journey across India's finest historical destinations spread across Delhi, Goa, Karnataka, Madhya Pradesh, Maharashtra, Rajasthan and Uttar Pradesh. I got a chance to experience the Maharashtra Splendor train route on The Deccan Odyssey It was a voyage that I'd treasure forever. Everything expressed above is based on my personal experiences during my visit. Images used are shot by me. Please do not copy anything without written permission.